Provision & Opportunity for Football in London Essay Sample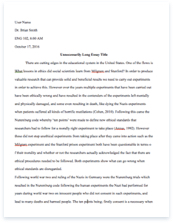 The whole doc is available only for registered users
OPEN DOC
Pages:
Word count: 1205
Category: football
Download Essay
Get Full Essay
Get access to this section to get all the help you need with your essay and educational goals.
Get Access
Provision & Opportunity for Football in London Essay Sample
For my local study I have chosen to research football in my area of north London, mainly focused on the boroughs of Haringey and Islington. The local study will be centre around the opportunities available to develop roles as performer, leadership and official and if the governing body the 'FA' (football association) has a role in this. In the borough of Haringey there are many parks, Astroturf pitch hire and Sunday youth teams. The level as which football is being played at in the borough is 'Foundation' [1] as many players play to keep fit and enjoy it.
The schools in Islington and Haringey offer boys physical education lessons in football. This improves their knowledge and improves the skills which can be used in a match. There are two big parks specialised for football in Haringey. These parks are available to anyone and it is free. The most sophisticated park is in of the Haringey (Muswell Hill Playing Fields) has fog lights which are on till 11pm depending on the seasons. On the other hand when it is raining the private sectors are available.
There is only one facility which allows you to hire pitch in this borough which is Powerleague. The cost for students is usually £3 per person but during Friday Saturday and Sunday they charge for the hire of the entire pitch which is expensive for students. Within Islington and Haringey they are many opportunities to develop football through grass roots. Powerleague has partnered up with two football foundations. These are called 'Haringey Kicks' and 'Spurs Foundation'. The age group for this varies from 13 years old all the way up to 20 year olds. The sessions are fully funded by the foundations and involve organised tournaments on Friday and drill/training on Saturday. An average session usually has 20-25 players attending. The FA has worked close with councils, boroughs and Arsenal FC to get kids of the street and playing football. Arsenal FC have funded the operation and provided an Astro turf pitch in the middle of a council estate in Finsbury (V).
The WFL (Watford Friendly League) is a football Association and partner with the FA (Football-Association) founded in 1970. WFL provides provision for football opportunities among every town between London, Watford, and St Albans. It consists of both genders from under7s to as old as under18s. They provide on average 200 games per week and around 9000 boys and girls are in this organisation (IV). The facilities improve as the age group increases.
Due to the facilities and the cost of renting the pitch there is a joining fee for each team. The joining fee is usually £150-£200. This cost cover paying for hiring pitches, funding the referees each match, cost of kit, training kit and in some cases the cost of the coaches. However this varies with the age group and the division the team is in. The WFL aims to enhance the provision and opportunities as well as increasing the amount of successful home grown players so therefore each season they take one player from each team in under18s and gives them the chance to take part in a "Watford All Star" trial match watched by many scouts and academy managers. My team is Hinton and Finchley and are currently in the Red division (2nd division). The FA aims to provide additional support with adding sponsors to the football kit and paying a certain percentage of the costs.
Schools in the borough offer student in the years of 7-11 have a school football team. They compete with other schools and take part in the borough cup. Depending how good a team is it can go on to take part in the county cup which includes all the best team from each borough. If successful for playing in the school team you would then be offered a chance to play for the borough football team. This would be the first chance playing at elite level [1]. On the other hand Opportunities for football team and playing matches lessen in sixth form.
However for girls it is harder to find opportunities. At my school Hendon during physical education they only get taught football once during the period of 4years. There is no school or borough football team for girls. The park is free of charge if any girls wish to go and practise but as far for teams there is no girl football team at my school; however there are girls amateur leagues in which compete in the Watford's Women's Friendly League. This league is only available until the ages of 18 and in rare cases elite teams like Arsenal ladies, spur's ladies or other teams may scout them.
Disabled football is the primary focus in the UK. There are a variety of professional teams that have disabled foundations set up such as Chelsea and Charlton FC (VII). 'Football For All' is a foundation set up by London FA, specifically for player with any disability to play at grassroots across the country. London FA has also set up programmes that open pathway either as a player, coach, ref or administrator. However this programmes is in Fulham and will be far for someone in my area to travel to. Middlesex FA offered disabled player aged 11-18 'player development centre' which is based in Wembley which isn't too far (XIII). The programme is open to a number of disabilities (3). They also have squads and try outs for a disabled ladies team but it is not as popular. The 'FA disability coaching' is set up to enable that the disabled youths are taught more effectively. Schools such as Fortismere School have partnered with 'Blanch Nevile' to make a football team for their disabled students (IX). They play and train on weekdays.
In north London there are opportunities such as sporting colleges, such as Southgate College has come together with Tottenham hotspurs and making a football foundation to improve the younger generation in either in leadership role such as coaching or playing football at an elite level (X). They have different level courses and each sport course offers a chance to get a coaching or referee certificate for free.
London FA has set up course on different date and location for coaching and refereeing (XI). The Refereeing courses are available and are sponsored by the UEFA. The course availability varies but some courses are on every 3 months depending on the location and in the summer it is more frequent.
There are vast opportunities available at grassroots and elite level. However football for girls in schools particular Haringey need to develop further. Girls need to have more competitive level chances. There is vast opportunity for leadership roles for girls and boys. For disabled football players there are opportunities and it is continuing to be the main focus by the FA and is increasing the opportunities and course available for them.
Bibliography
1. http://en.wikipedia.org/wiki/Football_in_London#Clubs
2. http://fulhamdfc.com/
3. http://www.disabilityfootball.co.uk/Deaf.html
4. http://www.wfl.me.uk/history.html
5. http://www.islingtongazette.co.uk/news/finsbury_football_pitch_repairs_thrown_into_question_1_1198092
6. http://www.londonfa.com/development/disability
7. http://www.chelseafc.com/chelsea-disabled-fc
8. http://www.londonfa.com/development/disability
9. http://www.blanchenevile.org.uk/
10. http://www.barnetsouthgate.ac.uk/news/archive/barnet-and-southgate-college-team-up-with-spurs
11. http://eventspace.thefa.com/londonfa/participant/s.aspx?eventlen=55
12. http://www.middlesexfa.com/players/disability-pdc