Psychological Assessment Essay Sample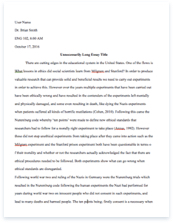 The whole doc is available only for registered users
OPEN DOC
Download Essay
Get Full Essay
Get access to this section to get all the help you need with your essay and educational goals.
Get Access
Psychological Assessment Essay Sample
Assessment Test is one of the significant manifestations of ones' actions or composition as an individual. Its aim is to assess the strengths and weaknesses of the person in certain field or aspect of his life whether in academic, personal, psychological, sociological, etc. In this case, psychological assessment is one of the ways that would bring the capabilities and knowing of an individual towards its own self.
            Personally, I can say that I have already taken different assessment test in the past especially in the academe wherein before one of my courses take its end, we need to assess ourselves towards our weaknesses, strengths, and learning within the whole course. Through this, the professor would know the reasons and results of his teaching strategies and how his way of promulgating knowledge is convincing.
            Based on my observations and experiences, reliability issues affect my performance because there are times when I took my overall performance within the course through the assessment test. As a confession, if I felt that I worked hard for a certain course but my assessment did not match with my performance, there are two things that enters my mind, it is either the assessment is unreliable or I tend to be confuse and would not work for some other courses. Other thing is that I probably think that there are errors in the assessment test that made it difficult to match my performance.
            Based on studies, the source of unsystematic errors comes from reliability issues that come from measurements that are mostly random. That is why probable errors might come in the assessment due to unsystematic errors, which are not actually controllable.
            The difference between systematic and unsystematic error are their issues. In systematic errors are those in the validity issues while unsystematic errors are those in the reliability issues.
Reference
Ideas that Work (n.d.). Reliability Issues and Evidence. Retrieved on November 1, 2007 from http://www.nichcy.org/toolkit/tk_reliability.htm