Psychological criticism of Raymond Chandler's book, The Big Sleep Essay Sample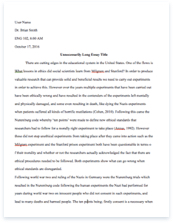 The whole doc is available only for registered users
OPEN DOC
Download Essay
A limited time offer!
Get a custom sample essay written according to your requirements urgent 3h delivery guaranteed
Order Now
Psychological criticism of Raymond Chandler's book, The Big Sleep Essay Sample
Introduction:
The Big Sleep is the story that robs you of your sleep. It centers on the tragedy that engulfs the life of a General who utterly fails to control the private war in his family. How tragic is the situation, when members of one family are drawn to conflicting interests and have no moral character, is ably depicted in the book. An honest private detective Philip Marlowe is an important character in the story and he too finds it awesome to 'control' and deal with his clients, the General and his problematic daughters.  His big kind heart clashes with his call of duty and yet he maintains the essential dignity of his profession and balances the situation. On many occasions, he has to do the tight rope-walking.  The trials and tribulations of life are complicated, and grit, honesty, determination and presence of mind, as demanded by the situation is the right approach to meet the challenge.
The ensuing paragraphs give the broad hint of working of the minds of different characters in the book and their psychology.
Philip Marlowe
Detective Philip Marlowe's motto in life is– truth at all times and truth at all cost. His ideal is, one needs to be basically sound and industrious and create basic conditions for his clients to remain basically and industrious. Have the principled approach to work and do one's duty without the motivated desires. Everyone needs to discharge one's duties honestly, but a detective has the special responsibility to function and remain utterly honest to his professional ethics.  The nature of his job is very sensitive. His remuneration is mere twenty-five dollars a day. This clearly indicates that he works for a cause.
His career is full of agitating incidents and awful situations. He needs to witness death, ghastly bodies murdered individuals, smut and other types of crime-situations. He has to deal with the galaxy of shady characters, and he has to interact with them at various stages of their lives. On many occasions he is aghast at the moral decay of the society. But in the professional discharge of duties, he has to carry on with his journey, howsoever uncomfortable and agitating it may be. His psyche is wounded at more than one juncture.  He is sometimes, disgusted with the ways of men and women in this world, who are prepared to do anything to secure their selfish motives.  Marlowe remains calm in facing such stormy situations and doesn't become cynical.  Marlowe's action happens in the very beginning of the novel. He stares at a piece of stained glass in the Sternwood mansion. This indicates that some grim incident is being investigated by him and it sets the reader's mind thinking.
Another important characteristic of Marlowe's style of functioning is he doesn't care for the monetary rewards. He works for the truth independently, being the private detective, and therefore desires and gets absolute freedom to function the manner he wishes. Below his tough exterior, he has a tender and sensitive heart. In this dark world full of selfishness, Marlowe's character is noble and ideal. In the end, he is conferred knighthood, and as one with knighthood, as a private detective, and as an honorable person, he succeeds in striking the balance between the many pulls and pressures of interests related to his work. He is not worried about the victory or defeat in solving a particular case. What worries him are the darkness surrounding in his insightful journey, how this world is full of, and engulfed in evil tendencies, how morality is thrown into the dustbin. For the sake of selfishness and for one's private gains a human being goes to the extent of killing the other. Marlowe maintains a surprising level of integrity amidst horrid circumstances, corruption all around, but this man's honesty is not for sale, whatever is the premium. Marlowe touches the borders of spirituality after crossing one hurdle after another in his relentless pursuit of truth. This is a very intricate character, which almost comes to the conclusion, that humanity will not be able to achieve  the state of permanent peace and morality
Eddie Mars:
Name a negative tendency, and Eddie Mars has it. He is diametrically opposed to Marlowe. Negative tendencies go in a bunch. In any   murder depicted in the novel, Mars is involved in it directly or indirectly. Marlowe confronts him at every stage of his career. Mars is the spontaneous criminal, and criminality is the way of life for him. He is not directly involved in any killing and he plans it intelligently and gets hired killers to do the job. Thus he manages criminal activities just as a businessman manages his business. Marlowe gives a vivid description to Mona Mars, Mars's wife, about how Mars conducts himself. He brands him as the blackmailer, a killer by remote control, a pornographer and what not! Marlowe on the other hand doesn't carry   a gun and doesn't wish to kill. Anyone with some knowledge of mythology knows that Mars is not a good name; it refers to the Roman God. The name of this character is, therefore, symbolic.
When you find it difficult to trust anyone, it is the beginning of true knowledge. In Big Sleep one discovers it thoroughly. Each one works with the selfish motive and doesn't care a wee bit for the welfare of others. One is ever ready to trample the interests of others to gain one's own ends. One is not worried what damage the actions may cause to the interest of personality of any individual that one confronts. When one is part of the family, one needs to have added responsibility as for social disposition. But Carmen seems to be least concerned about her actions with involvement with the underworld characters like Eddie Mars, Geiger and the rest. She discredits and puts into danger her entire family due to her highly wrong and irresponsible actions. On account of her actions, her father and sister are blackmailed and they are compelled to protect her from going behind the bars.
Carmen Sternwood
Like Marlowe, Carmen's outer covering and the inner content are unrelated. She looks like an innocent simple human being, but that is only the mask. Behind her meekness is the steel will or call I ill-will, that sets a program and sees it through. Even her father could not estimate the depth of her hidden working style. She murders Rusty Regan, for whom Marlowe has been on the futile search. Carmen is an important character in the novel, because her functioning is the indicator of working of duality. How the pairs of opposites exist and work. How an individual works integrating two types of personalities-one for public consumption and the other– one's real nature as only known to one, and for private consumption! The bifacial strategy, as we call it! A feminist will not be happy to read and own this character. It is totally anti-feminist, rather anti-society.   Carman has no control over her emotions. She is unintelligent.  Like her sister, she is a spoiled character. She is beautiful with a heart soaked in murders, giggly and flirting. She is mentally unstable, and can't think straight.
Conclusion:
As one proceeds to read the story, it becomes a mystery wrapped in an enigma. Marlowe thinks that it is a straight forward referral by the General, but soon realizes that both the daughters of the General have created serious complications for them. The clash for the call of duty and the human sentiments come to play in a unique way. The private detective begins to cultivate love for one of the daughters of the General Vivian. Raymond Chandler has given a very interesting book. The theme of the book and the author's attitude towards the theme both evoke curiosity. The level of detachment achieved by the author as for developing the different characters is commendable. A situation manifests clearly, grows and attains new dimensions.
The book deserves an outstanding position on account of this approach, wherein it tackles a vast psychological ground relating to the characters. The mutual interaction over the situations between different characters reveal in the most natural way, the convictions for which they stand for. This is the uniqueness of the book. As the story develops, it becomes poignant, without losing its ground and reality. The subject matter of the book is new, the narrations beautiful and therefore this becomes a rare creation. His first novel, written in the year 1939, has made him the household name in USA. At the end of it, you wonder whether it is a suspense thriller, fiction, love-story or an introduction to spirituality! In fact, it is all these clubbed into an integrated theme, that contributes to the various facets of human life.
References:
Chandler, Raymond: Book: The Big Sleep
Paperback: 234 pages
Publisher: Vintage (July 12, 1988)
Language: English
ISBN-10: 0394758285
ISBN-13: 978-0394758282