Qantas Airways Limited Essay Sample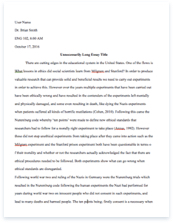 The whole doc is available only for registered users
OPEN DOC
Pages:
Word count: 2969
Category: airline
Download Essay
A limited time offer!
Get a custom sample essay written according to your requirements urgent 3h delivery guaranteed
Order Now
Qantas Airways Limited Essay Sample
This is an analysis report of Qantas Airways Limited (Qantas Group) basis on the 2011 annual report. For the auditing purpose, the report will mainly focus on auditing perspectives. First of all, an overview of the company and industry, it gives an idea of what the business conditions in which they face with. By using the SWOT tool, we ensure the analysis is matched with the real business situations. Moreover, the report will discuss different categories of laws which would be applicable the Qantas Group and also the potential level of the reliance that placed on the control environment of the Qantas Group. Furthermore, the report will briefly give a planning materiality bases and percentage regarding to our analysis. Accordingly, two of highlighted risk accounts would be discussed and followed by the relevant substantive audit procedure.
1.Overview of the Company and the Industry
1.1. Company Overview
Qantas Group is the largest Australian airline group company which has a long history. It serves almost 80 destinations in 20 countries. Until 2010, 65% of domestic airline market in Australia was occupied by Qantas, it also hold 28% of international airline market share (Qantas, 2011a). In the first half year of 2011, the total revenue of Qantas Group was $14.894 billion. The two major airline brands Qantas and Jetstar were the revenue source of Qantas Group (Qantas, 2011b). In details, Qantas provides premium full service and Jetstar provides economic low-fare service, that is, these two brands constitutes the different level of service of Qantas Group to satisfy different kind of customers. On the other hand, QAN's core strategy is to develop its two profitable flying brands, and the differentiation is the competitive strategy which has been implemented by Qantas Group. 1.2. Industry Overview
After the 911 event in 2001, the airline industry all over the world suffered a powerful influence on its business. "The industry is fragile and balancing on a knife edge", said by the CEO of International Air Transport Association (Investment U, 2011). The safety issue became a seriously challenge for the airline industry. In addition, as a result of the financial crisis from 2008, investors all over the world lost their confidence in the capital market, and then the petroleum price and the international exchange rate become fluctuant which significantly impact the airline industry. As the economic globalisation, Australia airline industry is in the same business environment as other countries during the same period. Consequently, the average growth rate was only 0.1% from 2006 to 2011 (IBIS World, 2011). However, in the Australian airline industry, Qantas is the largest company who hold the largest market share, Virgin Blue, Regional Express, SkyWest and Tiger Airways are the major competitors of Qantas in the domestic airline market.
1.3. Porter's Five Forces analysis of the airline industry Threat of New Entrants –Low: it is hard for a new entrant to enter in the airline industry as it requires large amount of capital, professional operating procedures, skilled employers, specialized equipment and large amount of maintenance expenditures. At the same time, strict legal regulations are another barrier for the new entrant, as it needs to distribute the limit airline channels and the Federal Airports to each Airline Company again, and the operation standard has to be updated, for example, Air Navigation Regulation (Australia Government Department of Infrastructure and Transport, 2011a). In addition, the Australia market is very limited because of the limited population. Competitive Rivalry between Existing Companies – High: The extremely low growth rate of Australia airline industry which was only 0.1% from 2006 to 2011 significantly aggravated the competition among the existing competitors (IBIS World, 2011). As the similarity of airline services, each airline company could primary to compete in the airline market through the low cost strategy which rapidly decreases the profit margins of the airline companies.
Threat of Substitute Products – Moderate: Air transport provides a fast, efficient and convenient travel system. Even though people might choice high-speed railway, vehicle for their short-distance trip, air transport might be the first choice for their long-distance trip, they could also choose the cruise which is slowly instead. Bargaining Powers of Suppliers—High: The aircraft is the basic equipment for the operation of an Airline Company. But there are only a few aircraft manufacturers in the world, for example, Boeing and Airbus.
These aircraft manufacturers have a strong bargaining power for both the purchase and maintenance of aircrafts. At the same time, as the fuel is another basic material for the operation of an Airline Company, the fuel price has an enormously influence on the airline business. Because the fuel price is out of control by the airline industry, so the fuel providers also have a strong bargaining power as well. Bargaining Powers of Buyers – High: The buyers have a strong bargaining power because of the low switching cost and the development of the web booking system. Through the web booking system and some ticket agencies, customer can compare the prices of each airline company then choose the lowest price. 1.4. SWOT Analysis of Qantas Group
Strengths
Excellent and globally brand name and logo awareness;
Two brands (Qantas and Jetstar) provide different services that satisfy the different demand of customers; As operating for a long history, Qantas airways have a rich experience in providing an excellent airline services; Probably the best safety record in the world as no one death on a Qantas flight so far; Its airlines reach to almost 80 destinations in 20 countries.
Weaknesses
Operating two brands in the same regions at the same time bring an resource allocation issue (Qantas, 2010); As a result of the unstable international environment in Middle East, the fuel price becomes fluctuant which has an enormously influence on the operating cost of Qantas; Compare to its competitors, Qantas has higher labour and operating costs; An continuous conflict between Qantas management and labour union;
Opportunities
The rapidly development of the Asian market;
Developing the internet services which can provide an more convenient customer experience; The utilize of new aircraft which have more advanced equipment, more passengers capacity and more comfortable inside environment, for example, Airbus A308 and Boeing 787.
Threats
The global economic depression impacts the demand of air transport; Profit margin might be decreased by the increase of fuel price; Profit margin might be decreased by the increasing labour cost; Government promulgated regulations which protect the small airway companies; A rat race in the domestic airline services.
1.5.The potential impact of the SWOT analysis on the Qantas Group audit In order to audit an organisation and its environment, the SWOT analysis can be applied as an efficient method. SWOT analysis involves analysis of the strengths, weaknesses, opportunities, and threats of an organisation and its environment. In the planning stage of auditing, the SWOT analysis can be used to obtain both of the internal and external knowledge of the business and help to establish the auditing plan. At the same time, some potential risks could be discovered by the SWOT analysis. Overall, the SWOT analysis is an efficient tool to assist the auditing of an organisation.
2.Laws or regulations should be considered in the Qantas Group In this section, the report will cover more about laws and regulations in which Qantas Group should pay significant attentions. The purpose of considering these laws or regulations is to reduce the risks arising from the non-compliance with laws and regulations. Therefore, the following report will list four regulations, and consequences for each will be discussed. 2.1.Consumer law
Consumer law is a law that protects consumers from unfair business trading. It outlines the rights of the customers as well as it guides the producers a way that how business runs without breach the consumer law, importantly bear in mind of the consumer law, business would likely reduce the economic losses occurs from this area. For instance, according to news (David& F,2011), Qantas was requested by ACCC to have more planned compensations amounts in order to pay those consumers who suffered their economic losses (ACCC stands for Australian Competition and Consumer Commission). 2.2.Fair Work Act
Fair work act is an act that created a specific protection for employees. If it is not being proper understood and applied on the workforce, then it will bring a company such big troubles. A news on the ABC News (Annie, & G, 2012) shown that "Qantas fined $15,500 for mistreating worker", the factors are a manager refused to pay an engineer addition payments of about $10,000, after the engineer worked back from overseas. Moreover, the manager coerced his employees not to exercise his rights. As a result, Qantas appealed and lost and was fined and that manager was fined. 2.3.Privacy Law
Since Qantas has introduced Frequent Flyer reward program, it has successfully operated well with other major businesses, such as Big W and Commonwealth Bank. There are no enough evidences showed that Qantas has issues related to privacy. However, Privacy law is still an available law that leads Qantas security well. 2.4.Safety Law
In the news of SMH( Kirsty,&N,2010), Qantas was requested to develop emergency procedures for its Sydney domestic terminal due to the careless of providing training to staff on what to do in a disaster. Having the emergency plans and safety training will significantly reduce the claim of workcover.
3.The control environment of the Qantas Group
There is no doubt that Qantas Group has taken care of their control environment. Company has structured corporate governance statement, which gives readers an idea of how the company is being structured and managed. In detail, several of charters and policies listed under this corporate governance statement will be reviewed and be updated on a timely basis. There are a number of independent directors and managers work closely within the board committee charters and the Qantas board (Qantas, 2012). However, whether we should relay on the control environment of the Qantas Group, other critical factors would also need to be considered, for instance, the performance of employees, whether the systems or policies work on them effectively or not (Susan, S, L & Joseph, F,C & Benjamin, T, C, 2012). In other words, the operating effectiveness of those policies or regulations is also a factor that we should consider of. Therefore, more detail inquire processes would be required to better understand the company.
Anews shown that Qantas has replaced its entire fleet of materials handling equipment (MHE), replacement of the equipment, Qantas used one of the most advanced fleets. By having the advanced equipment, Qantas freight has be significant improved across it operations. During the time, operator authorisation is another achievement, in which authorised employees were able to enable operator compliance with training (Aviation Business, 2012). Overall, Qantas Group has established a well-structured control environment, independent directors and managers have been pointed out according to the policies and laws. Auditor can reasonable trust their control environment.
4.Planning materiality Level and Percentage
Calculating the $ planning materiality level should be consider two components; planning materiality base and percentage. And the equation is Planning Materiality level = Planning materiality base x percentage
Elements extract from Qantas groups2011 financial report are as follow:
20112010
$ million$ million
Total Assets20,85819,910
Equity6,1515,981
Total Revenue14,89413,772
Net profit436253
(Qantas 2011 Annual Report, pp.49-51)
4.1.Planning materiality base
Qantas is publicly listed company. For listed company, materiality base is generally profit before tax, total assets or gross profit. The common used base of net profit in Qantas is unstable because 2011 net profit is much higher than previous year. Total Assets is relatively stable and this is the suitable one that use in materiality base of Qantas group.
4.2.Percentage (%)
Common rage of percentages applied to total assets is between 0.5% and 1%. (Gay & Simnett, 2012)
From these two components, Qantas materiality level range is $105 million to $209 million. (20,858 x 0.5% = 104.29 / 20,858 x 1% = 208.58)
In 2011, Qantas have low control risk as discussed in this part. Since the opposite direction of inherent and control risk with materiality level, high materiality level set to low control risk. However, the high materiality level will increase the detection risk.
5.Impacts of Qantas reformation on planning audit
Qantas announced the new business structure that will be established since 1 July 2012. In this reformation, Qantas airline will be split into two separate airlines-Qantas Domestic and Qantas international. Each of them has its own CEO, operation and commercial function, running independently according to its specific priorities and market conditions. Financial result from each arm will also be reported separately. This restructure have several effects on audit planning for 2012/2013 financial year and should be taken in to consideration of auditors. 5.1. Audit workload and time issues
The disintegration of power increases the audit workload and time consuming. Each of arms generates their individual financial report, shown no link to each other. Thus, increase the level of documentation requirement for audit work and the time of collecting and evaluating information. Besides, the two CEOs have equal power and response in decision making for their segment. In other word, the two arms of Qantas now can be considered as two separate companies. They have difference in features (e.g. competitors, market share, ect.) and may apply difference accounting treatment (for depreciation, inventory for example). As a result, it is essential for auditor to understand the differences existed such as business environment, accounting policy before planning audit. 5.2. Level of materiality estimation
Qantas Domestic and Qantas international face very difference situations.
Qantas Domestic is strong and profitable, made up profit before tax of $552 million in the 2010/2011 financial year, in other hand; the international business lost $216 million. The separation of the two segments will burden Qantas international arm as its loss cannot be covered by the Domestic segment anymore. It is appeared that Qantas international management is under the pressure to "cook the books" to make the report look more profitable or capacity of profitability in order to attract investors and assert manager ability in front of shareholders. According to that fact, the more attention should be put on Qantas international where there is high potential of material misstatement. 5.3.Level of control determination
As stated above, the two businesses are now running independently. The internal control that applied for Qantas Airline as a whole might not be adequate when split. Each arm may develop its own internal control. As a consequence, auditor should evaluate control environment and determine reliance on internal control of each segment when planning audit.
6.Significant Risks
6.1 Property, Plant & Equipment
With the accident of A380s, there is a concern about whether the A380 aircrafts can still operate as long as expected and hence carry the value as originally estimated. The ongoing maintenance and repair work might also reduce the aircrafts' useful life. Hence Qantas might overstate its PPE value by doing the adjustment and revaluation inappropriately or even just hide it. There is a risk of manipulating the value of property, plant & equipment, as Qantas has incentive to overstate its asset in order to inflate its financial report. Assertion: Valuation and Allocation.
The substantive test of detail: Select samples from plant items, compare "carrying amounts" with fair values in accordance with the applicable accounting standards 6.2 Revenue Received in Advance:
In the notes of Qantas' annual report, revenue received in advance is the revenue received for issuance of points and redemption revenue is measured based on management's estimation of the fair value of the expected awards for which the points will be redeemed (Annual report). Both carbon tax and EU ETS charges will be transferred to the passengers and requiring members of frequent flyer convey more points to redeem the products. Points are losing their fair value in facing increase in price of flight ticket. The book value of existing points will be overvalued since it is worth less than before. Assertion: Valuation and Allocation
The substantive test of detail: Select samples from the revenue received in advance ledger and recalculate the fair value of the points.
References:
Annie, G, 2012, Qantas Fined $15500 for mistreating worker, ABC News, viewed on 10th Oct 2012,
Aviation Business, 2012 Qantas Freight introduces Adaptalift Hyster's fleet management system, Aviation Business, Viewed on 13th Oct 2012,
Australian Government – Auditing and Assurance Standard Board, Auditing standard ASA 300: Planning an Audit of Financial Report, Australian Government, downloaded on 10th Oct 2012,
Australia Government Department of Infrastructure and Transport 2011a, Aviation Policy & Regulation, Australia Government Department of Infrastructure and Transport , viewed on 5th October 2012,
Australia Government Department of Infrastructure and Transport 2011b, Monthly airline performance July 2011, Australia Government Department of Infrastructure and Transport , viewed on 5th October 2012,
David,F, 2011, ACCC orders extra compensation for disrupted Qantas passengers, Australian Business Traveller, viewed on 10th Oct 2012,
Gay, G & Simnett, R 2012, Auditing and Assurance Services, 5th edn, McGraw-Hill, Sydney.
IBIS World 2011, Domestic Airlines in Australia: Market Research Report, IBIS World, viewed on 5th October 2012,
Investment U 2011, Global Airline Industry Flies into Profits, Investment U, viewed on 5th October 2012,
Kirsty, N, 2010, Qantas in breach of safety laws, The Sydney Morning Herald, viewed on 6th Oct 2012,
Qantas 2010, Qantas Fact Files, Qantas Group, viewed on 4th October 2012,
Qantas 2011a, Annual Report 2011, Qantas Group, viewed 4th October 2012, < http://www.qantas.com.au/infodetail/about/investors/2011AnnualReview.pdf >
Qantas 2011b, Data Book 2011, Qantas Group, viewed on 4th October 2012, < http://www.qantas.com.au/infodetail/about/investors/qantasDataBook2011.pdf
Qantas, 2012, Corporate Governance, Qantas Group, viewed on 12th Oct 2012, < http://www.qantas.com.au/travel/airlines/governance-structure/global/en#jump8>
Susan, S, L & Joseph, F, C & Benjamin, T, C, 2012, Assessing the control environment, TeamMate, viewed on 12th Oct 2012,