Racial Discrimination Essay Sample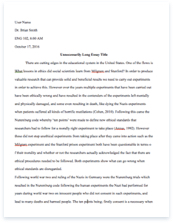 The whole doc is available only for registered users
OPEN DOC
Pages:
Word count: 632
Category: crime
Download Essay
Get Full Essay
Get access to this section to get all the help you need with your essay and educational goals.
Get Access
Racial Discrimination Essay Sample
Justice is a term that we hear a lot in our everyday life and also accept it although many of us might have a doubt as to what it truly means. Justice is the phenomenon through which we could achieve righteousness and equality. But unfortunately racism has been a common practice in the criminal justice system. Racism is actually discrimination against a group or individual based on color, social and financial status. It is something that occurs more than we notice. Many scholars believe that racism play a more important role in targeting and sentencing process in the criminal justice system and this is something which should not happen in any country no matter what. In order to understand the role that racism plays in the criminal justice system we must, first, look at the role that it plays before the criminal reaches the day of sentencing in the court. There are various publications that speak on profiling and actuarial methods which unwillingly get people into the system. Though these are two major components of the discriminatory acts that exist within the criminal justice system, it does not actually begin with these institutionalized methods. It is the laws and crime control policies that create discrimination in the system. It has been witnessed that in some instances these laws and policies are set in favor of the white people and in opposition to the black ones. In this paper, a detailed discussion has been done on the racial disparities in criminal justice system along with its adverse effects to the community. Moreover, this paper also contains the strategies that would help to avoid racism and maintain equality and righteousness. What is meant by Racism and Prejudice?
When racial prejudice is encouraged by institutions and laws, racism comes into act. For example, Cha, the Hmong neighbor was arrested and jailed by the police for killing chickens in the backyard without any attempt to understand the reason behind it. Just because he could not speak in English no efforts were made to explain the laws to him. This shows that racism does exist. According to you what should have been done in that situation? One possibility was to arrange a meeting between the police chief and other senior members to discuss about how the newcomers to the community were affecting law enforcement. It is better to make an attempt to explain the laws to the newcomers so that these complaints can stop, but it's not working out appropriately because of cultural and language differences. You might want to try and work with the police and leaders of Hmong in order to develop a strategy for increasing the cultural competency of the police department. It is likely to educate the newcomers about the laws in this country.
This attempt could certainly produce a positive change at the institutional level. It is quite true that we can never be entirely free of racial prejudice. Therefore we should have the ability to identify and address racism because it results the unearned privileges of some and imposes unfair limitations on others. The economic stability of a group of people is closely linked with racism and unless it is studied thoroughly, a community building effort will not reach its full potential. Racial prejudice and racism have been commonly practiced in the U.S. by the people with European background against various other groups, such as African-Americans or Latinos (Silas, 10). However, racial prejudice and racism also lead to tensions between people of non-European descent, for example the tensions between African Americans and Asian Americans. As the U.S. becomes more diverse and the people all over the globe more educated, we must make certain efforts to reduce hostility which creates differences in our physical traits and other aspects.