Rajesh Gaddipati Essay Sample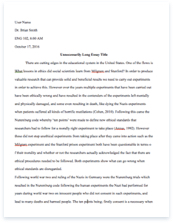 The whole doc is available only for registered users
OPEN DOC
Pages:
Word count: 326
Category: cash
Download Essay
A limited time offer!
Get a custom sample essay written according to your requirements urgent 3h delivery guaranteed
Order Now
Rajesh Gaddipati Essay Sample
Project description: You are required to analyze the financial statements of a company and compare it to its peers. The purpose of this project is to assess your comprehensive understanding of all topics covered in this course. Listed below are items that should be included in your project report. This project is a group effort. Please form groups of five students. Because the class size is typically not a multiple of five, there will probably one group with less than five students. The instructor at his/her discretion may ask these students to join other groups. Each section should have a representative who will put together a spreadsheet with details of the members of each group. Please take note of other details regarding the project as specified in the course outline.
1. Name of the Company
2. Name of the Chairman/MD/CEO
3. Listed in: (stock exchange(s))
4. Brief company background (not more than one page)
5. Brief industry outlook (not more than one page)
6. Abridged Balance Sheet, P&L and Cash flows (Rs. Million) for last five years 7. Select accounting policies (highlight only those which are important and unique) 8. Overall interpretation of each financial statement (Balance Sheet, P&L, and Cash flows) – broad highlights on absolute numbers- without using any ratio. Spend more space for analyzing cash flow statement. 9. Additional financial details (only those which are required to calculate various ratios) 10. Generic Ratio Analyses
11. Trend analysis (using five year data)
12. Quarterly financial results (for last eight quarters)
13. Analyze quarterly performance (q-on-q, and y-on-y)
14. Comparative Analysis: Compare the performance of the company with its two closest competitors. 15. Map the performance of the company with the competitors on (a) profitability vs. sales growth, (b) efficiency vs. profitability, (c) liquidity vs. profitability, (b) sales growth vs. market valuation (book/market), and (e) div pay out vs. capex. 16. Highlight any one or more indicator(s) which capture the industry characteristics. 17. Overall comments on the financial health.