Recruitment and Selection – Next Essay Sample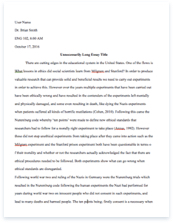 The whole doc is available only for registered users
OPEN DOC
Pages:
Word count: 7333
Category: business
Get Full Essay
Get access to this section to get all help you need with your essay and educational issues.
Get Access
Recruitment and Selection – Next Essay Sample
* Recruitment documents:
* Choosing the best person
Once a business has attracted applicants who match the person specification, the next stage is to gather information on each applicant.
The main sources of information are:
* Application forms
* Curricula vitae (CVs)
* Interviews
* Testing
* Taking references.
* Person specifications:
* Personal attributes and achievements
A person specification is concerned with identifying those people who have the right qualities to fit the jobs you are offering.For example, the customer service advisor may require communication skills and be polite.
The personal attribute they may need to posses might include punctuality and smartness of appearance. Personal achievements give a good indication of an individuals existing abilities. Personal achievements can be good indicators of qualities such as the ability to work in a team, to help others, to persevere.
* Qualifications:
Qualifications are another important part of the person specification.
Qualifications are a good measure of prior learning.
The idea of a qualification is that it prepares you to do a particular job or activity.
Next always consider the level of qualification required by a job holder.
* Experience:
Someone with experience in carrying out a particular post or who has had particular responsibilities should be able to draw on that experience in a new situation.
Next would do a person specification which should set out the required experience for a jobholder.
* Competence:
Competence implies that a person has sufficient knowledge or skill to carry out particular tasks or activities.
Person specifications should set out levels of competence required by a particular jobholder. Next think it is vital to make this clear so that all work is done with good effect.
* Job descriptions:
The purpose of recruitment is to buy in and retain the best available human resources to meet the organisation's needs.
First requirement is to define and set out what is involved in particular jobs. This can be done by carrying out a job analysis, which leads onto an outline job description.
A job description could be used as an indicator for applicants of what the job requires. It could be used as a guideline for an employee and/or line manager as to his or her role and responsibility within the organisation.
Job descriptions can be used by organisations to provide information for use in drafting situations vacant advertisements.
* Job Title:
The job title is one of the most important parts ofajob description. The job title gives an indication of what the job entails.
When looking through job advertisements the first thing job applicants will look for will be the job title, as it will clearly separate it from the job that they want.
The Job titles will sometimes change to give the job more appeal e.g. in Next they call their telephonic a 'customer services advisor'.
* Position within organisational structure:
A job description will often establish where an individual stands in a particular organisational structure. It can clearly set out whom the post holder is accountable to, and who is accountable to him or her.
Next feels that this would give clear a idea of responsibility.
* Duties and responsibilities:
Job description sets, out duties and responsibilities.
Prior to setting out a job description an organisation may carry out an analysis of the tasks that need to be performed by a jobholder, and of the skills and qualities required.
Next think by setting a job description it would help the job applicant to get a clear picture of what is expected of them.
* Responsibilities for assets and materials:
It is important to set out the range of physical assets and materials the jobholder will be responsible for. Everybody will then be sure about the accountability of the jobholder for the efficient maintenance of these resources.
Next think it is important for employees to be confortable with the equipment.
* CVs:
A Curriculum vitae (CV) is a document usually initiated and prepared by a job seeker. It serves a similar purpose to an application form. It supplies a prospective employer with the job seekers details.
It should include information on:
* Personal details
* Education
* Qualifications
* Work experience
* Interests
* Ambitions
In addition, the CV should include any other information that would be likely to persuade a prospective employer to consider granting an interview.
It should also offer at least two referees who will corroborate what has been claimed one should be a character reference and the other a work reference. The CV should provide a pen picture of the values and skills a job seeker can bring to any prospective employer.
* Letter of application:
* Rules to remember when writing an application letter:
* Use good English With accurate spelling
* Use your own words rather than simply copying those in tile advertisement
* Do not be too clever by using long words
* Keep the paragraphs short
* Try not to use 'I' too much
* Word process letters
* Follow the correct convention of addressing people e.g. a letter beginning 'Dear Sir/Madam should be ended with 'yours faithfully'. A letter beginning 'Dear Mr ' should end 'Yours sincerely'
* Job advertisements:
The next stage of the recruitment process is to attract only those people who fit the company's (Next) person specification. The first task is to identify, accurately, where the ideal people can be found. They maybe found doing a different job within the company itself; they maybe found through the families and friends of present staff. If someone straight from school or college, or on a youth training programme, would be ideal, Next may want to contact the careers service. However, in many cases, it may be necessary to advertise the position more widely.
When Next needs to advertise for staff, it is important to think about the type of people it is trying to attract and the publications they read.
For example, are the people the company is trying to attract more likely to be readers of The Times or The Sun?
If the job is a very technical position, or highly specialised, it is more likely to be advertised widely. But if it's to do a normal job capable by anyone they are likely to advertise in places where there are high unemployment rates, due to the fact that they are likely to get their employee on a very low wage scale.
However Next prefer energetic teenagers or very young because they could be an asset to them in the future add the fact that they are going to be desperate for a few quid.
But the disadvantages are that they would need more training than a person who has had experience in this kind of profession before.
* References:
A reference is an opinion, usually in writing, of a person's character, ability, honesty and reliability in support of a job application. The problem with references is that it is usually impossible to obtain a detailed and accurate report on how candidates are performing in their present jobs from their current employers.
* It is unethical to contact an employer who may not be aware that an employee has applied for another job.
* Some employers do give references to current employees. for example, teachers and local government staff can get references from their current employers but it is hard to know if these are accurate and unbiased.
* Personal relationships influence some referees more than job performance, even to the extent of writing a glowing reference to get rid of someone they do not like!
* Employers are often cautious when writing references. There is no legal obligation to provide references on request, but most employers do. References must be accurate. Any false information, or any omissions that might cause a candidate to fail to be offered ajob which he or she would have been offered had the correct information been given, may make a case for damages against the writer of the reference.
* What factors need to be considered when planning to fill a vacancy and carry out interviews?
Once the need of new staff has been established then it is important that Next go through the recruitment process. There are a number of different reasons why an organisation may require recruiting staff.
The recruitment process can be costly, in terms of resources devoted to the recruitment process and costs associated with recruiting poorly performing staff. It is important therefore to accurately select people for interview. Businesses need to be very clear about the requirements of the job and about the kind of person they are looking for.
Next understands the ways in which they do this through:
* Identifying the strengths and weaknesses ofjob applications, curriculum Vitae and letters of application
* The preparation of personal specifications and job descriptions
* Carefully planning how, where and when to advertise
* Short-listing candidates.
* Why recruit:
Businesses recruit staff for a variety of reasons.
The reasons include:
* The growth of the business
When Next grows in size it will usually need more people to carry out. For e.g. they are opening a new department in Enderby called the home dept.
* Existing job
May need more advisors when it gets busier for Christmas sales.
So Next would cover this by hiring temporary staff.
* New job
for e.g. if Next decide to go to Portugal in the future it will need staff that can speak the language and who are willing to go to Portugal.
* Changing job roles within the business:
There are advantages and disadvantages to recruiting within the company.
It can cause considerable savings, as they people who already work in the firm will not need as much training as the know the organisation. The organisation will also be less likely to feel disrupted by anyone who is not used to working with others in an organisation. Having internal promotion can also give other employees within a firm the feeling of an incentive to work harder.
The disadvantages of recruiting within a firm are that you also have to replace the person who has been promoted. The insider is less likely to give the firm the criticisms required for it to work more effectively and the promotion of one individual many upset another in the company.
* Filling vacancies created by resignation, retirement, dismissal:
During expansion Next may need new staff for new job openings or even existing jobs. As the employees get older, hand in notices, or are dismissed and it is important that they employee is replaced.
* Internal promotion:
Internal candidates are considered for the vacancy for promotion, unless the vacancy is for that of a lower grade job. Next believes in the use of internal promotion, as it sees it as an important source of motivating employees and it is a method that is seen by people as a feature of a 'best practise' employer. The benefits of internal recruitment are that the organisation will attract much better candidates if they are seen to have a future career in the organisation. The organisation will not have to rely upon external references when they are choosing from internal applicants, also many of the candidates will be local, who have bought homes there, have children at local schools and husbands/wives in other local jobs.
Next sees this as the ideal approach because that would act as an incentive and the reputation for internal advancement will find it easier to motivate staff. With internal candidates is also good as they already know the business and what will be expected of them, and they become more effective in the new job very quickly. Although there is a bound to be a little bitterness from other internal members of the organisation who did not get the job, they will still feel at least that there will be other career opportunities in the organisation and that they will get promotion at a later stage.
* Legal requirements:
* Contract of employment
In all recruitment procedures, an organisation needs to understand the contract of employment. The rights of employers and employees – the legal relationship between them – rests solely on the contract of employment. A contract is an agreement between two parties. The contract of employment sets out the basis on which the employee carries out the legitimate work of the employer in return for the payment of wages. The contract of employment is not a single, written document but a combination of both express and implied terms, and may be verbal as well as written. (An exception is an apprenticeship contract, which must be set out in writing.)
* Selection techniques
Making appointments in the entire recruitment and selection process, it is illegal to set any standards, or ask for qualifications, experience or personal qualities that discriminate unfairly against men or women, minority racial groups, and the disabled. It is important for a business to keep a record of its reasons for appointing or rejecting candidates to show that legal obligations are being met. If the selected candidate is offered and accepts the job, the other candidates should be informed and thanked for their time and interest.
The disadvantages of internal promotion is that the successful candidates may suffer role conflict in that they are now senior to people with whom they worked with as equals, there may be a problem in them asserting their authority. The filling of a position internally brings about the problem of another vacancy being created and being filled. A person who also picks up the promoted position maybe expected to pick up the new job in an unreasonably short space of time.
* The need to have a flexible workforce
The importance of recruiting and maintaining a flexible workforce would enable a business like Next to remain competitive.
The different bases for recruiting people for a flexible workforce include:
* Different modes of employment
The recruitment and maintenance of a flexible workforce is vital for Next if it wants to stay competitive. In recent years, the general composition of the workforce has altered to create a demand for more
flexible working practices, such as flextime, multiskilling (that is, employees trained in a variety of tasks) and job sharing.
* Full time:
Full time or 'core' employees are those staff that works what is considered to be a standard week, of 37.5 hours or more. Full-time workers benefit from increased pay and benefits and, until recently, had more employment rights. It is advantageous for an organisation to employ full-time employees because they can be trained more quickly to become multiskilled.
For e.g. The fast food restaurant chain McDonald's states that it takes four months to train a full-time crew member with basic skills, but eight months to train a part-time employee. Increasingly, organisations employ a select group of highly skilled core workers, and then supplement their workforce with cheaper part-time and temporary workers.
* Part time:
The rise in part-time workers can be attributed directly to the growth in the number of women choosing to work. Growing demand for more flexible hours has arisen as employees attempt to balance working with raising children. Although it is not a legal requirement, some employees allow mothers to return to work part-time after maternity leave or to participate in a job share scheme with another employee.
Part-time positions are sometimes taken by employees as a 'hobby', to supplement other jobs or because there is no full time work available. For employers, the attraction of part-time working is that it can offer more flexibility. The standard nine-to-five working day is becoming outdated, as businesses need to work more flexible hours to meet ever increasing customer demands.
Part-time workers, students or school employees are beneficial to Next because they can be used to cover evening and weekend shifts and it's also an advantage due to the fact that their pay is likely to be less but the output is going to be the same as any full-timer.
Government legislation has been introduced to protect the rights of part-time employees and give them similar rights to full-time employees.
* Temporary or casual:
Temporary employees are used by businesses to:
* cover another employee's maternity leave
* assist with large orders or special projects
* cover periods of sickness or unforeseen absence
* To help cope with seasonal changes in demand.
Next are not responsible for training temporary workers because they also use a recruitment agency as well as their own selections and it is up to individuals to ensure that they maintain up-to-date skills and knowledge by the agency. By doing this Next are saving time and money on recruitment by obtaining temporary workers through specialist employment agencies. The agency takes time to select suitable workers and deals with basic administration such as sorting out pay and national insurance. Recruitment agencies charge a fee for their work and apparently the agency deducts the employees a �1 per hour.
* Contracted staff:
In recent years there has been an increase in the number of people employed on fixed-term or fixed-task contracts. Fixed-term contracts offer employment for a specified period of time; fixed-task contracts offer employment until a particular task or project has been finished. By employing workers using fixed-term or fixed-task contracts, an organisation can ensure that its labour costs are no higher than they need to be, as it only employs people for specific projects or periods of high demand.
* Different terms and conditions:
* Express terms:
Express terms are stated plainly, exactly and unmistakably during the making of the agreement. Usually, a letter of appointment is given to a new employee. This is a very important document because it sets out the details of the agreement between the two parties in writing, and it is usually accepted by the new employee in writing. The letter of appointment becomes the cornerstone of the contract and may be called upon in the event of a dispute between the employer and employee about the nature of the agreement.
In the event that a verbal offer is made, and a verbal acceptance is given, the agreement is based upon what was said during the interview and what was agreed during any discussions between the employer and prospective employee. Any additional detail about what the job entails such as a job description, work rules or employee handbook may also be called upon to clarify the details of the contract. So what is written, and anything that is said which the two parties intend to be binding upon them, is part of the contract of employment.
Fundamental rights of employees were first set out in statute law in 1963 and 1971. (Statute law is law enacted by Parliament and is the highest law in the land.) In 1978, the law was amended by the Employment Protection (Consolidation) Act. This gives employees the right to receive written particulars of the terms of employment. Under this Act, most employees are entitled to receive a written statement of the main terms and conditions of their employment within 13 weeks of starting work. In April 1993, a European Union directive reduced this time period to eight weeks.
The written statement must include:
* the employer's and the employee's names
* the date upon which employment began, including any previous period of employment that is to be considered continuous
* the job title
* the payment scale or rate and the frequency of payment
* hours of work
* holiday entitlement and holiday pay
* sick pay and allowances
* pension schemes
* the amount of notice to end the contract
* Disciplinary and appeal procedures, and grievance procedures.
If an employer fails to provide a written statement of the main terms and conditions of employment, an employee could exercise his or her legal right to ask an industrial tribunal to decide what ought to have been in the written statement. This is then imposed upon the employer. Employers with more than 20 employees are also obliged to ensure that every employee has a copy of (or access to) the disciplinary and grievance procedure.
* Implied terms:
It is impossible to predict the changes which might occur in the relationship between an employee and employer during the period of employment. To overcome this difficulty, the legal courts read implied terms into contracts which are necessary to allow the contract to work.
Some implied terms are reasonably straightforward. For example, all contracts of employment will be deemed to include common law duties, such as the duty of care (safety); in other words, each party has a duty not to jeopardise the safety of the other.
Employees also have a common law duty of obedience. The duty of obedience (although modified by both UK statute law and European Union laws and regulations) remains fundamental to employment relationships. If an order given by a supervisor is within the contractual authority of the employer, the employee has an obligation to obey or run the risk of losing his or her job.
It is usually very difficult for a manager or employee to determine whether an employer is in breach of the implied terms of a contract. It is likely that a lawyer would be required to examine case law and advise the firm or individual. Case law is based on decisions given by a judge in one case, which then become precedents, providing guidance in all other similar cases. As a general guide, however, there will be implied terms in all contracts relating to:
* a duty to act with good faith towards the employer
* a duty of care, each party for the other
* a duty to maintain confidence and tmst between the employer and the employee
* a duty of the employer to provide work, and a duty of the employee to carry it out conscientiously
* a duty of the employer to give reasonable support to all employees so that they can carry out their work
* similarly, the employer has a duty to support managers in their managerial duties.
There are some contracts into which particular implied terms are read. For example, a skilled craftsperson would be expected to know his or her craft and to practise it to an acceptable standard of quality and safety. This implied term about competence, expertise and due care not only applies to craft occupations but also to professional people as well. For example, teachers are expected to know their subjects and be able to communicate them to students in an acceptable fashion.
Some firms also negotiate agreements with trade unions. These collective agreements usually relate to wages and conditions of work. For example, a teacher's salary might be agreed between his or her employer and the National Union of Teachers during the annual pay negotiations. These agreements are not legally binding between an employer and the union but, once they are incorporated into an employee's contract of employment, they are binding upon both the employer and the employee.
There may be occasions when custom and practice is considered to be an implied term in the contract. Custom and practice is the term given to unofficial working practices operated by the workforce which are not covered by a specific rule or procedure. They are condoned by management but have never been 'agreed' by management. Custom and practice is hard to establish and courts tend not to be sympathetic to arguments that it constitutes an implied term of contract.
* Statutory rights:
In order to clarify matters, and to ensure that employee rights are protected from abuse by powerful employers, governments have introduced numerous employment laws in the past thirty years.
C2
* Analyse the key recruitment documents used by your business and evaluate the quality of information in relation to the purpose of each Training and Performance Management:
The personal attributes of a Next employee can differ, as they are many different roles and areas within the company. The basic personal attributes that a Next employee might include is to be able to work well within a team with others, punctually and smartness of appearance. A good indication of an individual's existing abilities is personal achievements. These can be good indicators of quality such as the ability to work in a team, to help others, to persevere, etc.
Next is committed to treating all members of staff and applicants for employment in the same way, regardless of gender, sexual orientation, race, ethnic origin, marital status, age, disability or religion.
This commitment includes:
* The elimination of discrimination of any sort, including harassment.
* The promotion of equality of opportunity in employment.
* A continuing programme of action to make the policy fully effective.
* Employment policies that aim to ensure that people receive treatment that is fair, equitable and consistent with their skills and abilities.
* Regular reviews of practices in recruitment, selection, promotion and training to ensure they provide equality of opportunity.
* Monitoring the composition of the workforce, and its policies and procedures to ensure the Equal Opportunities Policy is being properly implemented. Staff and job applicants are expected to co-operate in this process.
Next believes that everyone benefits from a working environment where respect for the individual is encouraged, and if staff feels they have been treated in a way that is contrary to this policy the issue should be dealt with by a senior manager, or directly by Personnel.
Next will make every effort to secure a satisfactory resolution, either by informal means, or formally through the Grievance Procedure.
* Equality in Employment for People with Disabilities Definition of Disability:
The Disability Discrimination Act 1995 states that a person who is disabled is someone with a physical or mental impairment which has a substantial and long-term effect on their ability to carry out normal day to day activities.
The policy of the Company is to treat all members of staff and applicants for employment in the same way, regardless of gender, sexual orientation, race, ethnic origin, marital status, age, disability or religion.
* The Company is committed to an Equal Opportunity Policy. It recognises its social, moral and statutory duty to employ people with disabilities and will do all that is practicable to meet this responsibility and therefore supports and implements the Department of Employment's symbol initiative and The Employers' Forum on disability – Employers' Agenda on disability – Ten Points For Action.
* Next wishes to be a company that is recognised by the community as an organisation that provides good employment opportunities for people with disabilities and we wish individuals who apply to us for employment to know that they will receive fair treatment and be considered solely on their ability to do the job. Therefore, our employment policies aim to ensure that people with disabilities receive treatment that is fair, equitable and consistent with their skills and abilities. Our practices are reviewed regularly to ensure they provide equality of opportunity, selection, promotion and training.
* Next will make every effort, if an existing employee becomes disabled, to retrain and retain them within the Company, wherever reasonable and practicable.
* If any member of staff with a disability feels that he or she has been treated in a way that is contrary to this policy, the issue should be raised with a Senior Manager, or directly with Personnel. Every effort will be made to secure a satisfactory resolution, either through informal means or formally through the Grievance Procedure.
* Next monitors the composition of the workforce and its policies and procedures to be sure its Equal Opportunities Policy is being properly implemented. Members of staff and job applicants are requested to co-operate in the monitoring process.
* Qualifications:
Qualifications can also be very important in person specification. Qualifications give you an indication about a person's knowledge and skills and it is essential that you appoint the right person for a particular job. They give a good measure of previous learning. In job specifications organisation will need to consider qualifications of a person.
In order to work for Next experience is very important however if you have ability then they would train you, but there's a saying that says, 'there is no substitute for experience'. A person who has had experience in undertaking a particular job or has had the particular responsibilities is at an advantage and use it in a new situation. The person specification should go about regarding experience of a person.
The selection process for Next used to relying on application forms, interviews and selection centers. The company now operates competency based interviews. This is the process whereby applicants are asked to back up statements in interview with examples of personal experience, thus providing real evidence of their capabilities.
An important part in a job description is the job title. This should give a good indication of what people are required to do. In the changing environment the job titles of specific jobs may alter to confer a new status in a particular job.
* Assessing candidates:
All Next Candidates are assessed against set criteria for the job applied for.
For example, in choosing a lecturer in human resource management, they would be looking for the most knowledgeable candidate, with the best teaching record, the ability to work with others in a team, and the ability to inspire and enthuse students. There will, of course, be other criteria, too. Today it is common practice when selecting lecturers to assess them by asking them to do a presentation that should illustrate their current knowledge of a subject and their ability to teach in a simulated classroom situation.
Recruitment and selection are closely tied. Selection is the process of choosing people to work in an organisation.
The selection system that Next uses is to:
* Get the best people within existing budgets – that is, those with the most appropriate skills, experience and attitudes.
* Select people who will stay with the organisation for a reasonable time.
* Minimise the costs of recruitment and selection relative to returns.
The Selection interviews that Next uses is well organised. They arrange convenient times and at convenient locations, and they present to candidates a realistic picture of what the job entails and what working for the organisation would be like.
Before selecting candidates for interview, the Next normally have a clear picture of the 'ideal' candidate. As we have seen, it is then a matter of sitting through all the applications to find candidates who best meet the organisation's requirements and then drawing up a shortlist.
As part of the interviews, candidates may be given tasks to complete to test their aptitude. Also, to check whether applicants are likely to stay with the organisation, it is important to ask them about their future intentions and to show them the working environment. While Next needs to select suitable employees, it is also important taht employees select the right organisation.
* Success of the interview:
It will be important to appraise the overall success of the interview. One of the key considerations will be whether the interview was an appropriate way of selecting the best candidate for the job (i.e. the one who most closely fitted the person specification and was able to fulfil the job description).
The job interview will need to be carried out in a professional way. This means that interviewers can't judge looks or should not select candidates on a friendship basis but purely on fitness for the job.
Interviewers will also need to appraise the interview in terms of the way it meets legal and ethical obligations. Recruiters have legal obligations relating to such areas as race relations, sex discrimination, opportunities for disabled people and equal pay (see below). At the same time, staff engaged in the recruitment process need to work to a professional code of ethics embracing concepts of objectivity, confidentiality and honesty (see also below).
Interviews are not only used for people applying for new jobs. They are used frequently by Next for performance reviews (i.e. where a line manager or team leader will discuss with a subordinate or team member his or her performance at work and try to establish new targets for the next time period).
Next also carry out interviews with people who are leaving a job perhaps in some cases to find out why they are moving on, and what their future needs might be. Interviews are particularly important when people are retiring, to help them move safely on to the next phase in their life after (it is hoped) loyal service to the organisation, and to make sure the organisation is meeting all its legal contractual requirements.
According to Next, a Short-listing candidate helps to save time, money, and resources. Looking at applicant's details and seeing whether they fit the needs of the organisation does this. The candidates that do fit the needs best are short-listed taken to the next stage, for interviews.
* Psychometric and aptitude testing:
Many jobs today involve some form of psychometric or aptitude testing to find out whether individuals have the right sorts of personalities or dispositions to carry out particular types of work especially at Next.
A psychometric test is a way of assessing an individual's personality, drives and motivations, often by means of a paper and pencil questionnaire.
For example, one of the dimensions the psychometric test might draw out is an individual's willingness or ability to work in a team situation, or to handle stress.
Next places a great deal of emphasis on these tests because they believe they are reliable indicators of the sociability/personality of individuals, and that they are useful predictors of whether individuals will fit into the organisation and its existing culture.
* LegaL and ethicaL responsibilities reLating to equaL opportunities
Employers are bound both by the law and by the requirement to operate in a moral way (i.e. questions of ethics) in terms of their employment policies.
Organisations have to work within the law and failure to comply will lead to court cases, possible fines and adverse publicity. However, it should be expected that businesses will do more than is legally required and they will seek to do what is 'right' (ethical). Organisations that do not operate in an ethical way are likely to be unpopular with employees and other stakeholders, who may then use some of their power to force changes in the organisation.
There are a number of laws businesses and other organisations need to comply with in relation to recruitment:
* The Race Relations Act 1976
* The Sex Discrimination Act 1975
* The Disability Discrimination Act 1995
* The Equal Pay Act 1970
* The Race Relations Act 1976 (RRA) and the Sex Discrimination Act 1975 (SDA):
The RRA and SDA have a number of similarities and, because of this, they are often interpreted in the same way by industrial tribunals. The RRA and SDA both protect all employees irrespective of age or status, whether they are full- or part-time workers or have a fixed or temporary contract. They attempt to deal with three sorts of discrimination:
� direct discrimination
� indirect discrimination
� victimisation.
Direct discrimination occurs when one employee or candidate for a job is treated better or more favourably than another because of his or her race or sex. For example, a British Asian applies for a job as a carpenter and he goes for an interview at a building site. He is told there they 'don't tolerate blacks' and he would not fit in. This is a prime example of racial discrimination.
Indirect discrimination takes place when all employees seem to be treated exactly the same on the surface but, when looked at closer, members of a particular racial group or gender are found to be discriminated against. For example, an employer tries to insist that all female staff must wear short skirts. Clearly, this will disadvantage groups
whose culture or religion requires that legs should be covered up.
Victimisation occurs when an employee is singled out for unfair treatment because he or she has attempted to exercise rights under the RRA, SDA or Equal Pay Act, or has helped others to enforce their rights. For example, if an employee were to appear as a witness or to support another employee's claim for discrimination and, as a result, was not chosen for promotion within an organisation.
* RaciaI. Discrimination:
The Race Relations Act 1976 states: 'A person discriminates against another if, on racial grounds, he treats another less favourably than he treats, or would treat, another person.' Discrimination on racial grounds is, for the purpose of the RRA, defined as discrimination on the basis of colour, race, nationality, or ethnic or national origin.
* Exceptions to the Race ReLations Act:
The Act recognises that, for certain jobs, being a member of a particular racial group can be a necessary requirement for the particular job. These include entertainers, actors, actresses, artists' and photographers' models, waiters and waitresses (e.g. in a Chinese or French restaurant).
Harassment is another form of direct discrimination. This includes verbal or physical bullying or intimidation and also more subtle forms, such as racist jokes, banter or graffiti. It also includes shunning people, excluding them from conversations or picking on them unnecessarily because of race or colour.
* Sex discrimination:
The Sex Discrimination Act states that it is unlawful to treat someone else less favourably on the basis of his or her sex:
'A person discriminates against a woman if, on the grounds of her sex, he treats her less favourably than he treats a man.' This applies equally to men and women.
* Exceptions to the Sex Discrimination Act:
The main exceptions where discrimination is permitted are as follows:
* Jobs that, for genuine reasons, must be carried out by someone of a particular sex.
* Privacy or decency is required (e.g. a changing-room attendant).
* Single-sex hospitals, prisons or care centres.
* Jobs that involve work in a country whose laws require individuals to be of a certain sex.
* SEX DISCRIMINATION ACT 1975:
No job advertisement which indicates or can reasonably be understood as indicating an intention to discriminate on ground of sex (eg by inviting applicants only from males or only from females) may be accepted, unless it is exempted from the requirements of the Sex Discrimination Act.
A statement must be made at the time the advertisement is placed saying which of the exceptions in the Act is considered to apply. It is the responsibility of advertisers to ensure that advertisement content does not discriminate under the terms of the Sex Discrimination Act.
* The Equal Pay Act 1970 (EPA):
The objective of the EPA was fundamentally to ensure that women receive the same pay as men for the same or broadly similar work. If a woman (or man) wants to claim for pay discrimination, she must ensure that whatever man she compares herself to is in the same employment (i.e. the man has to be employed by the same employer or an associated employer).
* Equal. Pay Act categories:
The purpose of the EPA is to make sure that women are given the same treatment as men:
* Who are engaged in like work in the same employment.
* Whose work is rated as equivalent.
* Whose work is otherwise of equal value.
Pay is defined under the EPA as including:
* fringe benefits or the use of a car
* sick pay
* Redundancies or severance payments the right to join a pension scheme.
* Disability discrimination:
The Disability Discrimination Act 1995 (DDA) protects employees who are classified as disabled. Anyone with a physical or mental impairment that has long-term effects upon his or her ability to carry out everyday activities is termed disabled.
The DDA provides that it is unlawful for employers to discriminate against a disabled person in relation to:
* the recruitment process
* promotional opportunities
* dismissal.
Currently, only employers with 20 or more employees are prohibited from discriminating against disabled people. Also the DDA does not apply to operational staff employed in the armed forces, police, prison service, and fire service.
* Recruitment, Promotion and Training:
Decisions are all decisions in relation to the above will be taken, having regard only to the requirements of the job (or of the training proposed). Promotion and training opportunities will be available to all employees, irrespective or race, ethnic origin, religion, sex, marital status or possible family commitments, sexual orientation or disability.
* Short Listing, Interview and Appointment Procedures:
Interview and appointment procedures shall be adopted so as to minimise any disadvantage suffered by the handicapped, members of ethnic minority groups or either sex. Accordingly, except in so far as it is necessary for particular appointments, questions will not be asked at interview regarding the following: prospects of marriage, future family plans, religion or sexual orientation.
Application for all posts will be by standard job application forms. A copy of this statement shall accompany every application form issued. All members of interviewing panels should receive appropriate training, be familiar with this policy and be aware of the guidelines to be followed.
* Induction:
Induction procedures will include arrangements to ensure that such procedures are clearly understood by everyone. (This particularly applies to instruction and notices in respect of the Health and Safety at Work Policy.) For disabled people with mobility difficulties, special attention will be paid to emergency evacuation procedures.
* Other Decisions:
It is implicit in this policy that employees should not be treated more favourably or less favourably in all matters of employment (except where an exception is necessary and is allowed under the law) because of race, ethnic origin, religion, sex, marital status or possible family commitments, sexual orientation or disability. It is possible that discrimination can be implicit (not obvious on the surface) where the employing organisation demands that the employee asks for previous experience or qualifications which are not relevant to the job. Implicit discrimination also exists when employees are asked to go on training courses at times that are not suitable for certain people, e.g. over the weekend.
* Monitoring:
Monitoring of this policy in relation to employee recruitment will be by the Senior Management Team together with the Curriculum and Employment Committee of Governors.