Reference Groups Essay Sample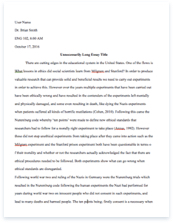 The whole doc is available only for registered users
OPEN DOC
Download Essay
A limited time offer!
Get a custom sample essay written according to your requirements urgent 3h delivery guaranteed
Order Now
Reference Groups Essay Sample
I) Primary and secondary reference groups: A primary reference group is one with which an individual interacts on a regular basis and whose opinion is of importance to him, family, neighbours, close friends, colleagues and co- workers are examples of primary reference groups. Secondary reference groups are those with which an individual interacts only occasionally and does not consider their opinion very important. II) Formal and informal reference groups: Rotary, lions, Jaycees are some of the well – known social reference groups in our society.
Labour unions, social clubs and societies are other types of formal reference groups to which individuals may belong. A formal reference group has a highly defined structure, specific roles and authority positions and specific goals. In contrast, an informal reference group is loosely defined and may have no specified roles and goals. Meeting your neighbours over lunch once a month for friendly exchange of news is an instance of an informal reference group. III) Membership and symbolic reference groups: A membership reference group is one to which a person belongs or qualifies for membership. All workers in a factory qualify for membership to the labour union. A symbolic reference group is one which an individual aspires to belong to, but is not likely to be received as a member.
http://www.marketing91.com/reference-groups-in-consumer-buying/ 2 types of reference groups-
Direct
(1) Primary –students
(2) Secondary – clubs
Indirect
(1) Aspirational (+ve) 'want to be' – idols
(2) Non-inspirational (-ve) 'don't want to be' – bad role model etc Normative reference groups- Group where individuals are motivated to gain or maintain acceptance from others. In order to achieve this they hold their attitudes in conformity with what they perceive to be the norms among the group members. Comparative reference groups- group that individual use as a standard or point of reference in making evaluations or comparisons of themselves and of other individuals or groups. http://www.slideshare.net/bprabaharan1986/influence-of-reference-groups-on-co