With reference to the life of Abraham as told in Genesis Essay Sample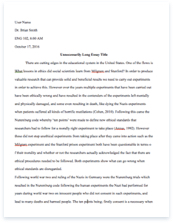 The whole doc is available only for registered users
OPEN DOC
Get Full Essay
Get access to this section to get all help you need with your essay and educational issues.
Get Access
With reference to the life of Abraham as told in Genesis Essay Sample
Abraham's relationship with God was established in Genesis 12, when the LORD called Abraham to found the elementary stages of a covenant. Covenant, concerning the Old Testament initially, was not termed to be a guarantee. A covenant is a legal binding and therefore has legal implications. One would perhaps consider the LORD to be above the law; nevertheless, covenant was significant in that it allowed the free-will given to humans in the first chapters of Genesis to be tested. The weaker party in a covenant agreement must display dedication and loyalty to the covenant in order to reap the benefits.
Such a covenant was kept by Abraham with God, and saw the progression and development of Abraham into a spiritually wealthy person. The elementary covenant made between God and Abraham set out the promise of land and many descendants to Abraham. Genesis chapter 12 verses 2-3 state: 'I will make you into a great nation and I will bless you; I will make your name great, and you will be a blessing. I will bless those who bless you, and whoever curses you I will curse; And all peoples on earth will be blessed through you. ' From these verses, one can deduce that a people are promised to Abraham, but also a place where these people can live.
There is an indication that more than one nation in envisioned. Many versions of the Bible state 'nations', this means that there is more than one land in view. Ultimately, the land given to the people is nothing less than the whole earth. The promise 12 Genesis verse 3 suggests that the whole earth comes into view as the dwelling place of multitudes. Abraham was told by God to take all his belongings with him and go where God told him. Being nomadic, Abraham was accustomed to travelling; however, his faith in the LORD was so great that Abraham trusted him to lead him to a safe place.
Abram was seventy-five years old when he left Haran. Sarai went with him, Abram was wealthy, he owned slaves. Abram and Sarai left for Canaan. They arrived in Canaan (the Canaanites lived there); they stopped at the Sacred Tree of Moreh at Shechen. At Moreh, Abraham built an altar to God; this was of great religious and spiritual importance at that time, as altars and sacred places are mentioned frequently in the life of Abraham. Abraham used his faith to aid his understanding of God's purpose for him, the building of an altar symbolises religious practice.
The image of an altar would be significant when Abraham was tested by God, so one could say that the frequent reference to the altar was an indication that Abraham's faith was to be tested. God had established in the very beginning that 'testing' would determine the strength of a person's faith, and still uses this today with modern believers. God's speech when he appeared to Abram linked with the call Abraham's wife, Sarah, even at her age, was so attractive that other men were taken with her beauty. Abraham was concerned that some might even consider killing him so that Sarah would be available to marry.
Fearing for his life, Abraham deceived Pharaoh into believing his beautiful wife was his sister. Earlier, Abraham had trusted God. But in this one chapter we see Abraham acting first in faith, and then in fear. Even though Abraham was a man of faith, he was an imperfect human. When Abraham encounters King Abimilech, Abimilech has an interest in Sarah, who Abraham claims is his sister. God, who is aware that Abraham is married to Sarah, decides that Abimilech has done wrong and will punish him. Abimilech believes that he is innocent, as he was not aware that Sarah was married to Abraham.
Abraham, in realising that he had told some false-truths about Abraham was chosen by God to be the founder of a nation; therefore God trusted Abraham and believed that Abraham was dedicated to him. The Akedah, the story of Abraham's binding of Isaac in Genesis 22 touches a deep nerve in Jewish and Christian sensibilities. It is a story of strange violence and tenderness, of a father ordered by his God to sacrifice 'his only son'. Only at the last moment are Abraham and Isaac rescued from the approaching horror by the intervention of an angel.
Abraham and Isaac leave the servants behind and set off: 'And Abraham took the wood of the burnt offering, And laid it on Isaac his son; and he took in his hands the fire And the knife. So they went both of them together. ' (Genesis 22:6) The last sentence, repeated two verses later, and the ensuing short dialogue emphasize the bonds between the two; yet Abraham's obedience to God causes him to go to the mountain of sacrifice. This shows Abraham's trust in God, that he will send some sign so that Isaac is not harmed.
Although Abraham is prevented from striking his son, the near disaster produces blessing and promise of a new nation which shall spring from the father and his son. This links in with Genesis 12, the very beginning of the covenant promise. Abraham trusted God to such an extent that he would have been prepared to sacrifice his own son under God's command. For a person to have such faith in a God which he could not see was rare, and therefore one can say that Abraham was ahead of his time. Development in Christian thought about the true existence of God did not arise until many centuries later.