Reflection Upon My Values and the Army Values Essay Sample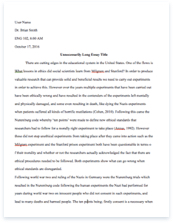 The whole doc is available only for registered users
OPEN DOC
Pages:
Word count: 885
Category: virtue
Get Full Essay
Get access to this section to get all help you need with your essay and educational issues.
Get Access
Reflection Upon My Values and the Army Values Essay Sample
The legendary American Military Hero, General George S. Patton once said, "Moral courage is the most valuable and usually most absent characteristic in men." I also believe that moral courage is one of the most valuable characteristics a man can have, in that to truly be a man of character, you must first have moral courage in order to live and defend your values. Without moral courage, values become something that are easy to live when things are easy and you are just coasting along, but when the going gets tough, those without moral courage will be more apt to yield to the tide of ease, popularity, or pressure. I believe my values, along with my moral courage which has been tried and tested and proven to be unbending, complement the Army Values of the United States of America. My values help me to better live the Army's values, and the Army values help me to better live my values. My core values fall under three categories: 1) devotion to my religion; 2) loyalty to my family and friends; and 3) dedication to self-improvement. The army values are loyalty, duty, respect, selfless-service, honor, integrity, and personal courage.
My religion, The Church of Jesus Christ of Latter Day Saints, provides the foundation for all of my values, standards, and morals. It is by living the teachings of my religion that I have developed my values and principles. Attending church every Sunday along with going to church activities has taught me to be faithful to God and my leaders, to be kind and charitable to everyone, especially those in need, to always be honest and loyal to that what I know to be true, to be diligent and hardworking, to be cheerful and optimistic in all things, and to defend the cause of freedom and liberty. The values I have learned by living my religion go hand in hand with the army's values including duty – living in obedience to the teachings of my religion; honor – developing the habit of being dependable, honest, and striving to live beyond reproach; integrity – being honest and doing what's right even when no one is looking; and selfless service – being a team player, placing country and others above myself, and working to serve and help them without the intent of recognition or reward. Both my church and the army have helped me to recognize these important attributes, learn how to apply them, and ultimately have them become a part of my character.
Additionally, my family and friends are important to the development of my character and values. My parents are the ones who raised me, taught me what was right and wrong, and have helped me cultivate the values which my religion teaches. In addition they have helped me to become more outgoing and friendly to others, be diligent and hardworking, shown me how to live and deal with others, especially my brothers and sisters, and most importantly, have instilled in me love and respect people, nature, and knowledge. My siblings have also helped me develop helpful characteristics such as how to have fun, how to get along with one another, how to build lasting relationships, and how important true and loyal friends can be. By the same token, the army understands that it is great families that build a great nation and emphasizes loyalty – devoting yourself to family members; respect – treating others as they should be treated; and duty – to fulfill the obligations of all your roles. The army, like my friendships with my family and friends, also has the long standing tradition of comradery within its units as well as the army as a whole.
In conclusion, I believe that to live and understand my values better and grow in knowledge and character that I must focus on improving myself each day. This self-improvement includes getting an education, having the courage to be myself, reflecting upon the attributes and traits I want to develop, and practicing these things until they become part of the moral fiber of my personality. Similarly, the army supports education and understands that personal courage is required not only to lead men into battle, but also in working to overcome the personal battles of overcoming trials, disappointments, and vices within our character. The army needs men of sound mind and character in order to be effective. Constantly striving for self-improvement, daily thoughtful reflection, and attentive practice to developing desired skills and characteristics are what make good men transform into not only great men, but great leaders. As General Dwight D. Eisenhower put it, "The one quality that can be developed by studious reflection and practice is the leadership of men."
Ultimately, my values compliment and build on the army values. I believe that by having moral courage, living my values along with the army values, I will cultivate the attributes, character, and attitude of a great man who is a leader both of self and of others.
References:
General George S Patton. GENERAL GEORGE S. PATTON, JR. QUOTATIONS. Retrieved from http://www.generalpatton.com/quotes/index.html
United States Army. The Army Values. Retrieved from http://www.army.mil/values/
General Dwight D Eisenhower. As quoted in the text Eisenhower's Generalship by Stephen e. Ambrose. (1990) Retrieved from http://www.carlisle.army.mil/usawc/parameters/Articles/2010winter/Ambrose.pdf