Reflections over Body Ritual Among the Nacirema Essay Sample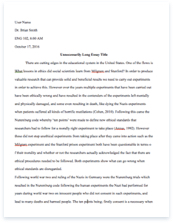 The whole doc is available only for registered users
OPEN DOC
Pages:
Word count: 705
Category: Body
Download Essay
A limited time offer!
Get a custom sample essay written according to your requirements urgent 3h delivery guaranteed
Order Now
Reflections over Body Ritual Among the Nacirema Essay Sample
In the article, the author introduces us alleging that the anthropologist is familiar with so many different behaviors that it is hard to believe he can be shocked by some exotic culture. However, he specifies later that the piece is just about how far humans can reach regarding their demeanors and rites. Along the article, Miner describes the habits – I might just call them obsessive – of a group located in North America, which focuses their daily rituals particularly in the care and cleaning of the human body (which, according to their ideology, tends to disease and emaciation). From the fourth paragraph, the reader begins to suspect that the article is not informative, but a strong social critique instead – narrated as parody – about the 'superficial, based-onappearance' North American culture. He builds metaphors, analogies and images founded on everything that involves hygienic rituals of the American: from teeth brushing, to plastic surgery for cosmetic reasons. It is possible to make the relationship between the article and the first chapter based primarily on the definition of dress. According to the authors of the book, dress involves, in addition to clothing and accessories, all those intentional modifications made to the human body; but it also addresses culture and its objective and subjective elements.
Evidently, the ceremonies and cults that Miner describes throughout the reading are part of the subjective elements – i.e. intangibles – of American culture. In the first chapter of the book we are introduced to scientific theories about how dress affects and derives from interpersonal relationships. I might venture to say that American people – although not exclusively – base their physical appearance standards in symbolic interaction theory. Much of what we see in the mirror just before leaving our homes is the aftermath of the responses and evaluations received from third parties. Moreover, much of the sense of self develops from social interactions and, as a matter of fact, North America gives a great deal of importance to personal hygiene because it just may be the most important thing regarding first impressions. In addition to this, part of cultural education focuses on the self-image we want to project to the audience, even though it is undeniable that this is simply a learned behavior. Although I am not American, I believe this social critique can apply as well to the society in which I
Cultural Perspectives of Dress Dr. Melinda K. Adams
Marisol Garza Amparán Student ID. 937642
belong. Since I've always lived in the northern part of Mexico, while the cultural values differ, social behavior and much of the lifestyle are similar to those in southern USA. I must confess it was a bit strange reading about psychiatry sessions, as I think it is a fairly common practice in our culture. Even though the ordinary becomes normal in time, seeing it from the point of view of the author is somewhat alarming. It seems to me that his attempts are going straight to the fact that we neglect our mental health in such a way, as we focus entirely in our health and physical appearance, that in our despair the only thing to do is leave it to an expert. I think the concept that pervades the reading, and that practically forces the reader to reflect on his behavior, is "dissatisfaction".
I don't believe there's anything wrong with hygiene; quite the contrary, as a matter of fact I consider it a very important part of our social interactions (but then again, this is a learned cultural notion). "It is hard to understand how they have managed to exist so long under the burdens which they have imposed upon themselves", states Miner in the penultimate paragraph. Indeed, I think to myself. I guess we're now so used to this lifestyle that we just carry on with our lives, not taking even a minute to think if this is true to ourselves or if it's just imposed by social pressure. Nevertheless, what Miner mentions about the 'pervasive aversion' we have towards our own bodies is a matter of deep reflection, and perhaps we should ask ourselves whether this culture of appearance makes us a better society.