Reflectivity of Light Biology Lab Essay Sample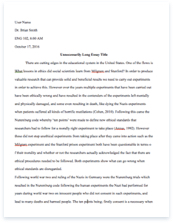 The whole doc is available only for registered users
OPEN DOC
Pages:
Word count: 634
Category: light
Download Essay
A limited time offer!
Get a custom sample essay written according to your requirements urgent 3h delivery guaranteed
Order Now
Reflectivity of Light Biology Lab Essay Sample
Evaluation:
1. Which color, other than aluminum, has the highest reflectivity?
Of all the colors, red had the highest reflectivity next to aluminum.
2. Which color has the lowest reflectivity?
Of all the colors, black had the lowest reflectivity.
3. What materials might give a planet a high reflectivity or albedo? Explain.
Since aluminum gave the highest albedo, materials that are similar to aluminum might give a planet high reflectivity or albedo. For example, I would expect a planet containing lustrous metals to have a high albedo. As well, since the colors red and white had pretty high reflectivity, I would expect that a planet containing objects that are white or red to have a high albedo as well.
4. Does the planet Earth have high reflectivity? Why?
The planet Earth would have relatively high reflectivity because of the colors that are present on out planet. The clouds are white, the two poles are covered with white snow, and the oceans are clear and can diffract light (if struck correctly, it can diffract light at a degree so that it fully reflects it). As well, Earth contains many different metals, most of which are lustrous and has high reflectivity. And, not many things on Earth are black, which has a very low albedo.
Part B The Albedo Effect, Surface Conditions
PLANNING A
Purpose:
Problem: What is the effect of surface conditions on the ability of a material to reflect light energy?
Prediction:
Experimental Design: Refer to Hand-out
Variables:
d) Manipulated Variable:
e) Responding Variable:
f) Controlled Variables:
PLANNING B
Materials: Refer to Hand-out
Procedures: Refer to Hand-out
DATA COLLECTION
Evidence:
The Reflection Value of Different Surface Conditions
Color
Water
Red Shale
Sand
Gravel
Glass
Reflection Value
0.120
0.644
0.590
0.429
0.284
DATA PROCESSING AND PRESENTATION
Analysis:
CONCLUSION AND EVALUATION
Conclusion: Through the findings of this experiment, different surface conditions have different abilities to reflect light energy
Evaluation:
1. The experimental errors that may have occurred includes whether the light that was reflected off the different surface conditions was absorbed or detected by the light sensor. As well, while trying to write down a reflection value, the value constantly fluctuated and was very difficult to assign just one value.
2. Each surface condition may affect conditions in specific parts of the biosphere because the amount of light energy that a surface reflects or absorb can be a factor in the temperature of the region. For example, a desert may have very high temperatures because not only is it close to the equator, but the sandy surface had a relatively low albedo, meaning more absorption of the light energy then reflection, thus even more heat remains in the desert. Another example would be the two poles, where their latitude is not the only factor that accounts for their low temperatures. The white snow and ice has a relatively high albedo, meaning more reflection of light energy then absorption, thus a cooler climate.
3. Since both color and surface conditions can affect the albedo of a certain substance, then parts of the biosphere that may contain both high albedo colors and surface conditions would have a very high albedo overall, creating a cooler environment. And if an area had low albedo colors and surface conditions, then that area would have a very low albedo overall, creating a warmer environment. A specific example would be the arctic, where the snow and ice yields high albedo, and the white color yields high albedo as well. Thus the arctic is cooler because of it.