Relationship with Dogs Essay Sample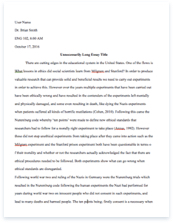 The whole doc is available only for registered users
OPEN DOC
Pages:
Word count: 454
Category: dogs
Download Essay
A limited time offer!
Get a custom sample essay written according to your requirements urgent 3h delivery guaranteed
Order Now
Relationship with Dogs Essay Sample
Most animals that are now living together with the humans were pets. Most animals that are the most helpful to the humans include those used for transportation, for hauling loads, and for assisting disabled people. The latter are usually dogs trained to guide the blind and to care for paraplegics. These animals are attached to the humans through friendship and faithfulness the most. But there are also animals that do not appreciate the relationships with the humans.
Animals can be comforting friends. They are always there when you need them. They can listen to you while you talk to them about your problems. Even though they might not understand what you are saying, it is always possible that humans and animals can have a special bond between them which helps to understand each other. For example, just like close friends can feel each other's sorrow and happiness, humans and animals can feel and understand each other if they make a closer relationship than just being a pet and a owner.
Some humans can build a stronger relationship between animals than humans. This is because both humans and animals stay faithful to each other. Maintaining a faithful relationship brings a stronger bonding between any two living things. Even though the time spent together is only a short amount, if the animal and the human can trust each other, they can remain faithful to each other for a longer time. For example, in Korea, a dog which had been sold to a person more 200 miles away had returned to its first owner after it had escaped its second owner, who had been tormenting the dog. This dog had built a special relationship with its first owner, which encouraged him to stay faithful. This shows that animals can be more faithful than any humans.
Animals are kept as pets because they are like a friend. Some animals are given to children to teach them responsibility. Over time, the owner and the animals get attached to each other eventually through living together. Some pets are honorable and faithful, developing a special relationship with the people. However, some animals not trustable even after spending time together for a long time. Many animals had turned around from their owners who had given them a home to live and food to survive, and ran away. A lot of relationships had been abandoned because the animals had given up the love it was receiving. These shallow relationships between humans and animals are almost alike to human relationships. The relationships between humans can break at any time. This is caused because people do not be trust each other. Relationship between animals and humans are not always maintainable.