Report: Employment and Internship Essay Sample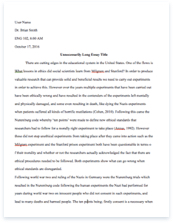 The whole doc is available only for registered users
OPEN DOC
Get Full Essay
Get access to this section to get all help you need with your essay and educational issues.
Get Access
Report: Employment and Internship Essay Sample
I must confess the sense of relief I had when I realized that I was enjoying accounting, since graduation was just around the corner.
My internship reaffirmed my decision to become an accountant. I found that nobody expects you to know everything and that mistakes can be tolerated if learned from.  The experience has given me confidence in myself that was severely lacking beforehand. I have realized that I want to continue working in the area of auditing. Experience And Academic Benefits.
Experience is always an advantage when seeking employment. An internship provides a relatively nurturing environment for enhancement of your accounting ability as well as professional experience to list on your resume. An internship will provide an introduction to organizational politics and culture. You will come to appreciate more fully the importance of teamwork, exceeding expectations, personal alliances, professional demeanor, professional appearance, mentoring, and personal commitment to excellence. Contacts made during an internship will often serve as your best leads for full-time employment later.
Many public accounting employers have told the authors that they give preference in their hiring decisions to students with internship experience. Some of these same employers have indicated that at promotion time, completion of a busy-season internship is considered roughly the equivalent of a complete year of full-time experience. Consequently, the right internship coupled with the right performance often leads to a full-time job offer and early promotion.
When you see the real-world relevance of your academic work, it brings focus to subsequent academic work. While lectures on controls, systems, cycles, etc., etc., are useful, such lectures and exercises are more meaningful when laced with workplace images. A predominant number of students returning to classes after completing internships report an enhancement of their ability to master academic accounting material. They also greatly enrich class discussion with their knowledge of how textual material applies to the workplace.
Many schools award a limited amount of academic credit for internships. As an added academic benefit, an internship with the right employer is often looked upon favorably when applying for graduate school! Exhibit 3 includes quotes from our student interns concerning experience and academic benefits.
Other Benefits.
Sometimes financial, image, esteem, and other problems necessitate a change of pace. An internship provides a different life for a semester. With pay ranging from 50 to 90 percent of what a new full-time graduate is paid, an internship sometimes makes completion of one's academic program financially feasibl
EXHIBIT 3: ACCOUANTING INTERN QUOTES
EXPERIENCE AND ACADEMIC BENEFITS
(Source: Student internship Papers submitted at Tennessee Tech) I have learned that things are not as easy in the real world as they are in the classroom. I worked with several different people and learned from their work ethic and attitudes. On the job, you see that everything is done for a reason and to see all the aspects you learn in class coming together is just amazing.
The greatest thing about my work experience was just that, it was a work experience. Not only has it helped me in school, but I feel that it has provided me with a good solid work experience background.
Experience is in itself an education, and I have learned much. Every day was a learning experience. I know I will benefit from it for a long time to come.
I learned a tremendous amount about computers.
My internship helps me better understand the concepts of my auditing class and how the entire accounting field operates.
I learned more in three months than I ever thought was possible. This experience gave me the basic foundations of how an accounting firm
operates. This has helped me with the interview process.
Everyone spent time to explain and teach when I did not understand a project. The professional, easy-going atmosphere helped to create a favorable experience. PREPARING FOR, PLANNING, AND MAXIMIZING
THE INTERNSHIP EXPERIENCE
Perhaps it goes without saying that you should strive to excel both academically and in extracurricular activities. This general advice applies equally to preparing for intern and full-time positions. Interns returning from their work experiences (and their employers) have provided extensive feedback on how to prepare, and plan for an internship as well as thoughts on how to maximize the experience. Here, this feedback is framed in the form of advice.
Freshman And Sophomore Years.
Take your grade point average seriously and try to maintain a 3.0 (on a 4.0 scale) or better if possible. Memberships and Officerships in clubs demonstrate initiative, energy, and people skills and should appear on your resume by the junior year. Varsity, junior core at most schools: Intermediate Accounting, Cost Accounting, Individual Taxation, Auditing, and Accounting Information Systems. Completion of these courses enables you to be more productive once on the job and to be an impressive representative for your school.
If academic credit is involved, some type of "learning contract" is normally used to formalize the duties that your internship will entail. Faculty advisors are responsible for learning contracts, but you should make sure such an agreement exists so that there will be no misunderstanding about what you are to do to get academic credit for your internship. In any case, make clear that the work will be accounting and/or accounting related. While most internships involve some lower-level clerical work, the bulk of the time should promote your interpersonal and professional development. You should expect a reasonable rate of pay. Professionals do not perform services free of charge and accounting interns are quasi-professionals. Unpaid interns run the risk of being reduced to filing clerks and coffee brewers. When employers deliver compensation they simultaneously deliver expectations. Unpaid internships are seldom problems since 1938 Labor Laws suggest that accounting and other financial services interns must be paid.
During The Internship.
Take initiative and go after the best assignments your employer has to offer. Seek assistance and supervision from full-time, experienced employees. Frame failures positively and remember that failure is sometimes the best teacher. Express a desire for inclusion in staff meetings, continuing education seminars, and other available staff training opportunities. Be punctual, reliable, and diligent. With your words and your behavior, frequently communicate your interest in the company, its missions, and doing more than your part.
Set a productive agenda for yourself and stick with it. Listen and observe carefully. Avoid making the same mistake twice. The following advice, mentioned earlier, is still applicable while you are on the job. Strive to continue refinement of your writing, computer, and presentation skills. Develop a reputation for diligence, integrity, reasonableness, and excellence among all of your employer's personnel. Organizations with new internship programs may have devoted inadequate time to internship planning. As a consequence, you may sometimes feel awkward. If you find yourself in such a situation, become involved (to the extent possible) in expanding and managing the internship. Sometimes, an internship is what you make of it. If you have the misfortune to find yourself in a seemingly dead-end internship, remember the importance of perceptions and that, perhaps, no internship is a waste of time since it provides professional experience to list on your resume.
After The Internship Experience.
Send a thank you letter to your employer. If you wish, express continuing interest in the organization and a desire to stay in touch. Take evaluations of your performance as valuable input on how to further prepare for full-time opportunities. Remembering that faculty is often large players in recruiting decisions, competence and excellence should characterize completion of any remaining academic requirements.