Report on Creativity Techniques Essay Sample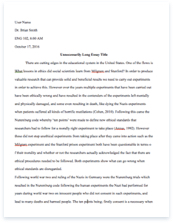 The whole doc is available only for registered users
OPEN DOC
Pages:
Word count: 1668
Category: arts
Get Full Essay
Get access to this section to get all help you need with your essay and educational issues.
Get Access
Report on Creativity Techniques Essay Sample
Creativity is the impetus behind any given act of creation: inventions, compositions, etc. It is a fundamental human compulsion and largely related to notions of what separates human from machine intelligence.
The range of scholarly interest in creativity includes a multitude of definitions and approaches involving several disciplines; psychology, cognitive science, education, philosophy (particularly philosophy of science), technology, theology, sociology, linguistics, business studies, and economics, taking in the relationship between creativity and general intelligence, mental and neurological processes associated with creativity, the relationships between personality type and creative ability and between creativity and mental health, the potential for fostering creativity through education and training, especially as augmented by technology, and the application of creative resources to improve the effectiveness of learning and teaching processes.
In other words, "Creativity is the process of developing ideas that are original and of value." Creativity can mean different things to different people. For some it means being imaginative or inventive, taking risks or challenging convention. For others it is about original thinking or producing something that nobody has come up with before. Some believe that the term 'creativity' only applies only to those who possess artistic talents.
Traditionally, creativity has been associated with the achievements of extraordinary people such as Mozart, Einstein and Leonardo Da Vinci, and a good deal of the early research into creativity has focused on the work of highly creative people or those considered to be geniuses.
My Reason to Choose Arts Field
If I were granted the scholarship to boost up my creativity then I would select arts field. Every field has their own importance and unique speciality. In my opinion, in order to create and boost up my creativity arts field is the best. It is so because personal interest plays vital role in the creativity. I am interested in arts field and there are so many creative works that we need to do by ourselves.
Well, why I would like to select art field is because since I was child I love to draw sketches, dancing, singing, playing music and many more. I even won first prizes in dancing and drawing competitions. I used to participate in many inter-school competitions. Like quiz competition, debate, spelling, singing and dancing, sports (basketball, badminton, table tennis, volleyball, etc), drama and so many other competitions. Mostly I've won first prizes.
Not only that when I was in grade eight we had to study vocational training where we had to study different flora and fauna, agriculture based courses and of course some study of advanced technologies and electrical appliances. We were sent to different field and made us study by ourselves. Again, when I was in grade nine we had to study tailoring and designing which really helped me to boost up my creativity. As I loved to draw sketches I've created many beautiful designs and sewed according to that. Since then I got interested in fashion designing as well. Because of these reasons I would choose arts field.
Creativity and Art
Most people associate creativity with the fields of art. In this field, originality is considered to be a sufficient condition for creativity, unlike other fields where both originality and appropriateness are necessary.
Within the different modes of artistic expression, one can postulate a continuum extending from "interpretation" to "innovation". Established artistic movements and genres pull practitioners to the "interpretation" end of the scale, whereas original thinkers strive towards the "innovation" pole. We conventionally expect some "creative" people (dancers, actors, orchestral members, etc.) to perform (interpret).
Objectives
• To create an active context for the exploration of creative expression across age ranges, cultural differences and educational abilities.
• Provide good performance spaces and art facilities, as well as performance and exhibition opportunities, and studio and gallery visits to boost up creativity.
• Having intuitions' own resident artists and galleries, immersing and nurturing students within a real artistic community.
• Enables human manifestation in the world as a "real presence" in contrast to the progressive "virtualization" of the world.
• To create a youth focus by working alongside existing agencies to encourage, stimulate and train children and young people in a variety of creative Arts disciplines with both vocational and non-vocational objectives.
• To provide access to the Arts for people who are not always eligible for such education, including those who are unemployed, unqualified, elderly or disabled, or students looking towards a future career in the Arts. To enable those with special needs to develop creative abilities to a high level.
• To further the exploration of the relationship between creativity and faith through practical work, debate and discussion.
To this end, the Centre has a commitment to education and teaching: • This proceeds from a convinced belief that excellence in the Arts is formed out of an understanding of the context in which any art form is made. • Further, that knowledge gained through experience and the artistic work of the past, and passed on through positive and perceptive teaching, makes for positive and perceptive works of art. • The aim in all art forms is the development of an inner awareness of possibilities and an outward expression attaining to excellence.
Why it is Essential? (Rational/ Importance)
Current educational experiences highlighting the importance of arts education have been advocated around the world. Programmers focusing on creativity-building education have attracted a great deal of attention. The movement encouraging arts activities within schools has attempted not only to promote the implementation of arts education in formal and non-formal settings, but also to improve the quality of education, appreciating the role of arts and creativity in school environment as a tool for promoting ethical values.
I'm not talented. Creativity is better left to the artsy types. Some people are born creative and others are not. How many times have you thought or uttered a similar phrase? Creativity is one of the least understood (or commonly misunderstood) areas of human endeavor. Notions of just who is creative, or to what degree, are often erroneously formed early in life. Our creative selves are too frequently discouraged in our formative years by others whose ability to judge this matter is often questionable at best (if, in fact, anyone is truly qualified to make this judgment).
We should disavow ourselves of the restrictive notions that inhibit our creative expression. In fact, many people think of creativity in terms of art, completely ignoring evidence of highly creative ideas explored in science, technology, theories of all kinds … even human interactions. If we give it some thought, we all employ creative thinking of some form or another. It might be coming up with a new approach to streamline some of the more mundane tasks at work. Perhaps you've developed an organizational concept that will provide more space in your home. Or you may have simply, without even consciously thinking about it, devised an alternate travel route that allows you to drop off your spouse at work, the kids at school, and make it to the office five minutes quicker that your previous route allowed! This may not strike us as creative in the sense we normally attribute to that word, but while not as glamorous, the underlying principles are often identical to those used for artistic creativity.
Although the debate on creativity is far from complete, one thing remains certain. To be creative, one must be open to the notion that they are creative. Whether at work, at home, or pursuing a life-long passion; exercise that creative muscle and you might be surprised by the results.
Activities and their purposes
As I am interested in fashion designing and dancing I had thought of joining arts field. If I have had joined arts field then I would have practice and learn through my heart. I would have tried my best to explore my creativity and ideas. I am still thinking of joining Bachelor in Arts after completing my internship. In my opinion, we need to have other additional knowledge and experiences as well. So I would do the following activities:
1. I will try my best to explore new ideas and views.
2. I'll design unique fashion which is liked by everyone.
3. I will participate in different designing competitions in order to know my ability and know the current market condition.
4. Besides that I will practice or take dancing class as well i.e. contemporary.
5. I think that dancing will make my mind refresh and healthy.
6. I will visit in different fields and know or receive the customer's choice and their demand.
7. I will try my best to fulfill my customer's needs and wants in order to satisfy them.
The purposes to do these all are none other than to boost up my creativity and gain various knowledge and information. Not only that I will get chance to interact with different people and know their perceptions towards my opinion. So that I would get chance to improve my creativity.
Discussion and conclusion
The rebranding of creative arts as the 'creative industries' in some institutions has led to a shift in the profile of the field. Where the arts used to be confined to museums and galleries, there is now talk of the 'creative economy' driving all types of business and organizations. Thanks to the digital medium, more artists now work in corporations as well as in studios, with a significant number of those qualified in creative arts working outside specialist creative organizations.
However, creative arts are also one of the fields in which small; specialist private providers are often the brightest stars in the education galaxy! Some may be difficult to enter but a general rule is that the harder it is to get into, the more chance we will have of pursuing our ambition.