Reporting Practices and Ethics Paper Essay Sample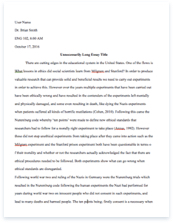 The whole doc is available only for registered users
OPEN DOC
Get Full Essay
Get access to this section to get all help you need with your essay and educational issues.
Get Access
Reporting Practices and Ethics Paper Essay Sample
Whether we want to believe it or not, finance is one of, if not, the important factors in running a successful healthcare organization. In order for it to be successful, the four elements of financial management should be executed in its entirety. These four components are controlling, planning, organizing, and decision making. When in the planning stage, it is essential to set goals for the healthcare organization along with its execution. It is in the controlling stage that helps to make sure that the goals set are to be carried out. A way that a manager can control an organization is to conduct monthly or quarterly audits. When organizing, there should be a structure set to make sure that everything is running smoothly and is up to code.
With decision making, the overall performance of the other three elements and its successes determines the decisions made. For example, if the organization has gone over budget, it is up to the decision making component to evaluate the situation and to see where there can be cut backs. Not only are the four components important but also the generally accepted accounting principles and general financial ethical standards but corporate compliance, ethics or fraud and abuse will be discussed. One must first have understanding of these terms in order to apply them to daily financial practices. Once there is understanding of these terms, then it would be easier to provide a more ethical approach when it comes to the organization's financial stability.
Generally accepted accounting principles (GAAP) basically are the guidelines that one should follow when trying to establish proper financial documents and reports. With these guidelines to follow, it was easier to maintain the financial reporting's for all fields, including healthcare. The generally accepted accounting principles were held in the highest regard. The guidelines of the GAAP have had a high authority when it came to determining financial practices in healthcare. Taebel (1995) the GAAP influence has dwindled if not stopped. It was stated that it was not required for hospitals, nursing homes or any kind of healthcare facility to adhere to the GAAP. It has been documented that the guidelines of the GAAP has caused facilities to lose money, even though they knew what was best about recognizing costs. It has been suggested that is not required to make decisions based off of the general accepted accounting principles. Capital costs are reimbursed according to a prospective payment system, providers are being paid a predetermined amount regardless of GAAP issues(Taebel, 1995).
When one thinks of healthcare, one thing that immediately flourishes is the trust of the facility, from the doctor on down. Especially when your financial information is being taken, one expects for the co pay to be paid and for the insurance company to pay their part. As a healthcare professional, there is unlimited access to personal information. A professional must treat the information with care by locking up papers with compromising information, locking the computers when walking away, and not discussing other patients diagnosis or dilemmas with others. Ethics isn't displayed with patient information but also within the department. For example, it is up to the financial manager to make sure that the department is within budget. If a manager opts to purchase something for the organization that is out of budget or may not be beneficial for that department, that is making an unethical decision. It is up to the managers to enforce proper ethical etiquette at all times. "Managers who understand the ethical challenges in the workplace are in a better position to eliminate barriers to ethical practice…"(Foglia, Perlman, Bottrell, Altemose, & Fox, 2009).
There are countless of different ways that we can touch bases on to understand the importance of a cohesive financial department. It is essential to its success to be ethically compliant and to follow through with policy and procedure. It is up to the financial managers to execute and enforce proper guidelines. In conclusion, there are four elements of the financial structure that is the basis for a financial department's success which are planning, controlling, organizing and decision making. With this information we were able to understand and summarize more in depth the importance of generally accepted accounting principles and general financial ethical standards. Finally, we were able to view examples in those respecting terms and gain understanding from them. By compiling all of these elements together can guarantee a solid financial department in any healthcare facility.
REFERENCES
Foglia, M.B., Perlman, R.A., & Bottrell, M., Altemose, J.K., Fox, E., (2009, April). Ethical Challenges Within Veterans Administration Healthcare Facilities: Perspectives of Managers, Clinicians, Patients, and Ethics Committee Chairpersons. American Journal of Bioethics, 9(4), 28-36
Taebel, S.W. (1995, October). Supreme Court ruling reduces GAAP's authority in Medicare cases. Healthcare Financial Management, 49(10).