Reseach Asos Essay Sample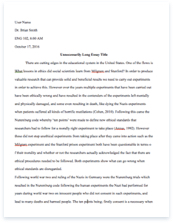 The whole doc is available only for registered users
OPEN DOC
Download Essay
A limited time offer!
Get a custom sample essay written according to your requirements urgent 3h delivery guaranteed
Order Now
Reseach Asos Essay Sample
The individual report will be assessed against four criteria: Research, Analysis, Subject Knowledge, Communication and Presentation.
These criteria are cross-referenced with the five learning outcomes for this unit.
The aim of this unit is to provide a foundation to understanding the organisational and business context in which communications operate.
You work within a team of business consultants who operate across a range of industries and institutions advising how to enhance organisational success and competitiveness. You offer guidance across key competitive environments including: macro, micro, social, cultural, economic and legal.
Assessment 1 – Individual Report
As an individual, choose one of the following organisations:
* Costa Coffee – www.costacoffee.co.uk
* Greenpeace – Greenpeace.org.uk
* ASOS – www.asos.com
* The Metropolitan Police Service –www.met.police.uk
For your chosen organisation, explain what type of organisation it is (e.g. non-profit, private sector, public sector, etc.), how it has evolved and conduct a macro-environment audit. Your aim is to use the systematic planning tools and models explored in Term 1 and apply them to your chosen organisation. Using the insights identified you should aim to discuss the possible impact of the external environment on the organisations current or future use of public relations activity (e.g. reputation management, marketing, fundraising, etc.).
In order to successfully complete this assessment you should engage with the reading identified in the reading lists for this unit and as suggested by your tutors.
Macro-environment audit (what is it)
http://www.marketing-audit.co.uk/process/macro.htm
http://www.asos.com/infopages/pgeaboutus.aspx
FACEBOOK ADVERTISEMENTS
FACEBOOK ADVERTISEMENTS
About ASOS
ASOS is a global online fashion and beauty retailer and offers on the ASOS.com website over 50,000 branded and own label product lines across womenswear, menswear, footwear, accessories, jewelry and beauty with approximately 1,500 new product lines being introduced each week. ASOS has websites targeting the UK, USA, France, Germany, Spain, Italy and Australia and also ships to over 190 other countries from its central distribution centre in the UK. Aimed at fashion forward twenty-something globally, ASOS attracts 16.6 million unique visitors a month and as at 30 June 2012 had 8.7 million registered users and 4.7 million active customers from 160 countries (defined as having shopped in the last 12 months). What the fashion press are saying about us:
""The online wonder store is ablaze with hot designers."" Marie Claire ""In just nine years ASOS.com has gone from niche get the look website to massive Internet phenomenon."" Grazia ""Asos.com is the credit crunch defying brand. "" Esquire ""The undisputed champion of online fashion."" The Times Magazine ""The word on the street is ASOS."" Evening Standard ""ASOS.com's trend led mix of clothes, accessories and beauty products is perfect for lunchtime browsing."" The Guardian ""With its boundless enthusiasm for trends, ASOS.com is contagious."" The Times ""ASOS.com is changing the way the nation shops. "" The Telegraph Magazine
References:
* http://www.asos.com/infopages/ASOS_Environmental_policy.pdf * http://www.asos.com/infopages/asos-corporate-social-responsbility.aspx * http://www.ethicaltrade.org/
* http://www.marketing-audit.co.uk/process/macro.htm
* http://www.asos.com/infopages/pgeaboutus.aspx
* http://www.asosplc.com/careers