Research Methods Essay Sample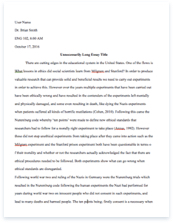 The whole doc is available only for registered users
OPEN DOC
Get Full Essay
Get access to this section to get all help you need with your essay and educational issues.
Get Access
Research Methods Essay Sample
Methodology, in its simplest form, refers to how the research should be undertaken (Saunders et al. 2009). In a practical way, it is a function of research question(s), study approach, scale of the study, type of data, sample size and participants, data analyses techniques and study limitations (Johnson and Waterfield, 2004). Accordingly, this chapter is divided into nine sections. Section 3.1 explains the reasons for the choice of case study approach; section 3.2 describes the sampling strategy and choice of snowball sampling; section 3.3 details the preliminary study and its outcomes; section 3.4 narrates the selection of respondents while section 3.5 highlights the data collection through interviews. Section 3.6 provides information on data coding and analysis; section 3.7 focuses upon the issues of generalization, reliability and validity; section 3.8 enlists study limitations. Section 3.9 summarizes and concludes the chapter. 3.1Choice for Research Methodology
Research methods have been broadly divided into quantitative and qualitative categories with a third category bridging both methods often referred as mixed-method approach (Biemans, 2003). The quantitative methods have been employed by researchers taking a positivist view i.e. objective measurement of realities whereas qualitative methodologies have been applied by interpretivism followers opting for assessing the realities in a subjective manner. A pragmatic view, however, dictates that both positions can be used in a single research given it would suit the research objectives and questions (Saunders et al. 2009). Based on its comparative strengths, the research opted for the pragmatic paradigm. Within that paradigm, a case study approach was adopted as it can be used to describe a phenomenon, construct a theory and test the hypothesis, for achieving multiple research aims (Darke et al. 1998) 3.1.1Case Study Approach
Case study research has been defined narrowly as referring to study of a single case or, in a broader sense, as an approach to develop an in depth knowledge about a particular phenomenon linked with other similar units (Gerring, 2004). A study limited to one organization can use this approach
to compare or replicate the information gathered from various respondents or sources; whereas, a research focussing on the processes can make a judicious use of theory and action research by opting for this methodology (Perry, 1998). Given this range of application, case study method has become a popular choice for researchers focussing on a modest scale of exploratory research limited to one or few organizations (Rowley, 2002). Since the present research focussed on a single organization i.e. Saudi Aramco but aimed at making an in-depth analysis of the company's vision and competencies as well as the processes and procedures at the heart of its success as number one petroleum company in the world, a case study approach was deemed most useful for its flexibility to accommodate variety of methodologies for data collection and analysis (Blackhurst et al. 2005). 3.2Choice for Sampling Strategy
Some of the critical questions in the qualitative research include: whom to include in the sample, which person should be interviewed or observed and what text should be analyzed. These questions are obviously important in quantitative survey research but the importance of context-based decisions in qualitative research becomes even greater. As such, the qualitative multi-faceted realities can only be captured through use of appropriate sample. However, sampling in qualitative research is not predetermined and a limit has been recommended when certain 'saturation point' has been reached (Kuper et al. 2008). Within the broad categories of convenience, judgement and theoretical sampling (Marshall, 1996a), snowball sampling, under the broad category of judgement sampling, offered a viable solution to all these issues through its ability to reach hidden or difficult to reach groups as well as collate confirming and divergent responses (Kuper et al. 2008). 3.2.1Snowball Sampling
By definition, snowball sampling is a process where the researcher is guided to other informants by the initial informants. The process is repetitive, dynamic and evolving and therefore resembles the 'snowball' effect (Faugier and Sargeant, 1997; Noy, 2008). The method is informal in nature and at best, a move from random sampling to non-random sampling (Goodman, 1961). Since its introduction in 1940s and expansion in 1950s, it has become one of the most widely used methods of sampling in the qualitative research. Variants of this method have been called chain referral, relational analysis, link-tracking, respondent driven, targeted and purposive sampling approaches. The major advantages of this method include reaching hidden population groups or organizations and collating information about sensitive issues. It can also be used to study diffusion of knowledge in social networks.
Recently, there has been an emphasis on its utility in exploring clinical issues and interventions related to AIDS, prostitution and drug abuse (Coleman, 1958; Biernacki and Waldorf, 1981; Snijders, 1992; Faugier and Sargeant, 1997; Noy, 2008; Handcock and Gile, 2011). In the present research, snowball sampling was not relevant because the research dealt with stigmatized or marginalized groups rather it the focus on an elite organization rarely involved in third-party or academic assessments of their work place (Odendhal and Shaw, 2001). It was also well-suited due to its complimentary relationship with in-depth interviews used as the main data collection technique. Obviously, a referral cannot be expected from an informant unless s/he has understood the research objectives and procedures properly.
While a positive referral facilitated the next round of interviews, a negative referral could have been detrimental to entire research process. Therefore, achieving a high level of satisfaction from the first batch of informants remained of paramount importance to the successful completion of the data collection. The challenge of finding the first batch of informants to start the referral chain discussed above has often been cited as the major problems of snowball sampling methodology.
There are other issues, biases and disadvantages noted for this methodology, such as verification of referred informants, monitoring of the referrals and data quality, limitations on the number of referrals to avoid the over representation of respondents with similar characteristics and difficulties of using suitable statistical analysis (Goodman, 1961; Snijders, 1992; Johnston and Sabin, 2010). Some of the researchers have labelled the method as laborious requiring excessive involvement of researchers in the development and control of sample initiation, progress and conclusion (Faugier and Sargeant, 1997). However, such issues or disadvantages did not deter the present research because of very limited number of referrals and respondents during data collection and an absence of inferential statistics at data analysis phase. 3.3The Preliminary Study
The respondents chosen for the preliminary study can be termed as 'Key Informants' as they fulfilled the basic criteria of being more informative, knowledgeable and willing to communicate this knowledge for the purpose of research (Marshall, 1996b). As explained above, the snowball sampling started with random sampling. Aramco officials in Saudi Arabia were contacted through email while the research objectives were nascent. The exchange of emails helped to clarify the research direction as from the onset restrictions in the availability of sensitive strategic information was clearly flagged up.
The official however referred the researcher to Aramco office in London which set the scene for the preliminary study. A preliminary study is needed to refine the research ideas as well as assess the feasibility of study (Saunders et al. 2009). The preliminary study involved attending a workshop on supply chain management at Aramco and meeting with some of the concerned managers in United Kingdom. This phase resulted in refinement of study methodology, provided the initial set of company internal reports and documents as well as further references for actual data collection. 3.4Data Collection
3.4.1Documentary Secondary Data
Data collection in a case study can take place through a variety of methods and resources. Use of documentary secondary data has been recommended when preparing a case study on a particular organization (Sauders et al. 2009). Based on study objectives, it was imperative to make use of secondary data for understanding the key functions of various departments in Aramco. This information was later on triangulated with information collected in through face-to-face interviews.
3.4.2Preparation of Interview Questions
Face to face interviewswere considered the most appropriate method of primary data collection for the present study as the study intended to explore the procedures through key informants in an informal unstructured manner (Saunders et al. 2009). Questions were initially based upon the literature review and e-mails exchanged with Aramco officials. These were modified after the preliminary study. The relationship between various study objectives and questions has been shown in Table 3.1.
Table: 3.1Linking Research Objectives with Key Questions
Research Objectives| Key Questions|
Vision & Core Competencies| What is your vision for Saudi Aramco? What are the core competencies of your organization| Oil-based Economy to Knowledge-based Economy| What are Aramco's contributions to Saudi economy? Has Aramco more than employment to offer to young Saudis? Can it contribute to a knowledge-based economy the way it contributed to oil-based economy?| Supply Chain Management| Would you like to point out strengths, disadvantages, risks, major issues or challenges being faced by your department? What plans you have for the improvement of existing procedures?| Information Technology| What are the influences of technology on your operations [such as procurement, logistics etc]?| Saudization policy| Does Saudization pose any challenges to you? How it affects your policy on work-force, choice of suppliers and outsourcing policy?| Strategic Goals & Challenges | Do you foresee any challenges (such as competitors) for Aramco in the near future? What are the long term strategic goals you wish to achieve as an organization?| Source: Study Questionnaire
3.5Selection of Respondents
Potential key informants for the actual interviews were identified by Aramco managers in United Kingdom. A selection was then made by the researcher and the Aramco managers on the basis of interviewees' ability to provide the needed information and accessibility during the time period allocated for data collection i.e. last fortnight of December 2011 to first fortnight of January 2012. In total, 10 managers and executives from a range of sections and departments within the Supply Chain unit were invited to participate in the research. 3.6Data Collection
In total, 8 interviews were conducted from 25 December 2011 to 4 January 2012.All interviewees were invited to participate by emails, followed by telephone calls to arrange convenient time and place for the meetings. Aramco facilitated the interviewing process by allocating a specific interview room to the researcher for one month duration. All interviews except one were conducted by the researcher face-to-face in Saudi Arabia. One interview was conducted on phone and e-mail. The duration of face to face interviews varied between 45 to 85 minutes. The interviewees were sent the questionnaire electronically in advance to give them enough time for preparing their answers. During the interview, the respondents were free to deviate from the sequence of questions or introduce a new theme through further questions. The semi-structured nature of interviews allowed the exploration of interesting themes deeper while curtailing less important questions to shorter discussions. 3.6Data Analyses
The interviews were recorded using a digital device. They were transcribed by the researcher. The initial interviews were fully transcribed but the rest were transcribed thematically as per guidelines of Marshall (1996b). The interview transcripts were sent to the officials for corrections and additions, if required. The process is termed 'respondent validation' and has been recommended to add reliability and validity (Torrance, 2012). In all cases, minor modifications were made by informants to elaborate the initial extemporary responses.
Major themes from the transcribed interviews were analysed for similarities and differences on within-case and cross-case basis as done in a standard 'Thematic Analysis' (Oke and Gopalakrishnan, 2009). The methodology compared various responses and grouped them under various themes defined by study objectives such as vision and strategic goals and core competencies. For presentation of results, summaries similar to 'narrative analysis' have been produced. Narrative analysis can be used as a complementary methodology and deemed particularly useful in explaining the organizational culture and relationships (Saunders et al. 2009) 3.7Generalization, Reliability and Validity
Generalization, reliability and validity are related to the rigour with which the research has been conducted. Case study research has been considered as 'lacking rigour' (Watters and Biernacki, 1989) however, this is somewhat compensated by the fact that information acquired through case study approach is often missed out with other approaches (Rowley, 2002). In case of generalization, it must be noted that generalizibility in case study research is not statistical rather it is analytical i.e. comparing the outcomes of case study with the previously established theoretical results. With an increase in the number of comparable cases, the rigour of the results can be firmly established.
Similarly, validity and reliability issues can be tackled by adopting a positivist and deductive approach where research questions and propositions are prepared in advance of data collection (Rowley, 2002). By linking research questions and hypothesis with the interview questions, the criterion for construct validity was successfully met. The reliability of the case study data is increased by using multiple sources of information and triangulating the gathered data (Torrance, 2012). Some more value has been added by asking the key informants to review the draft interview scripts (Johnson and Waterfield, 2004). It can be argued that by developing such explicit linkages, the research methodology has demonstrated the probability of achieving the same results with a repeat data collection i.e. a high level of reliability. 3.8Study Limitations and Ethical Issues
Like any other research, three key limitations existed for the present research, namely, accessibility, resources and time (Rowley, 2002): 1. Accessibility: data needed from research was not available in public domain always. Certain reports were internal while others marked as classified and confidential. Similarly, some of the executives were recommended for inclusion in the list of respondents; however, they were not accessible during the data collection phase. 2. Resources: costs of travel and logistics support required for data collection and analysis was also a limiting factor during the data collection.
3. Time: It was also difficult to identify and include all the relevant managers and secondary sources of information due to time restrictions for the present research. Including everyone's perspective involved with the supply chain management in a large organization such as ARAMCO required much more time than what was available to the researcher. Besides the limitations noted above, some of the respondents showed concerns about confidentiality of information and were therefore reluctant to express their views in details. However, after explanation from the researcher about the strict code of ethics followed by the UK universities, they were satisfied and shared their views liberally. Getting explicit consent from the interviews and ensuring them about the confidentiality of the collected information also meant that the ethical rules and regulations of Northumbria University were fully adhered during data collectionprocedures.
3.9Summary and Conclusions
This chapter aimed at explaining the research methodology adopted for the present research. The entire methodological choices made by the researcher have been used in Figure 3.1 below. The researcher opted for following a pragmatic approach due to its relevance to the research objectives and comparative advantages over other paradigms. A case study methodology was selected and the rationale for opting case study approach lied in its ability to observe complicated processes at organizational level using multiple sources of information (Ogbonna and Wilkinson, 2003; Eisenhardt and Graebner, 2007). The judgmental snowball sampling technique was used to select the interviewees based on the references from initial contacts at Saudi ARAMCO as well as the expertise possessed.
Face to face interviews considered as one of the most important and appropriate qualitative data gathering technique (Saunders et al. 2009) then made it possible to gather the first-hand information from actual sources. The data was transcribed and analysed for recurrent themes to be described as a narrative under major themes. Draft interviews were subjected to respondent validation for increased accuracy and reliability while triangulation was used to achieve construct validity. The results present in the following chapter are expected to have limited generalizibility due to highly contextual information gathered through the case study.