Resource Summary for Psychosocial Intervention Essay Sample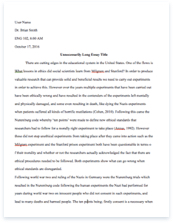 The whole doc is available only for registered users
OPEN DOC
Get Full Essay
Get access to this section to get all help you need with your essay and educational issues.
Get Access
Resource Summary for Psychosocial Intervention Essay Sample
It is found that one percent of adolescent females suffer from anorexia and approximately four percent college-aged women suffer from bulimia (Anorexia Nervosa and Related Eating Disorders, Inc.). Also, not many people are aware that men are not exempted from having eating disorders. Fortunately, there are lots of treatment centers throughout the country that cater to people who have eating problems.
            At Germaine Lawrence in Massachusetts, different programs are available to adolescent girls who are believed to be in need of treatment. They specialize in helping girls suffering from eating disorders to those who have survived sexual and physical abuse (Germaine Lawrence). For those who are undergoing eating problems, the Saul Hirschberg Treatment Center is able to accommodate 15 girls with its 15 beds. They focus on treating girls with bulimia, binge eating, and anorexia.
They also treat those who have a tendency to hurt themselves on purpose. The program also offers superior expertise through Dr. Mona Villapiano, a licensed psychologist and a known expert on eating disorders (Germaine Lawrence). They have numerous programs for the girls including the Healthy Living Treatment Protocols and Dialectical Behavior Therapy. They also try to include their patients' families through the Multi-Family Therapy Group. The program tries to make eating enjoyable to the girls, as this is considered a sensitive issue to them. It also practices self-acceptance and promotes a positive self-image.
            Laurel Hill Inn indicates that it has a "residential, day, and evening programs at two locations in the greater Boston area of Massachusetts" (Laurel Hill Inn) for those who would like to seek treatment regarding their eating problems. The residential program is intended for those who are required or who would like to stay in the facility for prolonged periods.
It involves "skill-teaching groups, dialectical behavioral orientation, and practicing new skills with other patients in real-life settings" (Laurel Hill Inn). The day treatment program is held from eight o'clock in the morning to two o'clock in the afternoon on weekdays for four to six weeks while the patient continues to live at home. With the evening treatment program, sessions are held from 5:30 in the afternoon to 8:30 in the evening during Mondays, Wednesdays, and Thursdays. These options would benefit those who have other important things to do but would still like to receive treatment.
            The Remuda Ranch in Arizona and Virginia differs from the two facilities mentioned earlier because aside from programs to treat eating problems, it also offers "Biblically-based programs to treat the whole person" (Remuda Ranch). It is also unique in that it is a ranch where an equestrian program is available. "Only women and girls suffering from anorexia, bulimia, and related issues are treated" (Remuda Ranch) by the facility. An adult suffering from an eating disorder is required to stay at least 45 to 60 days while adolescent and children should be treated for at least 60 days (Remuda Ranch).
            Eating disorder and its variants are very serious health issues and can be fatal. In order to attend to these, there are numerous eating disorder treatment facilities around the country each having their unique programs to offer to their clients. With these options, a person experiencing eating problems would have less excuse not to obtain treatment and therefore, there would be less people suffering from these disorders.
References
Anorexia Nervosa and Related Eating Disorders, Inc. Statistics: How Many People Have           Eating Disorders? Retrieved April 16, 2008, from http://www.anred.com/stats.html
Germaine Lawrence. Retrieved April 16, 2008, from http://www.germainelawrence.org/
Laurel Hill Inn. Retrieved April 16, 2008, from http://www.laurelhillinn.com/index.html
Remuda Ranch. Retrieved April 16, 2008. from http://www.remudaranch.com/