Resourcing Talent Essay Sample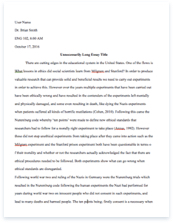 The whole doc is available only for registered users
OPEN DOC
Download Essay
A limited time offer!
Get a custom sample essay written according to your requirements urgent 3h delivery guaranteed
Order Now
Resourcing Talent Essay Sample
Market Demand/Supply for Talent:
Depending on the nature of the business, organizations will require various sets of talents (skill, knowledge and capabilities) that contribute towards the their growth and success. Markets in general have high supply of some talents and low of others. Based on the talent requirement of the organization and the market in which it operates, it will have to alter its approach towards attracting the required talent. This may involve adjusting factors like remuneration, long & short-term benefits, career prospects, trainings, etc.
Organizations expansion:
An organization may decide to enter into a new business market, product, industry, etc. to increase it profitability or valuation. Based on the business expansion strategy the organization needs to look at the talent required to meet the expansion objectives and work out a plan to source the right talent. This may require the organization to source talent from different regions of the world as well.
Staff Replacement:
This is most likely to happen either because an existing employee is leaving the organization or is being promoted/transferred to a new role within the organization. In both cases the intention would be to find and recruit a similar talent that can take over the vacant job role without causing much disruption to the operations.
Government Regulations/Legislations
Change in Government regulations and immigration laws can affect a supply of talent from certain regions of the world. Organizations have to abide by these legislations and adopt the most sensible solution to attract the required talent.
Identify and explain at least 3 organizational benefits of attracting and retaining a diverse workforce.
Competitive Advantage:
Organizations can offer more solutions to customers as employees from diverse culture, background and regions bring in new ideas and processes within the organization that will help in increasing the overall productivity and competitive advantage of the firm.
Develops the Employer Brand:
Organizations with deep-level diversity are perceived as a company that does not practice employment discrimination and treats all its employees equally and fairly. This not enables the firm to attract new talent but also helps in retaining the existing talent because of high employee morale resulting from workforce diversity.
Customer Satisfaction:
Organizations that employ a diverse workforce are in a better position to understand the demographics of their customers and are able to tailor their products and services in a manner that matches the customer needs more closely.
Describe at least 3 factors that affect the organization's approach to recruitment and selection.
Recruitment Policy:
This has a direct impact on the recruitment and selection approach, as it sets out a clear framework for an organization on which the recruitment process and stages are built. These policies are internally set and can be different in every organization.
Recruitment Budget:
Recruitment Budget is one of the major factors that affect the methods and sources used for recruitment and selection within an organization. For example, using certain headhunters or advertising in various media may require higher recruitment budget.
Number of vacancies (quantity):
Organizations may adopt different approaches to recruitment and selection based on the number of open vacancies that need to be filled within a specified period. In a situation where a company needs to recruit for a large number of vacancies it would be sensible to organize recruitment Fairs/drives rather than having individual interviews.
Describe the benefits of at least 3 different recruitment methods and 3 different selection methods.
Recruitment is the business of attracting sufficient suitable candidates for the job at a reasonable cost.
Internal Advertisement:
Internal recruitment have a lower cost on the companies as compared to other methods like using Head hunting agencies, or advertising on job boards, etc. In addition to being cost effective it can also provide incentive for the existing employees to perform better in their current roles to get promoted quickly. This can have a positive impact on the overall performance of the organization
Newspaper Ads:
This is a quick and easy way to notify the market about the available jobs in the company and attract a large number of candidates. Newspaper ads are also less costly compared to using headhunters for finding the right candidate.
Recruitment Fairs:
Recruitment fairs can be very cost and time efficient, particularly in to fulfill bulk recruitment needs of the organization. This also gives companies the opportunity to connect with other potential talent that might not be immediately required by the company, but, helps in building a great talent pipeline for future talent needs.
Having compiled a list of candidates who are interested in the job, the task now is to select one of them. Below are some types of selection procedures and their advantages:
Application forms
These provide key information about the candidate in structured and consistent manner that is needed for a specific position. It speeds up the initial screening process. They can also form the basic starting point of the personnel record and are generally very easy to use and record.
Interviews:
It provides the manager to ask relevant question that are specific to the job role and the personality of the candidate to assess the reaction and understand how the candidate will perform under given situations and circumstances. Therefore, interviewing remains the most popular method of selecting the candidate.
Assessments:
This is method to assess the skills of the candidate in a structured and consistent manner and compare it against the skills necessary to do the job. Assessments results are usually quantifiable and can help in maintaining consistency in the selection process. It is also a very strong record/evidence in case of any allegation against the company's selection process.
Explain at least 3 purposes of induction and how they benefit the individuals and organization.
Effective Induction is a critical HR process for an organization and it is crucial that they get it right for their short and long term success. New employees who have undergone an effective induction programme are likely to be competent performers at their jobs more quickly than those whose induction was scanty or non-existent. Every organization has different approaches & time frames for their induction progrmmes. However, most of the companies believe that the induction process begins as soon as an applicant signs the employment offer.
Induction is an opportunity for the organization to create a strong first impression. Some of the benefits of induction for individual and organization are:
Helps in reducing anxieties of new employees.
Individual employees feel accepted within the organization.
Reduces the stress of unfamiliarity with the new work place. Improves job satisfaction, confidence & morale of the new employee. Reduces employee turnover. Increases overall employee engagement & productivity within the organization. Helps in building a strong employer brand.
Include an induction plan that identifies areas to be covered, timelines, and those involved in the process.
Time Frame
Elements to be covered
Responsible
Week 1
Welcome & overview of Induction process
HR
Introduction to the Company – Vision, Mission & background, Products & services. HR
Organizational culture & values
HR
Introduction to Department/Team
Line Manger
Briefing on Contractual Terms & Company Policies and Procedures HR
Health & safety guidelines & Office Tour
HR
Administration Procedures & Systems Training
HR
Performance & reward Policies
HR
Training & Development related policies
HR
Week 2 & 3
Briefing on Job role
Line Manager
Introduction to Business Units & key contacts
Line Manager
Job Shadowing & Mentoring
Senior team member
Week 4
Job Shadowing & Mentoring
Senior team member
Setting objectives & KPIs
Line Manager
The line manger carries out probation review meeting with the employee, after completion of 3 months.
Reference:
Martin, M and Jackson, T, 2005 Personnel Practice, UK: CIPD
Weightman, J, 2004, Managing People, UK: CIPD
Activity 2 – Portfolio and Interview Observation
Produce a job description and person specification for the role.
IKEA Role Specification
Organizational Context
Position Title: HR Officer
Business Unit: Retail Unit
Position Grade: 10
Location: Birmingham
Job Type: Part Time (3 days per week)
Immediate Supervisor: Manager- Human Resources
Organization
IKEA Group "To create a better everyday life for the many people" established since 1982 operates worldwide from range strategy and product development to production, distribution and retail and we do it by optimizing our production in a very cost effective way to create affordable prices. Job Purpose
The HR Officer will coordinate all essential HR activities pertaining to, but not limited to, staffing, training and service delivery associated with the running of the store in line with the company objectives. Principle Accountabilities
Provide support in strategic interface to senior management team and people management for achieving business objectives. Identify customer needs, requirements, and fulfill them by providing quality HR services in all aspects Support managers in the application of HR policies and practices and in resolving complex HR issues. Report on the effectiveness of internal HR processes and systems, in order to make necessary changes. Enter and update employees' payroll details into the HRMS Oracle including new joiner's files and bank details. Support in framing and implementing the policies, procedures, benchmarks, and strategies for HR support services.
Collect, inform and support in resolving employees' grievances and in communicate outcome to the employee to preserve employee satisfaction in the store. Support in conducting trainings programs to develop the performance of HR support staff in order to provide best HR support to the organization. Develop and implement recruitment plan to deliver the Manpower Plan. Respond to business needs (temporary recruit) and establish a network for candidates sourcing. (E.g. Recruitment agencies) for select suitable candidate for obtaining best 
work performance. Maintain performance management frameworks, KPAs and data collection processes 
policies, programs and procedures in line with business objectives and goals.
Provide support to line managers in setting up SMART Objective in order to maintain 
the consistency and quality of the objectives. Prepare and present statistics, and provide advice about area performance issues, including identification of areas for improvement, audit and analysis and the development of recommendations. Assist Performance Management Specialist to develop and administer the coaching and improvement plan for the employees who need improvement (Poor Performance).
Participates in identifying training and development needs through job analysis, appraisals and regular consultation with business Managers and HR and Implement and maintain policies and procedures in providing training programs. Liaise with internal and external training facilitators to develop customized resources according to program facilitation needs. Arrange classes' schedules and location for in-house/ overseas / local training course to ensure organized training program. Receive feedback from internal and external trainees to review and make necessary changes for better training. Listen and respond to employees on their queries in a timely manner Maintain confidentiality, integrity and availability of information in line with Ikea Group information security policies and procedures in order to protect information from any disclosure or misuse. Key Interactions
Internal
External
Manager-Human Resources and other staff in the section.
With all related Ikea Group Division, Department and Section heads. Group
Human Recourses Department staff.
Store Employees
With external job applicants.
With local and international HR professional networks/ institutes. With external providers, e.g. recruitment agencies.
With educational institutes, Training facilitators
Person Specification
Essentials
Desirables
Education and Qualifications
College Degree or equivalent
Bachelors in Human Resources
CIPD
Professional Experience
Not less than 4 years' experience in Human Resources
Not less than 2 years' experience in retail industry
Exposure to recruitment and selection in retail industry Exposure to Training programs related to retail industry Language Skills
English
IT skills
Oracle HRMS and Microsoft Office applications
*Behavioral Skills
(Refer to organizational competency framework for definition of competency and required behavior on each level) Good Communication skills (level 2)
Client Orientation (level 2) Problem Solving and Decision making (level 2) Teamwork (level 2) Result orientation (level 2)
Technical Skills
Drafting Recruitment Plan Recruitment
Employee relations Employee Performance Management System Training Need Analysis Succession Planning Job Analysis Employee survey Employee Engagement
Draft a written advertisement or a brief to your Recruitment agency to attract talented individuals to apply.
Job Title: HR Officer
Job Reference: E6162
Location: Birmingham
Job Type: Permanent – Part Time
Salary Range: 10,000/- to 12,000
IKEA Group "To create a better everyday life for the many people" established since 1982 operates worldwide from range strategy and product development to production, distribution and retail and we do it by optimizing our production in a very cost effective way to create affordable prices.
HR Department: Our HR department is team of 28 dynamic individuals who are focused to deliver best customer service and implement best HR practices.
Role: Ikea Group is looking for a dynamic individual to join their Birmingham stores as Part Time – HR officer, who will report to the HR Manager. You will be required to coordinate all essential HR activities pertaining to, but not limited to, staffing, training and service delivery associated with the running of the store in line with the company objectives.
Skills: College degree preferably in Human Resources Management with experience not less than 4 years, minimum of 2 years' experience in Retail industry. Experience in different HR activities including Recruitment, Training, Employee Relations and Performance Management with good communication skills in English, knowledge of Arabic would be advantage. Knowledge of Oracle HRMS and Microsoft application is essential.
To apply for this position, send your resume with a cover letter on [email protected] with reference number E6162. For further information on career with us visit www.ikeawithus.com.
Conclusion:
The panel has reached a decision to hire the candidate based on his knowledge, experience, and confidence demonstrated during the interview.
Identify the records you would retain with a short explanation of the legal requirements.
It is necessary to retain the following documents
Job description
Job advertisement
Short listed CVs
Notes and ratings on each candidate
Offer letter and letters of rejection.
These records are necessary to be maintained in order to abide by the legislation, particularly the following: The Sex Discrimination Act 1975 and 1986
The Race Relations Act 1976
The Disability Discrimination Act 1995
The Sexual Orientation and Religious Beliefs Act 2003
The Age Discrimination Act 2006
Draft an example of a letter to an appointee and one example of a letter written to a non-appointee. Letter to appointee
Thank you for attending the recruitment interview with Ikea group.
We are pleased to advise you that you have been selected for the HR Officer –Part Time position. Attached in the email are the offering terms and conditions, kindly send us your response no later than "Date". Joining formalities will be given to you once we receive your response. Kindly Do Not resign from your present employment on the basis of having secured further employment with Ikea Group unless advised so.
We will communicate with you to arrange your date of joining, taking into consideration your notice period in your present employment.
Thank you for attending the recruitment interview with Ikea group.
Your application has been thoroughly reviewed in relation to the requirements of the position, and also considered in competition with other candidate's applications forwarded to us for this role. As a result of interview and review, on this particular occasion we will not be progressing your application any further. This is not a measure of your quality as a candidate, but rather a reflection of the high level of response received. We would keep your records on our database for period of six months and you are welcome to apply for any other suitable open position for which you qualify with our group.