Respect those who take the time to apply Essay Sample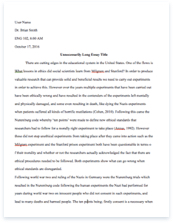 The whole doc is available only for registered users
OPEN DOC
Download Essay
A limited time offer!
Get a custom sample essay written according to your requirements urgent 3h delivery guaranteed
Order Now
Respect those who take the time to apply Essay Sample
The authors suggest the following practices to ensure your initial positive impression becomes the lasting one for future employees: Confirm a resume or application was received and thank candidates. Inform candidates of how the rest of the review process will proceed. Invite candidates to check application status. Promise to protect their privacy. Offer a rejection when the candidate is eliminated from consideration. The Big 3: Monster.com, HotJobs, and CareerBuilder. LinkedIn is probably the best known professional networking Web site, used by more than 1.8 million users in 120 industries18. It is free to join and has recently launched a companion service LinkedIn Jobs to help users network into specific job postings. Social networking takes place all over the Internet, from Yahoo Groups to Classmates.com
How to Write an Effective Internet Job Posting Whether you choose to post your open positions on your company's Web site, job boards, or both, you'll need to write an effective job advertisement. Online recruitment ads require a very different approach than newspaper classified ads, according to Peter Weddles, widely published HR columnist and former Chairman & Chief Executive Officer of Job Bank USA. In his article, "Job Ads That Don't Work," Weddles declares that most companies produce online job ads that convey too little information and have very little appeal. This demotes the company's employment brand and transmits the wrong message to online jobseekers, who "want an ad with enough selling power to sway them into considering a new position, even when they aren't looking for one14."
Instead, he suggests that you think of your online job advertisement as an "electronic sales brochure" and write it in the style and tone of a large advertisement instead of a classified. Here are some tips to help you convey the right message: Consider your employment brand in every job ad you post. Does it convey the right enthusiasm about the company? Remember that the Internet does not have the same space constraints as print advertising. Online job seekers expect plenty of information about the position. Fully describe the duties and responsibilities of the job. List specific job requirements, including skills and experience. Detail exactly what you expect from candidates; this helps reduce the number of resumes you'll receive from under-qualified candidates15. Describe the corporate culture with a mind toward selling your company's most positive attributes.
Be honest and enthusiastic. Consider describing a typical day in the advertised position, to form a more complete image of the job in the minds of potential applicants. Help top performers envision themselves making a difference at your company. Pay careful attention to the keywords you associate with your ad. Keywords will determine whether job seekers find your ad when they conduct a search16. Provide a link to your corporate career site so job seekers can find answers to questions about your company's products and services, leadership and benefits. Give clear instructions on how to apply for the position and how you will further communicate with job seekers. If you do not intend to reply to all resume submissions, be sure to set that expectation up front. (This risks setting a negative tone for "A" level candidates – a better approach might entail using software to generate automated correspondence with every applicant.
http://www.adssglobal.net/starinfo/abra/abra_q308_whitepaper.pdf
Don't write instructions. Most users won't read them, and a good design doesn't need instructions anyway. • Use clear job titles that qualified candidates can understand. • Design inclusively. If users feel unwelcome, they'll conclude it's their own fault and leave the site. • Be clear about the location. Candidates won't apply for a job unless they know where they'll be working. • Design inclusively. Make the site easier than you think it has to be. • Make it easy for applicants to apply for a job.
Overall, were you satisfied with the recruiting process at our company, neither satisfied nor dissatisfied with it, or dissatisfied with it? Extremely satisfied
Moderately satisfied
Slightly satisfied
Neither satisfied nor dissatisfied
Slightly dissatisfied
Moderately dissatisfied
Extremely dissatisfied
What can we do to improve the recruiting process at our company? What attracted you to this position?