Response to "Serving In Florida" Essay Sample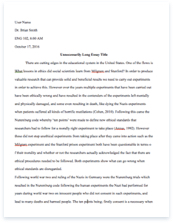 The whole doc is available only for registered users
OPEN DOC
Pages:
Word count: 623
Category: wage
Download Essay
Get Full Essay
Get access to this section to get all the help you need with your essay and educational goals.
Get Access
Response to "Serving In Florida" Essay Sample
Ehrenreich's essay, "Serving in Florida", illustrates the strain of working for minimum wage and the oblivion of the customers, who consume unhealthy food. I am one of those people, who like and prefer, home cooked meals and like to cook my own food in order to make sure that I am with confidence. Even if some of my prepared meals are somewhat unhealthy, at least I know that the food is clean.  Ms. Enhrenreich, in her first paragraph, describes the characteristics of many restaurants around the world not only the United States.  She highlights the lack of owners in these restaurants to follow the regulations and inspections required by law, which needs to have more serious consequences in all restaurants around the world. The treatment and the difficult living situations for the workers is a serious issue, as well.
Many of the relationships Ehrenreich recalls are memorable and insightful. When she talks about the other workers, she paints another picture of how workers act and feel.  She makes the point of relating to readers, the difficulties of standing for six hours or more without eating.  Additionally, the only chance these workers may have for a break is to go briefly to the restroom, "and no one will no if they wash their hands or not".  This is unhealthy for workers and customers and shows the lack of compassion by Capitalist restaurant owners, who care only about money.  The way she described and narrated  material about her boss leads readers to believe that in Florida, many business owners do not care if you eat or not, if you take a rest or not, the only thing that they care about is the work being done right and the costumers being satisfied.
She talked about how workers were suffering and she meets many different types of people with different levels of education and behavior. She offers a small lesson to her readers in how to be patient and how things are always difficult in the beginning of any new job, especially the serving positions she highlights.  She, also struggles with people that are very different from her and in need of help.  She struggles to both survive her own low-paying, demeaning work environment and to help others too, even though she is clearly exhausted.  She has little time during work to socialize with her co-workers, so she does show the degree of alienation between the people she works with.  Instead, she must do what she can in the precious little time she has, such as taking time to teach an international co-worker English.
Ehrenreich, also, helps the reader understand the difficulty of earning low wages and finding quality housing. The way she describes the place she moves into is very perceptive and its sufficient enough to let readers know how housing in Florida is extremely expensive.  Any place that is a tourist location with many vacationers coming in will be like this, so people have to think twice before moving to Florida or an attraction place similar to there.  Luckily, she had money to bring with her, so she could manage, unlike many unfortunate residents and workers in places like this.  This is a warning for workers to, also, make their budget ready for how much they will spend on housing.
The whole essay is a life experience for Ms. Enhrenreich, and a lesson for anyone, who wants learn and know the difficulties of making a decent income day after day and, also, how bad experiences may lead ones to be more successful, because they become stronger in their lives. Another lesson taken is how everything in the beginning is hard, but day after day these things become easier.