Restaurant Evaluation Essay Sample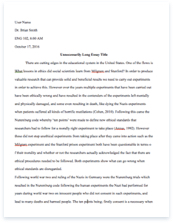 The whole doc is available only for registered users
OPEN DOC
Download Essay
A limited time offer!
Get a custom sample essay written according to your requirements urgent 3h delivery guaranteed
Order Now
Restaurant Evaluation Essay Sample
Week after week my wife and I would make time to watch Hell's Kitchen. Sucked in by all its drama, from the audacity of those subordinates testing Chef Ramsay's experience to the fool who dared questioning his authority in the kitchen. Week after week we would ask one another, "What is beef wellington?" Well, two weeks later we decided to start a Google Maps search of beef wellington. After calling restaurant after restaurant, refusal after refusal to make because of time to prepare and lack of demand. Classically, all hope was lost until I called a restaurant I have never heard of in the Gaslamp District of San Diego. While on the line with the hostess, I ask her if they serve beef wellington, she then tells me that she believes that they have recently discontinued it . Just my luck. She then puts me on hold so that she can go speak with the chef . The line comes back on, the chef has agreed to prepare this meal for us. Yes! Reservations made for the weekend and next to call are the babysitter and the wife to inform her to not make plans.
Pulling up to the curb we were introduced by valet. Walking in to the restaurant you felt this sudden coziness from the low lighting and the cool temperature throughout the restaurant that made something as simple as holding hands that much more pleasant. Within minutes of our arrival we are being shown to our seats. The light murmurs of the other customers fill the room. Shortly after arriving at our seats the waiter shows up to clear the cluttered table of extra serving sets. He then begins to repeat our order that I had informed them of earlier that week, the beef wellington. He then asks if we have any additional orders we would like to make and being the hungry couple that we are, of course we did. It seems that the anticipation within us was even hungrier than we were for the wellington. The waiter had warned us of the time it takes for such perfection but it was getting to be a tad bit too long of a wait. I was sick of seeing the waiter refill our glasses of water and his attempts at filling us with their French bread with basil butter and sundried tomato butter.
Our salivary glands seemed to have run dry, even with all the water we had been drinking but as soon as the waiter showed up with our entrée' s we couldn't keep ourselves together. With mouths watering and with utensils in hand we smiled at each other like kids on Christmas day. As we put the knife to the flakey top layer over the tender filet mignon we looked at each other again with amazement. "I can cut it with a fork", my wife squealed. The first bite we took melted in our mouths and we hummed while we chewed the delicious pastry covered filets. The tender and succulent morsels were very flavorful and we rarely looked up again for the remainder of our meal. We sat there quietly chewing in silence enjoying every bite until our plates were clean. We sat back in satisfaction and smiled like a cat that ate the canary. "Man, that was amazing", I said to my wife. The meal was exceptional and was worth the pricey ticket.
Then the waiter stopped by and thanked us for coming in this evening, and graced our table with truffles for my birthday as their way of saying thanks, as if the meal wasn't enough. So every special occasion we treat ourselves to that of which Ramsay would say is perfectly prepared. We understand why so much preparation and skill is involved in this delicate and delicious meal fit for a king. We laugh as we watch Hell's kitchen as the young chefs make the mistakes and ruin the masterpiece which then reminds of that, it is time to return to Flemmings.