Reviewer In Humanities Essay Sample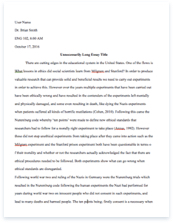 The whole doc is available only for registered users
OPEN DOC
Pages:
Word count: 2734
Category: poetry
Download Essay
A limited time offer!
Get a custom sample essay written according to your requirements urgent 3h delivery guaranteed
Order Now
Reviewer In Humanities Essay Sample
Leonardo da Vinci was born more than 500 years ago (1452) in a town called Vinci in Italy. He was a scientist, an inventor, an architect, a musician, a sculptor, a mathematician and also a fantastic artist. He was curious about everything!
Mona Lisa
Painted in 1962 it was valued 100 million dollars! Imagine what it is worth now! It now hangs in the Louvre in Paris. DaVinci's paintings were done in the Realist style.
Vincent van Gogh was born more than 150 years (1853) ago in Zundert, Netherlands (Dutch) He worked at many jobs, such as in an art gallery, a school, a bookstore, as a preacher, and at last, he became an artist. He didn't have a very happy life. He painted sad paintings with poor people in them. His paintings were always very dark until he saw some colorful Japanese paintings. Most of his work was in the Postimpressionist style.
Pablo Picasso was born more than 120 years ago (1881) in Malaga, Spain. Picasso painted in many styles, including Cubism and Expressionism The Blue Period sad looking paintings using blue and blue-green colors. The Rose Period a more happy style with orange and pink colours.
Andy Warhol was an American artist who was a leading figure in the visual art movement known as pop art. When he graduated from school he went to New York City for a job. He got jobs doing magazine illustrations, decorating department store windows, greeting cards, record albums, book covers, and suns, clouds, and raindrops for television weather reports. He still was not satisfied because he was not famous.
FAMOUS VISUAL ARTISTS
― Leonardo da Vinci
"A painter should begin every canvas with a wash of black, because all things in nature are dark except where exposed by the light." Visual art
The visual arts are art forms that create works that are primarily visual in nature, such as ceramics, drawing, painting, sculpture, printmaking,design, crafts, photography, video, filmmaking and architecture. These definitions should not be taken too strictly as many artistic disciplines (performing arts, conceptual art, textile arts) involve aspects of the visual arts as well as arts of other types. Also included within the visual arts are the applied arts such as industrial design, graphic design, fashion design, interior design and decorative art.
Leonardo di ser Piero da Vinci
•was an Italian enaissance polymath: painter, sculptor, architect, musician, scientist, mathematician, engineer, inventor, anatomist, geologist, cartographer,botanist, and writer •has often been described as the archetype of the Renaissance Man, a man of "unquenchable curiosity" and "feverishly inventive imagination"
Leonardo Da Vinci Paintings Mona Lisa is a half-length portrait of a woman by the Italian artist Leonardo da Vinci, which has been acclaimed as "the best known, the most visited, the most written about, the most sung about, the most parodied work of art in the world."
Last Supper specifically portrays the reaction given by each apostle when Jesus said one of them would betray him. All twelve apostles have different reactions to the news, with various degrees of anger and shock
Vitruvian Man is a drawing created by Leonardo da Vinci circa 1487.[1] It is accompanied by notes based on the work of the architectVitruvius. The drawing, which is in pen and ink on paper, depicts a male figure in two superimposed positions with his arms and legs apart and simultaneously inscribed in a circle and square. The drawing and text are sometimes called the Canon of Proportions or, less often,Proportions of Man William Kentridge (born 28 April 1955) is a South African artist best known for his prints, drawings, and animated films. These are constructed by filming a drawing, making erasures and changes, and filming it again. He continues this process meticulously, giving each change to the drawing a quarter of a second to two seconds' screen time. A single drawing will be altered and filmed this way until the end of a scene. These palimpsest-like drawings are later displayed along with the films as finished pieces of art.
PEDRO CAMPOS
He´s an artist from Spain. He was born in 1966. He´s famous for his "hyperrealist" style of art. He likes painting everyday objects; apples, cans of cola, sweets. His paintings look very realistic, like photographs
JULIAN OPIE
He´s an artist from England.He was born in 1958. He is famous for his popular style of art, or ´pop art". He likes painting people. His paintings are very simple. They don´t have a lot of detail.
FRANK STELLA
He´s an artist from the USA. He was born in 1936. He´s famous for his " minimalist" style of art. He likes painting straight lines and curved lines. Colours and shapes are important in his paintings. He also makes sculptures.
ANDY WARHOL was born in 1928.
He died in February 22nd 1987.
He is an artist from the USA. Andy worked in the cinema. His style is pop art. He studied comercial art at the school of arts institute of technology in Pittsburgh.
PABLO PICASSO he was born in 25th October in 1881. He died in 8th April1973. He is an artist from Malaga, Spain. He studied in Barcelona. He is famous for his cubist style. He likes painting people. He was a designer, a sculptor, a print maker and a ceramist. He lived in France. His paintings are very famous.
Literature (from Latin litterae (plural); letter) is the art of written work and can, in some circumstances, refer exclusively to published sources. The word literature literally means "things made from letters. Literature is commonly classified as having two major forms—fiction and non-fiction—and two major techniques—poetry and prose.
Filipino Artists in the field of Literature
N. V. M. Gonzalez (Nestor Vicenti Madali Gonzalez) b. Romblon, Romblon 8 Sept 1915. Fictionist, poet, essayist. He was the son of Vicente Gonzalez, a school supervisor, and Pastora Madali, a teacher. He was married to Narita Manuel with whom he had four children. When he was four, his family migrated to Mindoro and settled in barrio of Wasig. Gonzalez had his early schooling in Romblon and later attended Mindoro High School. In 1930 he took the entrance examination to the University of the Philippines but failed.
Selected Works
•Mindoro and Beyond: Twenty-one Stories. Quezon City: University of the Philippines Press, 1981; New Day, 1989 (emended edition). •Children of the Ash-Covered Loam and Other Stories. Manila: Benipayo, 1954; Bookmark Filipino Literary Classics, 1992. •Seven Hills Away. Denver: Alan Swallow, 1947.
•The Winds of April. Manila: University of the Philippines Press, 1941.
Virgilio S. Almario
Better known in literary circles by his pseudonym Rio Alma, Virgilio S. Almario is a foremost poet and critic in Filipino aside from being an outstanding translator, editor, teacher, and cultural manager.
Nick Joaquin (Nicomedes Marquez Joaquin) aka Quijano de Manila b. Paco, Manila 4 May 1917. National Artist in Literature. Born to Leocadio Joaquin and Salome Marquez, he attended the public elementary school and Mapa High School in Intramuros, Manila, but dropped out after three years of secondary education. In 1935, at the age of 17, he published his first poem in the Tribune , the WWII Manila Times .
Works
May Day Eve (1947)
Prose and Poems (1952)
The Woman Who had Two Navels (1961)
La Naval de Manila and Other Essays (1964)
A Portrait of the Artist as Filipino (1966)
Jose Garcia Villa aka Doveglion b. Singalong, Manila 5 Aug 1908. National Artist in Literature. He is the son of Simeon Villa, Emilio Aguinaldo's physician, and Guia Garcia. He graduated from the University of the Philippines (UP) High School. In 1925 he enrolled at the UP College of Medicine, and became fast friends with Arturo Rotor, who was also studying to be a doctor. The two sat in on Paz Marquez Benitez's English class, together with S.P.
Francisco Sionil Jose (born. Rosales, Pangasinan; 3 Dec 1924.) He is the son of Antonio Jose, an Aglipayan minister, and Sofia Sionil. He is married to Maria Teresa Jovellanos with whom he has seven children
Francisco Arcellana (Zacarias Eugene Francisco Quino Arcellana) aka Frank V. Sta. Cruz, Manila 6 Sept 16 1916. National Artist Literature. He is the fourth of 18 children of Jose Arcellana y Cabaneiro and Epifanio Quino. He is married to Emerenciana Yuvienco with whom he has six children, one of whom, Juaniyo is an essayist, poet and fictionist. He received his first schooling in Tondo.
Edith L. Tiempo (Edith Lopez Tiempo) b. Bayombong, Nueva Vizcaya 22 Apr 1919; d. 21 August 2011. Poet, fictionist. She is the daughter of Salvador T. Lopez and Teresa Cutaran.
Carlos P. Romulo (Carlos Peña Romulo) b. Camiling, Tarlac 14 Jan 1899 d. 15 Dec 1985. National Artist in Literature. He is the son of former governor Gregorio Romulo and Maria Peña. He was married twice: first, to Virginia Llamas, and then, to Beth Day. He studied at the Manila High School, and obtained his bachelor of arts from the University of the Philippines (UP) in 1918, and his master of arts from Columbia University in 1921
Bienvenido L. Lumbera was born on April 11, 1932. He spent most of his youth in Batangas until he entered the University of Santo Tomas in 1950 to pursue a degree in journalism. He completed his M.A. and then his Ph.D. in Comparative Literature at Indiana University in 1967.
Amado V . Hernandez (Amado Vera Hernandez) aka Amante Hernani, Herminia dela Riva, Julio Abril. b. Tondo, Manila 13 Sept 1903 d. Manila 24 March 1970. National Artist in Literature. He is the son of Juan Hernandez and Clara Vera. He married sarswela actor and kundiman queen Atang dela Rama.
Novels
His socio-political novels were based on his experiences as a guerilla, as a labor leader and as a political detainee. Mga Ibong Mandaragit (Birds of Prey),1969
Luha Ng Buwaya (Crocodile's Tears), 1972
Poems
Isang Dipang Langit (A Stretch of Heaven)
Kung Tuyo Na ang Luha Mo Aking Bayan (When Your Tears Dry Up, My Country) Honorable Absente
Artist of the World(Literature)
Walt Whitman
BornMay 31, 1819
West Hills, Town of Huntington, Long Island, New York, U.S.
DiedMarch 26, 1892 (aged 72)
Camden, New Jersey, U.S.
Walter "Walt" Whitman (May 31, 1819 – March 26, 1892) was an American poet, essayist and journalist. A humanist, he was a part of the transition between transcendentalism and realism, incorporating both views in his works. Whitman is among the most influential poets in the American canon, often called the father of free verse.[1] His work was very controversial in its time, particularly his poetry collection Leaves of Grass, which was described as obscene for its overt sexuality. Whitman's major work, Leaves of Grass, was first published in 1855 with his own money. The work was an attempt at reaching out to the common person with an American epic. He died at age 72 and his funeral became a public spectacle.
Sexuality
Whitman and Peter Doyle, one of the men with whom Whitman was believed to have had an intimate relationship Whitman's sexuality is generally assumed to be homosexual or bisexual based on his poetry, though that has been at times disputed. His poetry depicts love and sexuality in a more earthy, individualistic way common in American culture before the medicalization of sexuality in the late 19th century.Though Leaves of Grass was often labeled pornographic or obscene, only one critic remarked on its author's presumed sexual activity.
Works
Franklin Evans (1842)
Leaves of Grass (1855)
Drum-Taps (1865)
Memoranda During the War
Specimen Days
Democratic Vistas (1871)
Ralph Waldo Emerson (May 25, 1803 – April 27, 1882) was an American essayist, lecturer, and poet, who led the Transcendentalist movement of the mid-19th century. He was seen as a champion of individualism and a prescient critic of the countervailing pressures of society, and he disseminated his thoughts through dozens of published essays and more than 1,500 public lectures across the United States. Emerson gradually moved away from the religious and social beliefs of his contemporaries, formulating and expressing the philosophy of Transcendentalism in his 1836 essay, Nature. Following this ground-breaking work, he gave a speech entitled "The American Scholar" in 1837, which Oliver Wendell Holmes, Sr. considered to be America's "Intellectual Declaration of Independence".
Robert Lee Frost (March 26, 1874 – January 29, 1963) was an American poet. He is highly regarded for his realistic depictions of rural life and his command of American colloquial speech. His work frequently employed settings from rural life in New England in the early twentieth century, using them to examine complex social and philosophical themes. One of the most popular and critically respected American poets of his generation, Frost was honored frequently during his lifetime, receiving four Pulitzer Prizes for Poetry.
Poetry (Selected)
Stepping by the Woods on a Snowy Evening
"The Road Not Taken"
Selected Poems (Holt, 1923)
Includes poems from first three volumes and the poem The Runaway
Ernest Miller Hemingway (July 21, 1899 – July 2, 1961) was an American author and journalist. His economical and understated style had a strong influence on 20th-century fiction, while his life of adventure and his public image influenced later generations. Hemingway produced most of his work between the mid-1920s and the mid-1950s, and won the Nobel Prize in Literature in 1954. Hemingway was raised in Oak Park, Illinois. Hemingway went on safari to Africa, where he was almost killed in two successive plane crashes that left him in pain or ill health for much of the rest of his life. Hemingway had permanent residences in Key West, Florida, and Cuba during the 1930s and 1940s, but in 1959 he moved from Cuba to Ketchum, Idaho, where he committed suicide in the summer of 1961.
William Shakespeare (26 April 1564 (baptised) – 23 April 1616) was an English poet and playwright, widely regarded as the greatest writer in the English language and the world's pre-eminent dramatist. He is often called England's national poet and the "Bard of Avon". Shakespeare was born and brought up in Stratford-upon-Avon. At the age of 18, he married Anne Hathaway, with whom he had three children: Susanna, and twins Hamnet and Judith. He appears to have retired to Stratford around 1613 at age 49, where he died three years later. Few records Shakespeare published two narrative poems on erotic themes.
WORKS
* Venus and Adonis – In Venus and Adonis, an innocent Adonis rejects the sexual advances of Venus. *The Rape of Lucrece- The Rape of Lucrece, the virtuous wife Lucrece is raped by the lustful Tarquin. Influenced by Ovid's Metamorphoses, the poems show the guilt and moral confusion that result from uncontrolled lust. Both proved popular and were often reprinted during Shakespeare's lifetime. He dedicated them to Henry Wriothesley, Earl of Southampton. A third narrative poem,
* A Lover's Complaint in which a young woman laments her seduction by a persuasive suitor, was printed in the first edition of the Sonnets in 1609. * The Phoenix and the Turtle, printed in Robert Chester's 1601 Love's Martyr, mourns the deaths of the legendary phoenix and his lover, the faithful turtle dove. * In 1599, two early drafts of sonnets 138 and 144 appeared in The Passionate Pilgrim, published under Shakespeare's name but without his permission.
Artist in Music and Dance
National Artist of the Philippines – is a title given to a Filipino who has been given the highest recognition for having made significant contributions to the development of Philippine arts.
Categories under which National Artists can be recognized originally included: Music – composition, direction, and/or performance;
Dance – choreography, direction and/or performance;
Music – is an art form whose medium is sound and silence.
Dance – is a type of art that generally involves movement of the body, often rhythmic and to music.
Artist in Music and Dance
A musician is a person who plays a musical instrument, especially as a profession, or is musically talented. Musicians can be classified by their roles in performing music and writing music. Examples of musicians' skills are the orchestration of music, singing, composing. Orchestration is the study or practice of writing music for an orchestra or of adapting for orchestra music composed for another medium. Singing is the act of producing musical sounds with the voice, and augments regular speech by the use of both tonality and rhythm. is the process of creating a new piece of music.