Ritalin is the only effective treatment for Attention Deficit/Hyperactivity Disorder Essay Sample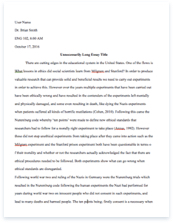 The whole doc is available only for registered users
OPEN DOC
Download Essay
Get Full Essay
Get access to this section to get all the help you need with your essay and educational goals.
Get Access
Ritalin is the only effective treatment for Attention Deficit/Hyperactivity Disorder Essay Sample
In general, the media portrays the use of Ritalin for treating the condition known as Attention Deficit/Hyperactivity Disorder (ADHD) as a problem. Over recent years, this issue has become quite controversial in the sense that because it has had so much negative feedback from the press, people are beginning to doubt its reliability and question its place as a trustworthy treatment in the pharmaceutical industry. The media are known for being biased in their publications, exaggerating data and manipulating ideas to sway the publics' views on high profile issues. The purpose of this essay is to explore the opinions of Ritalin and other treatments for ADHD from the view of the media but also from medical researchers, who have published articles on methods to relieve the symptoms of ADHD, and to look at what similarities and differences they share.
A recent article published in the Telegraph has suggested that drugs such as Ritalin, which are given to children to elevate symptoms associated with ADHD, are in fact stunting their psychical development and are only providing short term benefits. The article goes on the say that drug treatments for ADHD can even cause brain damage and death! In regards to this topic, Dr Kendal from the Royal college of Psychiatrists concluded that doctors do not have enough support when it comes to using new methods to treat ADHD and therefore prescribe Ritalin too freely without trying or suggesting new treatments as an alternative (Cleland, G 12/11/07).
Another recent Telegraph publication has proposed that the families with children who suffer from ADHD should be offered training courses to help them manage the behaviours of the child in question. Also, depending on the severity of the symptoms, sufferers should be offered psychotherapy or social skills training for ADHD before traditional pharmaceutical treatments are prescribed. Another fear mentioned by the Telegraph is that many children are being labelled as having ADHD but are in fact just naughty which again fuels the over-reliance for Ritalin usage in society. In fact, 700,000 prescriptions for Ritalin and similar drugs were prescribed last year in England alone which is a worryingly high amount (Smith, R 24/09/08).
The investigation TV show, Panorama, has recently publicised the risks associated with taking Ritalin and Concerta to treat ADHD. They emphasise that the drugs are similar to amphetamines and can cause sleep disorders, loss of appetite, weight loss, growth problems and suicidal thoughts. The show also draws attention to a study in which 600 children with ADHD were treated for three years, some with drugs and some with therapy. Findings supported the theory that medication is no better than therapy but does cause more undesired side effects (Jofre, S 12/11/07).
One alternative method for treating ADHD is known as Electroencephalographic Biofeedback treatment (EEG). The journal of applied psychophysiology and Biofeedback recently published numerous studies which demonstrate the effectiveness of EEG for ADHD patients. For example, Thompson & Thompson (1998) studied 111 patients all with ADHD and found that patients treated with EEG showed higher scores on attention, inelegance and impulse control tests in comparison to a control group (Monastra, V, J et al 2005).
Another finding by Tansey (1993) showed that after a 10 year follow up, patients who had previously been treated with EEG still managed to control hyperactivity associated with ADHD in their adulthood (Monastra 2005). Rossiter & La Vaque (1995) conducted a study where the effects of EEG were compared to the effects of drugs used to treat ADHD. The study involved 46 patients who were matched on the basis of variables such as age, intelligence, and gender and then treated by either EEG or medication. They found no significant difference between to levels of improvement of symptoms from patients in the EEG group (83%) and the medication group (87%) (Monastra 2005).
The media clearly disapproves of the use of pharmaceutical drugs to treat ADHD on the belief that drugs are over-prescribed and carry many side effects which can harm the person taking them. They tend to place lots of emphasis on the negative side effects associated with medication and minimum emphasis on positive effects of the treatment. In comparison to this, a study by Solanto (2001) found that Behaviour therapies used to treat ADHD are not as effective as pharmaceutical treatments and also cause side effects. Behaviour therapy aims to produce stimulus and response associations between a particular stimulus and desirable behaviours via reinforcement. When reinforcers are removed patients show strong aversive symptoms (Sikstrom, S & Soderlund, G 2007). This study shows other forms of treatment do have limitations, not just pharmaceutical drugs which the media like to elaborate.
A news article was published by the Psychiatric services journal in 2000 counteracts the medias argument on side effects by suggesting that the side effects associated with drug treatments for ADHD are only temporary. The article goes on to say that by adjusting the quantity or timing of the doses, the side effects can be relieved. The article also suggests that drugs, especially Methylphenidate, provoke steady improvements on behaviour and symptoms associated with ADHD (no name 2000). The media articles fail to mention this and instead, emphasise the risks of pharmaceutical drugs without mentioning the fact that these factors can be controlled quite easily.
As noted previously, Panorama recently publicised a study which concluded that drugs are no better then therapy at treating ADHD. In comparison to this, researchers from the McMaster University in Hamilton reviewed 2, 405 citations and 92 reports of treatments for ADHD and found that drugs such as Ritalin are more effective then other non-pharmaceutical forms of therapy. Evidence from a recent trial has shown that combining treatments such as drugs and therapy gives even more positive results (No name 2000).
The media tend to focus solely on the negative aspects of ADHD medication without logical, fair reasoning or enough information on other forms of treatment. This could be because they have a lack of knowledge on this topic or just pure bias in their articles. For example, EEG has been proven to be an effective way of relieving the symptoms caused by ADHD with minimum side effects, but the media have not mentioned this form of therapy once. Instead they mention behavioural therapies such as social skills training which are not known to hold any benefits over drugs (No name 2000). One problem with social skills training is that it can cause children to have problems developing normal relationships as they develop because of poor interaction skills (Kane, A 2007).
The media also suggest that children with ADHD should be given psychotherapy to relieve their symptoms which is apparently a good alternative to medication. The problem with this is that psychotherapy is usually given alongside drugs, does not increase to sufferers' attention span and does not reduce the impulses associated with ADHD (Kane, A 2007).
The difference between the way in which the media approach and deal with the issue of drugs used to treat ADHD and original researchers' views and opinions on the same subjects contrast dramatically. They both hold views which are completely different. The researchers' knowledge on the issues are much more valid as their ideas are based on experiments and first hand experience whereas the medias opinions are based on ideas they have heard from other sources.
Many benefits of drugs have been outlined in journals which the media have failed to make public, instead they have focused their interests solely on the opinion that medication is bad for children with ADHD. This opinion could prove quite harmful for society because many parents of children who suffer from ADHD may decide not to give their children Ritalin or other drugs on the advice from the media without genuine medical knowledge. This in turn could aggravate the sufferers' symptoms even more, as could providing an ADHD suffering child therapy without medication aswell.
In conclusion, there are many effective treatments for ADHD but most of which should be used in conjunction with drugs. The side effects of Ritalin and other drugs can be easily controlled by adjusting the quantity and timing of doses. Many studies have shown Ritalin to be as effective, if not more, then other treatments such as behavioural therapies and psychotherapy. Ritalin and other pharmaceutical drugs do have their limitations but no more then other treatment methods. Ritalin is a scientifically proven, effective treatment for ADHD which should be given the credibility it deserves and if the media where to publicise Ritalin from a professional, un-biased perspective then perhaps it would not be surrounded by controversy and negativity but instead support from the people who realise the relief it has provides to people suffering with ADHD which other methods fail to provide.