Role Model: Destinee Hooker Essay Sample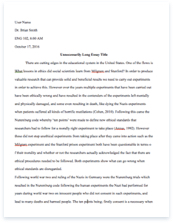 The whole doc is available only for registered users
OPEN DOC
Download Essay
A limited time offer!
Get a custom sample essay written according to your requirements urgent 3h delivery guaranteed
Order Now
Role Model: Destinee Hooker Essay Sample
There are an abundant amount of African Americans that have influence my life. However there is one person that I can say has truly inspire me to be the person I am today. That person would be Destinee Hooker, an Olympian, professional volleyball player but most of all a person I chose as my role model. She has made a influential impact on my life and inspire me because I learned how to play volleyball by watching her and she taught me how to be a team player.
Playing sports has always been something that I enjoy to do, so I decided to play a new sport. And that was volleyball. As a new volleyball player I didn't know the complete sport of volleyball and how it was played, therefore I began to do research on different successful volleyball players. That is when I came across Destinee Hooker and when I did it made me more desirable about the game and about how to make myself a better person. I instantly started to watch YouTube videos of her from when she was in college at Texas A&M and when she became a professional volleyball player overseas and for our own country. As I began to watch her, I started to follow her throughout the volleyball season. Furthermore I learned the basic steps to volleyball by watching her compete in the games she played. In more detail she was also participated in the London Olympic games for two thousand and twelve which really influenced me as an athlete. Even though the US team did not bring back gold for our country, Destinee as a player brought gold to my heart because she gave it her all in every game.