Roles and responsibilities of data users Essay Sample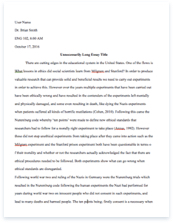 The whole doc is available only for registered users
OPEN DOC
Download Essay
A limited time offer!
Get a custom sample essay written according to your requirements urgent 3h delivery guaranteed
Order Now
Roles and responsibilities of data users Essay Sample
In order to successfully gather data from the users, conducting an interview must be a good idea. Hence that may insufficient as users may not able to describe everything by themselves as the ideal meaning may not portrays only by words. So that it is better if the user can be observed while they use an interface they currently use which may portrays much information. In order to collect more focused and descriptive collection of data, again an interview is conducted using a different approach which is interview with observation which is known as contextual inquiry.
Importance of selecting a representative participant
The project is mainly relying on student and staff who visit Swinburne university daily who are willing to share a ride in order to reduce the cost and save time. The interface should be created according to the user preferences. In that case in is more important to select a primary user of this interface who would actually use an application similar or who would seek a ridesharing application currently. Considering all these requirements a Swinburne university student in interviewed in this task.
Aim
The aim of conducting this contextual inquiry is to identify user requirements and preferences to successfully build a mobile application interface for carpooling company.
Method
contextual inquiry is usually conducted in users' actual workplace. And the participant will be given some tasks to do and the investigators watching the behaviors and the steps which are taken to complete the tasks. At the same time investigators can ask questions or have a usual chat with the participants in order to find out their requirements and difficulties they face with the current system.
Materials and Procedure
The procedure is simple as the participant will be asked some questions and he will be answering or showing what is exactly he wants to express. The introduction-The investigator introduces him or herself to the participant and may request permission to record and start recording and get the sign foe consent form. The investigator describes how the contextual inquiry will be done.
The body of the interview- The researcher observes the work and discusses the observations with the user. The researcher takes notes, usually handwritten, of everything that happens.
The wrap-up- The researcher summarizes what was collected from the interview, giving the user a chance to give final corrections and clarifications. The informed consent is signed by the participant which contains all the required details about the contextual inquiry ang by signing participant agree to the record him or herself. Investigators can include more details that they want permission from the participant.The difference between contextual inquiry and an interview
Using contextual inquiry users can easily make the investigators understand what they actually going through when using the application where interviews only let user to describe or write about it. Contextual inquiry enables to reveal tacit knowledge and highly detailed where there is less opportunity to reveal a vivid knowledge conducting interviews. Contextual inquiries usually conducted in the real workplace where there is no special place to conduct interviews. Contextual inquiry is more flexible technique than interviews.
Good research methods
Results obtained after conducting contextual inquiry
Questions
Are you a student or a staff member at Swinburne University? What are you studying or what is your job? "Yes, I'm a student of Swinburne university. I'm studying Information technology" This is a basic question in order to ice break and start the conversation and make the participant feel comfortable to share their ideas. At the same time, this is to identify whether the participant is a primary user.
Do you use public transportation to visit the university?
"Yes, most of the time"
How many days do you come to the university?
"4 days"
How far you are from the university?
"I live in Dandenong, so most probably it would be 30 Km or more"
Above these questions are to find out whether the participant uses public transportation and how far he lives from the university which gives a vivid idea of the participant's environment and his goals.
How much would you like to spend for the public transportation per day?
"I usually spend around $9 per day to come to and get back to home when I'm using only train. But, sometimes I use Uber when I get late to my lectures which costs much more and I can't afford it every day."
How do you get to know the information about public transportation, the nearest station etc.
"I use Ptv app as others and I use Uber app"
What are the difficulties you find when you selecting a transportation method on these apps?
"Actually Uber app is quit convenient as it gives maps and directions and the contact number of the driver where you can call him and tell him where you are exactly if he find difficult to find us. But the fair is bit high that I can't afford it every day."
Do you like to use ridesharing?
"of course. If the fair is low and if I can get in to the uni on time, it's great"
Show me how do you use the application?
What are the difficulties you find when you use these apps?
Show me where does any problems occur?
When considering the above questions and the answers the participant give it is vividly portrays that the contextual inquiry is much better than conducting just an interview as it reflects the exact problems occur when using an application in real life. Here the participant is using Uber and Ptv application and he showed how he get to know information and how he books a ride using Uber. It is proved that a university student cannot afford taxi for everyday traveling to the university though a staff member is much capable on spending money on a taxi. So, it is clear that the ride sharing should be cheaper and punctual.
When using each of these apps the participant gets much time to find what he wants as we were talking and going around the university. He wanted to show that these applications take much time to operate as there are much more clicks. The participant was suggesting if they get student only ridesharing it would be much better and as if there is a service which provide ridesharing to get in to the university everyday it would be much easier because then they do not need to search for location just need to book a ride using time and own location just like a school service.
As well as the paying by card should be optional as application like "shebah" asks credit or debit card details in order to register in and the step cannot be skipped.
The primary users of this project are students and staff members of Swinburne university who daily travels. So that their environment is directly related to their goal as they are more desire to be punctual to their lectures or to their job so that the interface or the application should be accurate and show to exact date, time and venue in order to catch the passengers without being late.
The application would be prominent and the user can be make a booking or search a ride without many clicks.
Conclusion
Contextual inquiry is much prominent that just conducting an interview and gathering participants' words but it enables us to look in to the real work and find out what are the steps that the users are stuck in. This would enable to upgrade or build a successful interface.