San Antonio Local Leaders Essay Sample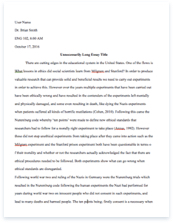 The whole doc is available only for registered users
OPEN DOC
Pages:
Word count: 1625
Category: leaders
Download Essay
A limited time offer!
Get a custom sample essay written according to your requirements urgent 3h delivery guaranteed
Order Now
San Antonio Local Leaders Essay Sample
Introduction
Any person assuming a political office is evaluated on his or her leadership skills by his followers. A political office or any other leadership position requires not only commitment but employment of personal traits and characteristics to offer effective leadership.  The individual personality and characteristics are of vital importance to the scrutiny of the individual before being elected to a leadership position. According to the universal theory of leadership, there are important traits and characteristics that differentiate a leader from the rest of the people. It is these characteristics and traits that mould their personality and enables leaders to influence others.  In order to understand the importance of personal traits and characteristics and their application in leadership, we are going to review San Antonio Mayor Phil Hardberger.
Biography of Phil Hardberger
Hardberger was born on July 27th 1934 in Morton, Cochran County.  He was born to Homer Reeves Hardberger and Besss Scott. The Hardberger family moved to O'Donnell in Lynn County in Lubbock where Hardberger worked in the nearby cotton gins.
Hardberger attended the local school and graduate in Baylor University in Waco in 1955. After leaving Baylor, Phil worked as a captain in the United States Air Force. He was a pilot for B-47 bomber. During President J. F. Kennedy, Phil became an executive secretary of the Peace Corps. He also became a special assistant in the US Office of Economic Opportunity during the term of President Lyndong Johnson. Phil married Linda Morgan in 1968. Later he was appointed Associate Justice. Phil was also appointed Chief Justice in the Fourth Court of Appeals.
His decision to make a break in politics came in 2004. This was a surprise to many people since not many people had been elected to the seat without a city council experience.  He was in a tight race with councilmen Julio Castro and Carroll Schubert who appeared favorites for the race.  However Phil defeated both and succeeded Ed Garza as the mayor of San Antonio in 2005. Phil was later re-elected in 2007 election. He has worked remarkably to serve the electorates and has also has been holding talks to bring home major Leagues soccer to the city. Le us review some of his traits and characteristics.
Self confidence and assertiveness
Self confidence has been one of the most important personal traits that have brought Phil that far.  Self confidences describes the individual believe that one can make it even when there are evident very grim chances of going through. However this has not been the case with Phil. He is known to have worked his best to success despite all odds which brings out his assertive nature. If we review his working life since he left Baylor University, we find that Phil has not relented on the difficulty of the task at hand. It is not easy to fly a B-47 bomber unless the individual has a high level of the self confidence. It all takes a lot of confidence for one to fly the bomber while one understands that death can occur at any time. It all depends on the level of self confidence of the individual and his trait enabled Phil to fly the bombers. When it was evidently a tight race in the mayoral election, Phil did not despair despite his lack of council experience. He had that confidence that he would make it. He was finally elected to the position because even the electorates trusted in his confide to offer improved leadership as a mayor. Phil also comes out very assertive in the sense that he pressed on with the election despite understanding that he trailing third to the two leading candidates. His self assertive nature has helped Phil to move from one profession to the other and still excel in all what he did.
Cognitive intelligence and enthusiasm
Cognitive intelligence and enthusiasm are two important characteristics of Phil that have been expressed in many decisions that he has made in his leadership. Cognitive intelligence is the ability to make a decision or make a choice of the many options available. Cognitive intelligence is a trait that enables individual to make an analysis of the situation and the options available and finally come up with the most working solution to that particular situation. On the other hand enthusiasm can be described as a trait that helps an individual to carry on despite the situation at hand.  Whether one is discouraged by the current situation, he or she keeps on going to accomplish set goal. Like anyone holding a public office, Phil has been faced with many challenges which require application of cognitive intelligence, assertiveness and enthusiasm to find a working solution. For example in one of the recent decisions that Phil has made, he as agreed that making decision to build two nuclear reactors at a cost of $6.6 billions was very difficult for any leader to decide.
This was one of the most contested issues putting into consideration the cost and result analysis. However Phil made a decision and endorsed the project. This decision was later to be applauded by most political analysts who agree that this was one the important that would propel San Antonio on the path of self reliance. However Phil agrees that this decision required a lot of enthusiasm as a leader to make such a decision which may have great financial implication on the county.  Considering the earlier risk on nuclear plants that happened in Chernobyl and other places, this was a hard decision to make which required a lot of enthusiasm considering the risk of its failure to the political life of the leader. Looking back at his life, we find that cognitive intelligence and enthusiasm are to importance traits that have helped Phil to carry on with most of his duties. As a pilot, one requires to have high level of cognitive intelligence to make decisions. Cognitive intelligence has therefore been a formidable trait that has helped Phil to accomplish most important things in his life.
Flexibility and adaptability
Flexibility can be defined as the ability to work in different situations. This is a trait that helps individual to adopt quickly from one situation in life and perfectly fit into another situation. Adaptability defines the ability of the individual to fit in a situation that one had not bee used to and perform perfectly. Adaptability is therefore the ability to switch from one situation and fit into another. The whole life of Mayor Phil especially in regard to his working life shows a great expression of flexibility and adaptability. In his life, Phil has been switching from one career to another. Starting as a pilot, Phil changed to an assistant and took other duties before being elected as mayor. In all these situations, Phil adapted to each situation and worked perfectly.
This shows that he had been very flexible changing from one career to another over time. The way Phil adapted to his mayoral job show his adaptability to any job despite lack of experience. His record of success as a mayor shows that he has been able to adapt to the situation applying his cognitive intelligence, self confidence, and enthusiasm to his job. Phil is credited with having rough so many changes in San Antonio County that have not been brought about by another political leader for a long time. His level headed approach to many problem like homelessness in the country not only shows his fast gained experience in dealing with issues of public interest but it also shows how he has been able to adapt to the functions of the mayoral office. All we can understand is that there are different duties that a pilot, office assistance and a mayor ought to accomplish and not of them are alike.
Humility/courage/passion for the work and the people
Humility is can be simply expressed as being humble while courage is can simply be expressed as lack of fear. For some, it is very difficult to express these two traits at once.  A leader ought to be humble in order to service people and at the same time he or she has to be courageous to deal with different people in the society. In his work, Phil has exhibited many instances of humility in his work where he has let the wish of others prevail. He has also shown courage in dealing with most of the problems that are facing San Antonio County. The problem of the homelessness which is a major issue facing this county has also been one of the problems facing his office. In order to deal with eth issue, he has not taken his authority on the job but he has appointed Pattie Raddle and Bill Greehey to draft the way forward. He has expressed courageous that this problem can be resolved through the input of all people. In tackling the problem Phil has also show the passion for his work to serve the electorates. His level headed approach in many issues with the involved of the people may be one of the reasons which earned him another term in office.
Conclusion
Phil has been one of the few leaders who have brought a lot of change in San Antonio County. His work as a mayor has opened a new chapter of leadership for the people. Phil possesses important personal traits and characteristics that have helped him to perform his duty is a may. He has a high level of self confidence, assertiveness, cognitive knowledge, enthusiasm, adaptability and flexibility and many other which makes him a leadership icon in the county.