Sara Lee Case Study Essay Sample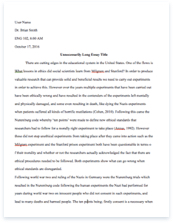 The whole doc is available only for registered users
OPEN DOC
Pages:
Word count: 2415
Category: value
Download Essay
A limited time offer!
Get a custom sample essay written according to your requirements urgent 3h delivery guaranteed
Order Now
Sara Lee Case Study Essay Sample
As Sara Lee Corporation's CEO announced a multiyear strategic plan to transform the company into a leaner and more tightly focused food & beverage company, the central component of the company's corporate restructuring plan was the divestiture of weak-performing business units and product categories accounting for $7.2 billion in sales (37% of Sara Lee's sales).
By divesting the company of poorly performing business units, and retrenching to a narrower diversification, Barnes envisioned that concentrating financial & managerial resources on a smaller number of financially promising business segments, in which Sara Lee's brand was well positioned, would increase the company's competitive advantage over the long term.
Following retrenchment, the second phase of Barnes's plan was to drive the company's growth through programs aimed at reducing overhead, increasing value chain activities; and boosting the company's sales, market shares, and profitability of core businesses & key brands.
While it was believed that the retrenchment & post-retrenchment strategies would enable revenues to $14 billion by FY 2010, and operating profit margins to increase by 12%, the problem that Sara Lee encountered was that it missed both its revenue and operating profit margin projections for FY 2010, as revenue's increased only to $10.8 billion, while profit margin's only had improved to only 8.5%.
Considering the company's failure to meet its 2010 profitability projections, it remained unclear whether or not the retrenchment strategy had worked. Therefore, management should assume a worst-case scenario, and devise a plan to implement a second retrenchment strategy, and further restructure the company in order to realize its profitability goals.
Strategic Analysis
At the outset, Sara Lee's corporate strategy was to divest itself of non-key businesses, and focus on core business markets where growth was steady or strong. Sara Lee would focus its business on the key brands of Sara Lee breads and bakery products, Ball Park meats, Douwe Eggberts Coffees, Hillshire Farm meats, Jimmy Dean Sausage, and Senseo single serve coffee products. It was believed that this strategy would enable revenues to increase to $14 Billion, and profit margin increase by 12%. Appendix 1 (see bottom of paper) shows what Sara Lee had anticipated in revenue, and what it divested. Another aim of Sara Lee's corporate strategy was to implement a program, called, Project Accelerate. The purpose of the program was to reduce overhead expenses and attempt to save the company $350-400 million in overhead & operating expenses by the end of FY 2012. By 2010 the company had achieved $180 Million in cost savings, with still two more years left to finish executing Project Accelerate. In its totality, Sara Lee's strategy encapsulates of a Retrenchment focus. Retrenchment strategies are designed to trim the business to a narrower diversification base, focusing on the core business, and increasing profit, by avoiding weaker markets and focusing its management team (Peteraf, Gamble, & Strickland 2012).
A historical analysis of Sara Lee Corporation shows that from 1962 to 2001 the company made nearly fifty acquisitions, ranging from small appliance manufacturers to international producers of women's undergarments. As unrelated businesses have dissimilar value chains & resource requirements, Sara Lee's purpose for pursuing an unrelated diversification strategy was to grow its business in industries that allowed the company, as a whole, to increase its earnings across a diversity of industry segments. However; as the advent of the technology revolution, as well as continued advancements in globalization, caused the conditions of the strategic business environment to evolve, Sara Lee's unrelated diversification strategy created a portfolio of businesses that eventually became liabilities to the company's profitability (this was due to the company operating too many slow-growth businesses, too many competitively weak businesses, and ongoing declines in market share in many of those underperforming businesses).
Based on the aforementioned internal threats, the company implemented a plan to divide its business into six core areas ("six-point" strategy) that focused on the Americas, Europe, and parts of the Pacific Rim. Core areas include North American retail, fresh bakery, and food service; and International beverage, bakery, and household & body care (see appendix 2).
As a component of its six-point strategy, the company took core brands, such as its Senseo coffee product line, and focused its marketing efforts on those key brands that allowed Sara Lee to differentiate its products, and price them competitively. Concentrating on a leaner, more focused business strategy also enabled the company to direct its resources toward new product innovation, brand building, and differentiation strategies. In summary, Sara Lee took this strategy approach, and reconstituted is business into a six-division structure that was built on product similarities, with a global emphasis.
Considering Sara Lee's disposition, a principal consideration in evaluating a diversified company's business composition, as well as the effectiveness of its strategy, is the attractiveness of the industries in which it operates. Evaluating industry attractiveness is accomplished by calculating the weighted industry attractiveness scores. Table 2 (attached Excel spreadsheet) shows an industry attractiveness scale of each of Sara Lee's core business units. Based on the data, the scales shows an industry that trends toward an attractive environment for business growth, as it relates to Sara Lee.
To properly assess industry attractiveness, the entity's top management team must stratify the data, analyze each factor in the scale, and qualitatively/quantitatively determine how each factor affects the industry, as well as impacts the entity's ability to make a profit within that industry.
Finally, Management must assess the industry's appeal to determine potential growth and profitability. This team's assessment of Sara Lee's portfolio is illustrated in appendices 7 & 8, as it is agreed that Sara Lee manages a strong business portfolio, following its retrenchment & business realignment strategies.
The CEO's strategic plan to concentrate its financial and managerial resources on a smaller number of related businesses gave Sara Lee the opportunity to gain a competitive edge in market prospects that were promising. This was a way for the company to boost its sales, market shares, and profitability of those key remaining brands.
While Sara Lee made a strategic decision to divest itself of numerous unrelated business, and focus on its core competencies, this strategy also provided an opportunity to take advantage of synergies between its core businesses. By facilitating the sharing & transferring of specialized expertise, technological know-how, and other capabilities across businesses, related diversification promised to boost each business's prospects for eventual sustainable competitive advantage. A related diversification strategy involves building the entity around businesses where there is a strategic fit, with respect to key value chain activities & competencies (Peteraf, Gamble, & Strickland 2012). In Sara Lee's case, the strategy enabled the company to take advantage of several cost sharing, skill transferring, and joint promotion opportunities between business units, which ultimately enabled Sara Lee to combine the related value chain activities of its related businesses into a single, more manageable operation, in order to outperform its competition in achieving lower operating costs.
Sara Lee's strong competitive attractiveness came from its food and beverage industry, which is why it was in the company's best interest to discontinue direct selling, European apparel, and Sara Lee branded apparel. Additionally, Food & Beverage areas that weren't as competitively strong in sales were also discontinued, such as European Nuts and Snacks, European Rice, and U.S. Meat snacks. The end result was a leaner, more tightly focused portfolio of business, as each of the remaining business units were poised to achieve higher profit margins and gain more competitive advantage, relative to the competition.
With regard to value chain activities, an entity's value chain is embedded in a larger system of activities that encompasses the value chains of its suppliers, wholesale distributors, and retailers that the entity uses to deliver its product and/or services to market (Peteraf, Gamble, & Strickland 2012). As noted in appendix 4, Sara Lee's value chain activities are lacking within its six divisions, however; related diversification in operations occurred when its food service division benefited from the retail division's activities, when the retail division provided bulks of pre-sliced meat to restaurants versus the end user having to slice the meat (substantial cost savings realized by this activity adjustment). Dougwe Egberts and Senseo coffee brands, both products of the International Beverage division, were distributed to the foodservice and retail divisions respectively, to be further delivered to food service retailers & distributors.
Currently, the International Beverage division markets & sells Senseo single-serve coffee makers and has seen high international sales volume. Conversely, this same product has not been as successful in the North American market, with sales growth being slow. However, Sara Lee may exploit a market opportunity to sell Sara Lee branded commercial-grade coffee and espresso machines to current N.A. Foodservice division customers as a means of balancing or countervailing the slow sales growth rate of its Senseo coffee maker.
Considering how closely related the North American business divisions are, there is an opportunity to combine the related value chain activities of these businesses under a single operation or common footprint to achieve lower operating costs. An example of how Sara Lee can exploit this opportunity is to consolidate the production of the food & beverage products of its different businesses into one large centrally located plant. The division also customized meat and bakery products for its largest customers that would benefit the N.A. Bakery division.
The opportunity for Sara Lee to integrate the global supply chains and distribution networks & linkages between its retail and foodservice
divisions would be beneficial in cutting costs, eliminating waste, increasing efficiency, and expanding technical know-how & cross-training across all of the company's divisions. Ultimately, this increases value for Sara Lee, its customer base, and its entire network of value chain partners. The fact that the company was able to increase the space for its products on the bread aisles, at leading grocery stores, from 1.5 to 4.0 feet, indicates that the company gained bargaining power with grocery chains, as the company's restructuring of its value chain increased customer value, which ultimately resulted in increased profit margins for the company's bakery division. Based on the increased sales growth in this segment of the business, it is advisable for Sara Lee to continue to integrate its value chain system, as well as engage in cross-business collaboration and knowledge-sharing to create new competitively valuable resources and capabilities.
Given the company's financial health in the wake of its retrenchment strategy, Management expected the retrenchment initiatives to generate a combined net after-tax profit of $3 billion. Appendices 6 & 7 detail a before and after glimpse of Sara Lee's financial and operating performance in year's 2008-2010. The numbers suggest that the results of the retrenchments strategies fell just of the company's fiscal goals.
In 2004, prior to the retrenchment, the company's return on sales (profit margin) was 8.80%. Leading into their divestitures, performance between 2005 and 2009 fell under. The company's performance in 2010 shows improvement, however; it is still not at the 2004 level (see appendix 6)
With regard to Sara Lee's Post Retrenchment of its nonstrategic business segments, the company decided to focus on increasing market shares of its remaining business segments, with the intent to reach its financial goal of achieving sales of 14 billion and 12 % profit margin by 2010. Its strategic approach was to develop three competitive capabilities: competitive pricing, innovative new products, and brand-building to achieve economies of scale/scope. Appendix 8 details the company's financial performance for the North American Food Service and Bakery divisions to show unprofitable or nearly sustainable break-even points, however; profitability for the company's International Beverage and North American Retail exceeded the other segments with double digit profits.
Conversely, eroding sales and weak return in equity in the branded apparel segment prompted the company's decision to divest itself of that business. Rather than sell; the top management team made a strategic decision to spin off the business as a stand-alone company.
Appendix 7 shows that profit margins for Hanes brands were more profitable than the company's continued operations in 2010. The only division described in Figure 1.2 to outperform Hanesbrands in consecutive years is the International Beverage segment (see appendix 8), which includes rising sales in Senseo.
With regard to the overall efficiency of Sara Lee's retrenchment strategy, Exhibit 1 (Peteraf, Gamble, & Strickland 2012, Page C-248) shows that the divested businesses were persistently unprofitable, however; although Hanes brands was not unprofitable, Management's decision to spin-off was logical, due its lack of strategic fit with the related divisions of its bakery, food service, and beverage divisions, thus, enabled cash payment gains of 2.4 billion, as well as the elimination of significant debt.
Recommendations
Based on Sara Lee's Annual Profit Margins for continued business, there is an opportunity for growth in sales in their North American businesses. Therefore, it is recommended that Sara Lee continues to focus on product innovation in its North American retail (meats) and bakery segments, based on its sustained growth in thes businesses. Contrary to the growth in sales of its North American retail & bakery businesses, the international bakery division has performed marginally, due to the unpopularity of packaged bread in Europe, as well as to the economic conditions in Spain. Consequently, it is recommended that Sara Lee considers adding this business segment to its list of planed divestures in the short-midterm.
There should be a primary focus for investment in the Foodservice business since studies have shown a large percentage of people eat meals away from home, however; with another monitor on the economy for sustained growth. There are opportunities for mergers with similar food and beverage companies for greater economies of scope related to distribution, sales and advertising to deliver a higher return to shareholders.
The other segment of investment priority is the International Beverages business. There is a high market share in European countries, and the introduction of ready-to-drink hot and cold coffee drinks could prove to boost sales margins exponentially. In 2010 Senseo was the best selling brand of single serve coffeemakers in Europe with a 40% percent market share. Although the Senseo division accounts for 55% of the market share in North America, patent infringement litigations by Nestle may be an indictor that Sara Lee should sell its North American Senseo division (or at least shift it to another geographical market), especially since there doesn't seem to be a strong strategic fit with its N.A retail meat and bakery segments.