School Education's Integration of Computer Technology Essay Sample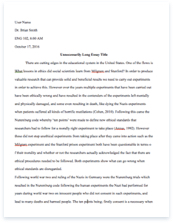 The whole doc is available only for registered users
OPEN DOC
Pages:
Word count: 1770
Category: computer
Download Essay
A limited time offer!
Get a custom sample essay written according to your requirements urgent 3h delivery guaranteed
Order Now
School Education's Integration of Computer Technology Essay Sample
Since Apple's invention of the IBM computer in the 1980's computers have been the way of the future. Educators understood the importance of teaching computer literacy within the school doors and began to integrate computer literacy into the school's curriculum through computer labs. However, as education has moved increasingly towards instructional technology the question has raised, should computer labs be phased out? Computer labs do support a certain amount of computer education, taught by an instructor fluent within computer technology. However, students are not able to form strong computer concepts in the allotted amount of time spent in computer labs. Students are able to form stronger computer and subject based concepts through the use of classroom computer instruction. One of the more difficult and complex decisions about education is choosing the most effective and cost efficient curriculum. According to Dupuis," curriculum is anything and everything which supports student learning" (Dupuis, 2008, pg.423). Before considering a curriculum educators must first establish two things; what the students are expected to learn and the instructional material available.
The Federal No Child Left Behind Act has set mandated benchmarks which the majority of students within schools are expected to achieve based on the Bloom taxonomy standards. The federal government has set a benchmark "requiring all students to be technologically literate by the end of the eighth" (Owen, n.d.). School districts are faced with the decision of how to integrate computer literacy within school curriculum. There are basically two ways in which to achieve this goal; traditional teaching curriculum with computer labs and classroom computer based instruction. Curriculum based on traditional teaching with computer labs does support some computer literacy but how much of it is multi beneficial to both the student and teacher must be considered. Each traditional classroom has twenty to thirty students with only one teacher. Teachers using this type of curriculum use the district approved text books and other tangible instructional material as their main source of instructional aids.
How much individual instruction each student has available to them is a crucial part of how much assess they have to the curriculum. The more access a student has to curriculum, the stronger concepts he or she will form on the material being taught. Today's educational budget cuts are forcing teacher and students to face overcrowded classrooms which provide less individual attention. Teachers and students are also facing No Child Left Behind standards of raised benchmarks for mandated standardized test achievements over the next few years. The message being sent to teachers and students is to achieve more with less. How can we charge teachers who are already over worked and underpaid to work harder, achieve more with little to no instructional material provided to help them and their student achieve the goals set before them? Computer based curriculum provides more individual attention than when compared to traditional teaching curriculum with computer labs. Teachers are able to use technology as a tool within their instruction.
Which computer based curriculum used must still be approved on the state level, to ensure Federal mandated benchmarks are still with the realm of the curriculum. As part of the curriculum, computers based curriculum allows teacher to track their students' progress in a vast number of ways traditional curriculum does not. Teachers are also able to develop specialized individual lesson plans for those students who may learn differently or just need more instruction. Thus computer based curriculum is able to adapt to diversity within each dividable classroom setting and provide all students of different cultures and backgrounds with more assess to the curriculum. The more access a student has to the curriculum the better the student preforms on standardized testing. One school marked as needing improvement by the Federal Government switched from traditional based curriculum to computer based curriculum in effects to save their school. The results were phenomenal, shortly after switching curriculum; the school, Carpe Diem, won the bronze and was named as "one of the top ranked high schools" (Roller, 1210). Cape Diem became a leader for student growth over two consecutive years.
"That Means, according to growth models, our students are making more academic gains than the majority of students in the state"(Roller, 1210). In 2009, 100 percent of students passed the mathematical portion of state standardized tests. Cape Diem once a struggling school using traditional teacher instruction became a top ranked upon high schools after switching to computer based instructional curriculum. No child in Cape Diem was left behind, surpassing Federal standards for standardized testing and meeting computer literacy benchmarks. Some public schools systems with traditional teacher instruction and computer labs which have the funds to hire a competent computer lab instructor with strong computer based skills and up-to-date computers and programing are meeting both the No Child Left Behind benchmarks and computer literacy benchmarks.
However, those schools have to see the benefits of utilizing the computer system within the classroom setting for both the teachers and their students have started to increasingly moving towards a more computer based curriculum. For those schools without the funding; the instructors of the computer labs lack strong computer based knowledge and computers and programs are often out of date. One benefit of the computer labs is the environment. Computers are central located in one area within a climate controlled environment. However, Students in intermediate, elementary, and kindergarten schools who attend computer lab class only one to two times weekly are not provided enough individualized computer time to take on extended projects should could aid in computer based knowledge. The lack of individualized computer time also renders the retention of computer concepts. Consequently, public school system with computer based classrooms and curriculum provided better computer concept retention. For students to retain computer concepts those concepts need to be integrated into their subject based curriculum.
All teachers further in a computer based curriculum or the traditional teacher based curriculum attend workshops over the chosen curriculum. Teachers of the computer based curriculum are able to form strong up to date computer concepts, along with ideas for the integration of computers through the workshops. Teachers then integrated those concepts not only in to lesson plans but their class preparation. The computer can safe over worked teacher available time, allowing them to dedicate more of their time in other areas. For the over worked teacher the computer can be available asset and tool for instruction. Classroom teachers are also able to benefit from the computer based curriculum in variety of ways because they have access to an internet with array of up to date information which could be integrated into the lesson and provides more individual attention simultaneously, allow the teacher to move from one student to the next individually. The computers also allow student move at their own pace and at different levels of instruction. Some students may move quickly in some areas and slower in others.
The computer's ability to move at the student's pace helps to ensure each student, no matter the diversity, is able to get the full benefit of the curriculum. Computers are able adjust to array of different types of learners, thus meeting the needs of each diverse classroom. Admitted there are problems with the computer based curriculum. Students do not always do as they are told. Because students have access to the internet, they also have access to the inappropriate material as well. However, there is a solution. Schools can set up parental controls and block inappropriate material and certain sights all together such as gaming sites and Facebook's. There is also the issue of possible computer adware such, verses and spyware. Schools will need to set up a complete online computer security system to head off those potential attacks. There are some positive attributes of the internet. The internet opens up a possible line of communication with their students' parents. Schools can set up a site parents can go to for information about assignments, assessments, attendances, grades, menus and upcoming advents.
Teachers can send and receiving e-mails from their students and their parents during and after school hours; opening a better line of communications with the parent(s) whose work would otherwise interfere. Another consideration of computer based curriculum is the computer's ability to hold the student's attention. Students are egger to work and learn on the computers. Computers do not seem so boring to the everyday student as teacher instruction because they are able to be more hands on have an interaction with the curriculum. Because the computer is able to hold the students' attention longer, students are able to retain the information for longer periods of time so harder concepts are able to be realized or reach. Computer literacy concepts are reviewed and reinforced as students learn subject based materials. According to Johnson, "in the same way that computer technology has improved the operation of automobiles, these proponents believe computers will make the classroom a better environment in which to teach the difficult concepts that lead to higher academic achievement"( (Johnson, 2012).
Indeed, there are many things to consider at the federal, state, district, school, and classroom levels about curriculum. Should computer technology be integrated within the public school education system has been established. However, the most efficient and cost effective way has yet to be determined. While there are many other factors to consider as well, such as; budgets, qualified personal, and how to utilize the computers to their fullest potential to benefit all realms of the school setting. The one thing which does seem clear; computer based curriculum does provide more student access to the subject base and computer literacy curriculum than when compared to traditional teacher instruction curriculum with computer labs. As a society with a governmental democracy it is our responsibility to provide all students, no matter their diversity of cultures and backgrounds with the tools they will need to further their education or enter the work force. Computers are without doubt the way of the future and it is up to us to place the needed tools in the hands of our students for they too are our future.
References
Dupuis, Victor L., Gollnick, D. M., Hall, G.E., Johnson, J.A., & Musial, D., (2005). Introductions to the Foundations of American Education (13th ed.). A llyn and Bacon Johnson, K. A. Ph. D. (2012). The Heritage Foundation The Leaders of the Community . Retrieved from http://www.heritage.org/research/reports/2000/06/do-computers-in-the-classroom-boost-academic-achievement Owen, W. (n.d.). Oregon school computer labs overwhelmed by demands on students. Retrieved from http://www.oregonlive.com/education/index.ssf/2010/07/oregon_school_ computer_labs_ov.html
Roller, W. (1210, January 8). Carpe Diem among top-ranked high schools. Yumasun.com,