Scientific advances continue to arise ethical questions within the field of medicine, which can lead to conflict in society Essay Sample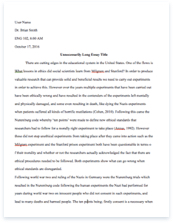 The whole doc is available only for registered users
OPEN DOC
Get Full Essay
Get access to this section to get all help you need with your essay and educational issues.
Get Access
Scientific advances continue to arise ethical questions within the field of medicine, which can lead to conflict in society Essay Sample
The aims of this essay are to examine why ethical questions continue to arise in the medical fields of abortion, animal experimentation and euthanasia. Moreover, this essay will look at the different reasons and issues that relate to three of these topics, talking about the ethical conflicts that crop up in society. Different types of data have been put together to show the differences in views from different points of view, the information have been extracted from the internet newspapers and books to answer many questions such as, What are the reasons for a pregnant woman to have an abortion?
Why do scientists use rats instead of humans and why hasn't everyone got the right to a peaceful death??? Abortion… … Is to end a pregnancy, there are two types of abortion" spontaneous abortion" or "miscarriage" is the term that most people are familiar with is the involuntary, The developing of the foetus stops and the body gets rid of it. The voluntary method of abortion is known as" induced abortion" which is carried out in either a medical or surgical way. There are many reasons why women choose to have their babies terminated and here is an outline of some of these reasons in detail.
In many cases women choose to get rid of their baby before it is born supplely because they cannot afford to bring the baby up. Babies don't come cheap and if they baby comes as a surprise to you then you will obviously struggle to support your self financially. Money will also have to be spent on the newborn baby to buy it the required things such as food clothes bottles etc and thinking about the future the child will grow and so will its needs and provisions. Incest and rape is another reason for aborting the baby.
Both these are very emotional issues to come across and traumatic for the victim but even though pregnancy from rape or incest is very rare it does happen and women do abort their babies because of this. Women do not want to keep a child that will remind them of the painful experience that they have been through and therefore they want to get ride of it. An abortion can add to more pain and anger in the persons mind because it has built up on them. A mother may feel that she cannot cope being a single mother and therefore can lead to a termination.
A person may feel that her partner is not willing to have a child at this stage so it may come as a bad idea bringing the issue up may lead to a breakdown in the relationship so abortion is the only way to prevent this from happening. In some cases for example in an Asian family a girl might have slept with someone and did not expect to become pregnant but if she tells anyone that she is pregnant it will be seen as a disgraceful act and the farther of the girl may tale her back to India or Pakistan and get her married off which she doesn't want to happen.
Women may think that she isn't ready to become a mother because she is too immature or young. If a girl has told her parents or others whom she might be advised by might pressurize her to abort the child for many reasons such as the bad reputation it may bring upon their family. A common example of the questions that may be raised is whether or not abortion is the right thing to do? The reasons why women have abortions have been mentioned above however ask your self this, was it the right thing to do?
A lot of people will say that abortion is not the answer because of different reasons like the aftermath of the abortion says the long-term effect, which it may have on the person and the question that the unborn child has a life, and that by terminating it is like committing murder. The examples of the after effects are physical and psychological suffering from abortion, which is quite common. Many of the effects are hard to imagine which is why many people think abortion is ethically wrong, because the women may suffer a great deal of physical and psychological pain.
A few examples of these sufferings are stillbirths, infections, pains and the psychological effects are nightmares, flashbacks and the list goes on increasing in number and in danger, these things happen unexpectedly. Miscarriages may occur when a women wishes to have another baby because of the termination. Had, death, which is mostly caused from guilt about excluding a life and mainly suicide. There and many other health factors that can lead to ethical questions which bring conflict about in our society because there are many undisclosed information that you are not made aware by the health services.
It has been estimated that 2 out of 10 women who abort their first pregnancy will never be able to have children again so ask your self this, are you willing to take this kind of likelihood? The ethical question of them all that is raised is whether it was the right thing to do? A mother has the right to judge whether or not she wants to have a child after all she is going to bring him or her up. A woman has the right to decide whether or not she wants to have a child and if she is ready to take on a new lifestyle.
If the woman does not feel she is ready, it is wrong to bring that child into this world because it is unfair to give it an unjustified life. If people were raised with their parents beating them up, they will most likely beat their children because that's how they have been brought up and they don't know any better. Lets say that if a girl was raped, not financially stable or if she found out her child would be terminally ill then would it be ok? If you are mature enough to have sex, you should be mature enough to handle the consequences.
A woman can take certain precautions to prevent the mistake of having a child if she does not want one. For example, she can take birth control or use condoms and if she does end up pregnant by accident and cannot have a baby at that time in her life, she has other options like to put the child forward to be adopted. There are so many couples in the world that want to have a child but can't and therefore someone else's baby is their only hope to fulfilling their dreams. Even though people are made aware of these options many still believe abortion is a good option that they have made or will make if necessary.
Animal Experimentation Millions of animals are used as test tubes for scientific research. There are ethical issues and conflicts in society, which surround animal experimentation. These ethical issues and conflicts in society revolve around arguments for and against animal experimentation. Arguments for animal experimentation. Majority of the animals used in experiments are weak ones such as rats and mice. Over 15 million of these rats and mice die in the world today naturally, so don't you think that they would be better off dying in an experiment rather than to be left on the side of the canals and rot away?
Scientists only test on these animals in order to find new cures and test new products before they are put on the shelves of the supermarket. For example an animal would be injected with a disease and then the cure, which they think will work, would be used on the animal in order to see if the cure works. If the cure works then many lives will be saved every. Cures to diseases that have been found thanks to the use of animals include T. B, tetnus, meningitis C, also there is a clearer understanding of the incurable illnesses such as cancer or Parkinson's because there have been progression in the research on theses diseases.
You might have asked your self whether certain products that you indulge your self With are safe or not, well they are because they have been tested on the animals so that it can be seen if there are any side effects after using the product. Would you rather have skin diseases then to know the product y0u are using is safe? These animals are killed anyway by people so why not let it come to use by helping humanity? An alternative is to use humans instead but this is risking a human life in order to understand science more.
You may feel that this is preposterous because there are no other ways to replicate the side effects it will have on a living creature without trying it out on a living creature first. Arguments against animal experimentations. Animal experimentation is cruelty to animals. In laboratories animals are deliberately poisoned, burned, scalded, irradiated, genetically manipulated, physically injured, inflicted with deadly diseases. Animals are given electric shocks and have electrodes implanted in the brain. The animals have to be put through painful experiments where their limbs are fractured and backs are broken.
Experiments on animals are misleading and infertile, as they are extremely atrocious. Animals react differently to us they are not like us how can you be sure that a drug used on a mouse is safe to use on a human body? What is harmful to a dog may have no effect may have no effects on a mouse what so ever, but cause different side effects to us. Many agree animal experiments should be stopped such as animal rights activists whereas vivisectionists believe that it is the only way forward to giving us a better life.
The PETA, People for the Ethical Treatments of Animals believe that animals should have the same rights as we do. They believe that animals are not to be used to make our selves happy, or to experiment on. Is animal testing ethically right? Should these experiments stop and the research into new cures for diseases be stopped? Should the safety of humans be sacrificed in order for this cruelty to these animals to be stopped? Euthanasia The word euthanasia is originates from the Greek word for good and thantos, which means death and refers to a good death.
But the word euthanasia has obtained a more difficult meaning in our time. People in favour of euthanasia believe that a dying patient has the right to end their suffering and leave the world in a dignified manner. Those who contest euthanasia believe that man does not have the right to end another person's life no matter what pain they go through. Euthanasia is one of the most important public policy issues being debated today as many people have tried to manipulate the law so that they can leave this world by letting their loved ones take their lives without being prosecuted for it.
There are several types of euthanasia, Passive euthanasia is the process of speeding up the death of a person by withdrawing some form of support and letting nature take its course. This includes taking food and water away from them, removing life-support equipment, stopping medical procedures and allowing the person to die. Active euthanasia involves causing the death of a person through a response to a request from that person which is known as 'mercy killing'.
What is the difference between euthanasia and assisted suicide? In euthanasia one person does something that directly kills another e. . a doctor gives a deadly drug to a patient so that they can die, in assisted suicide, a person intentionally provides the means or in some way helps a suicidal person killed himself or herself. For example, a doctor writes a prescription for poison and then instructs the suicidal person on how to use it push so that they die of poison. However passive euthanasia is different than other types of euthanasia. Passive euthanasia is the process of speeding up the process of death by withdrawing some sort of treatment. There are however many diseases that cannot be cured by modern medicine.
Such diseases like AIDS, terminal cancer, and multiples sclerosis. These conditions remain a certain death sentence. These diseases leave the patient in a constant state of pain sometimes lasting many weeks or months. There are however other reasons why a person may feel euthanasia are appropriate. These reasons include the patient feels that the their quality of life has shrunk to zero, they feel the indignity of being cared for as if they were and infant, including being diapered and fed by nurses. Others simply want to die with the dignity before they become sick.
Advocates of euthanasia say that the patient has the right to end their life when it is known that there will not be any recovery and death is on the cards. They believe that a human being has the right to die in dignity and a painless death rather than suffer endlessly knowing full well that they will not recover. Many religious groups within Christian, Muslim, Jewish and other religions believe that God granted them with life and therefore only God should take it away from you. Suicide is not an option because that is rejecting God's sovereignty.