Search College Essay Sample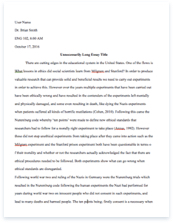 The whole doc is available only for registered users
OPEN DOC
Pages:
Word count: 1047
Category: college
Download Essay
A limited time offer!
Get a custom sample essay written according to your requirements urgent 3h delivery guaranteed
Order Now
Search College Essay Sample
Attached you will find a preliminary list of colleges for your exploration. This list is a first step in your college search, providing you with a broad field of options that will help you figure out how you feel about certain types of schools, and begin to clarify your thinking about what is right for you. Between now and the finalization of your list next fall, you will add schools, delete schools, and sometimes even add, delete, add and delete again! Your goal should be to create a balanced list of 6 – 9 schools by mid-fall of your senior year.
You will see that your list is divided into three main categories to assess levels of selectivity – Foundation, Middle and Reach. A sound college list will ultimately have at least two schools from each category. Please remember that these assessments depend largely on your academic record, as well as how Friends School students with similar academic records have done at these schools in the past. Foundation Schools – A solid college list is built upon a solid foundation.
For Foundation Schools, your academic record and testing make you very competitive for admission. No admission is guaranteed, however barring unforeseen circumstances, you stand a very good chance of being admitted. Middle Schools – You have an even chance of being admitted to a Middle School. You are competitive. In recent years, Friends School students with grades and test scores similar to yours have been sometimes admitted, sometimes denied, and sometimes waitlisted.
Reach Schools – We usually consider a school a 'Reach' because it is highly selective and therefore presents a slim chance of admission to just about everyone and/or because your credentials are not as strong as those of Friends School students who have been admitted in the past. You should be confident that we will do all we can to support your admission; however, it is important that you understand the reality of applying to such highly selective institutions. As you might imagine, making an assessment regarding your competitiveness for a particular college is not an exact science.
This list represents a best estimate, given the information available at this time (your current grades and test scores, a colleges admissions policies at this time, etc). These assessments also assume continued strong work and a thoughtful, well-presented application. Please know that this list is simply a starting point. Nothing is carved in stone; keep an open mind about yourself and about the schools you research. Foundation Schools: Barry University Coastal Carolina University Florida Atlantic University Lynn University
Marshall University Old Dominion University Salisbury University Towson University University of Tampa University of Tennessee Middle Schools: College of Charleston Elon University Furman University Ithaca College Miami University, Oxford Temple University University of Maryland, Baltimore County University of Memphis University of West Virginia Virginia Commonwealth University Reach Schools: Indiana University Bloomington Ohio State University Pennsylvania State University Rutgers University Syracuse University University of Cincinnati
University of Connecticut University of Delaware University of Massachusetts Virginia Polytechnic Institute Now that you have your initial college list … Begin your research right away – Take a good look at the colleges on your list and really get to know about them. Visit their websites, sign up for the mailing list, and get to campus eventually. Don't just sit there … It is important to spend your summer months doing something constructive. Volunteer, get a part time job, take a class at a community college, and exercise your passion.
Visit colleges that are of strong interest to you for an information session and campus tour. Many students and families visit during the summer months, so contact the Admissions offices as far in advance as possible to ensure availability for your preferred day and time. Interview – Don't forget to inquire about interviews when you are scheduling your college visit. Interviews are a great way to make your application come alive, to impress the admissions staff, and get some questions answered. Interviews also help an admissions committee get a better sense of who you are.
Common Application – The Common Application (www. commonapp. org) provides an admission application that, once completed, can be submitted to any of nearly 300 colleges and universities. By only having to complete one application, you can spend less time on the busywork of applying for admission, and more time on what's really important: college research, essay writing, and senior year coursework. The Common Application for students who will be college freshman in the fall of 2008 will be available in July.
Use the summer months to complete the actual application, so that when you later apply in the fall, all you'll need to do is submit it. Essay – An important part of your application will be your essay. Use the slower pace of the summer months to begin work on your personal statement. Select one of the essays on the Common Application, and return to school next fall with a first draft.
SAT/ACT preparation – If you are planning to take the SAT or ACT again in the fall, spend some time this summer brushing up on your skills (www. number2. com is a great site for free online prep). If you are interested, we can provide you with a list of prep classes that other Friends School families have used in the past. Update your resume – Everything you do when you are not sleeping or studying has significance in the college process. Make sure all of your activities are updated on your resume. Narrow your college list – Use the summer months to research and visit colleges so that you can return to school next fall with a balanced and appropriate list of 10-15 schools.
Visit, read as much as possible about your colleges of interest, but also ask 3 of your friends who have just finished their freshman year of college what they liked about their colleges. This will help you identify which characteristics are most important to you, and help you further narrow your list. As the fall semester evolves, you will further narrow your thoughts so that you eventually have a list of 6-9 schools to which you will apply. Keep in mind that these schools should all be ones that you would be excited to attend, and which represent varied levels of selectivity.