Section 13 Essay Sample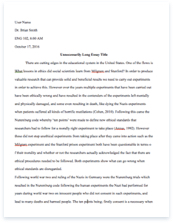 The whole doc is available only for registered users
OPEN DOC
Get Full Essay
Get access to this section to get all help you need with your essay and educational issues.
Get Access
Section 13 Essay Sample
A figure stood upon a railroad bridge in northern Alabama looking down into the swift water twenty feet below. The figures hands were behind its back the wrists bound with a cord. A rope closely encircled the person's neck. The rope was attached to a stout cross-timber above. The figures name was Dave Mcinsley. He was a scientist who was trying to invent something new. The people that were going to push him down the bridge were rarely recognizable but Ashley recognized them. They were the mob that was after Dave and his wild experiments.
Ashley was a secret agent working for Section 13. She had been assigned a new case on ancient artifacts, but Ashley thought this was boring and went to roam around the city. This is what she had found; the leader of the mob was Steven Williams. Steven Williams was wanted for several murder charges. He has murdered biology experts, chemical experts and three of Ashley's family members: Her father, brother, and her lover. Ashley still feels anger towards the person that did this, but is not 100% sure it was Steven Williams that murdered her lover.
Her father, a famous FBI agent was assassinated by one of the leaders of the mob while protecting her only daughter Ashley when she was twelve. Her brother, a Secret agent died when he was chasing after John Buckenheimer and his enemy and threw an explosive soda at his head. The soda had been injected with a substance that can create a toxic explosion when shaken. At the loss of her brother, great depression struck their family so Ashley confided in her lover, but one night going to the movies they saw a suspicious gang going to the theatre too; but Ashley didn't pay much attention.
As they were going to get snacks Ashley decided to go to the restroom and in that time they had stabbed her lover in the back; for as soon as she came out they ran to their car and she couldn't quite make out their faces. Heart stricken and hopping mad she lay there next to him sobbing and holding him. At his funeral, she promised to kill the one who had done this to him and her. Now back to the railroad bridge, Ashley decided to go closer so the ST viewer and communicator would work. Through the ST she could hear Steven Williams talking to Dave Mcinsley.
At that moment, he cut the rope and pushed him into the water. When Ashley saw this she dived in to find him. She saw him floating down to the bottom and swam towards him. She took him to the other side of the shore while taking out an oxygen mask out from her suit. When they got to shore she untied him while he lay on the ground tired and in shock. She took him back to section 13. At section 13 they interrogated him. Dave Mcinsley said that he had researched and made a new invention.
He said his invention could make clones that would never feel pain and that this invention could also be used to make the real human not feel pain but you also kill them with too much pain. Then Dave Mcinsley said: " I've locked it in the under chamber of my basement but Steve will probably tell my guards I'm dead and force them to give him the entry code; you have to stop him" "So what do we have to do? " asked one of the other agents. "You have to dig from my backyard down to my basement, then use platinum oxide and pour a little over a spot then a hole will gradually erode so you can climb in and the safe is the third one on the left.
Break it or something. "What type is it? " "It's Chromium. " "ok let's go. " My boss said I should have a partner so we went to the FBI headquarters and took their strongest agent. Her name was Sha'nae and she had top quality things for the mission we were going on. Sha'nae and I decided to take the car and meet everyone else there. When we finally got there we went straight to the backyard and saw the other agents there. "Were going in" I told them and they said that they had helped us dig the hole with the drill so all we had to do was jump down and pour platinum oxide.
So when we were down there it was very dark so we both pulled out our flashlights and searched for a place on the wall that wasn't very dirty. Then with sweaty, shaky hands Sha'nae took out the vile and put one drop on the wall then the wall started eating itself up to a point where we could climb in.. After we had climbed inside, we went around a corner to the left. It looked like a business office, but sure enough there was a huge safe, the size of two refrigerators. We looked around to see if there were any cracks in it. Since there were no openings we decided to use a silent cutter to perforate a hole in it.
After we got the machine out we decided to take it up to the house and give it to the guys outside, but all of a sudden I heard footsteps coming. I looked back and up then as we tried to take it up the stairs Sha'nae heard it behind her and closer then before. I froze being too scared too move in case they were in this room. Thinking quickly we decided to put it through the hole. We pushed it up to the guys then said "someone's in the house you better get it away from here as soon as possible go! " Sha'nae and I went back to see if we could catch someone.
We were hiding behind a big box with weird statues next to it when I felt someone put his hand on my shoulder I just stood there terrified. Then they left, Sha'nae and I couldn't make out their faces so as Sha'nae went to see whom it was I went to check if the hole was still there and watch if anybody was there. Then I gave Sha'nae the sign to come because we were leaving. "Whoa that was close! " I tell Sha'nae as were in the car headed toward Section 13. We went to talk to the chief and he told us the invention and research were in the vault.
Then we went to roam around when suddenly we felt the earth move similar to an earthquake, but we weren't sure it was an earthquake. We thought it had come from the north so we went to investigate. We drove towards it and suddenly I saw it, what I wondered ever since that night with my father it was him it was… Steven Williams. Memories of my home and my family flashed in front of me. I flashed back to the time when I was 6 and my father was arguing with a group of men they stated to fight then my father told me that he loved me and pushed me out the window.
Moments later I saw my house burst in to flames and the men ran out and left . Steven was once again running away from a building that was on fire, but this time he wouldn't get very far. Thinking quick Sha'nae grabbed a vine and swung down nearby and ran after him. I came back to reality and told Sha'nae I would check out the building. Just as I thought the "earthquake" that we felt was no earthquake, it was a chemistry combustion I analyzed the remains of the explosion and found a planner or what looked like some pages from it.
As I looked at the next page I saw everything that had happened before was planned and it was happening right now. So I looked at the fourth page and there it was "Chemistry combustion in building 34… " then I read the rest it said that at seven it would be bombing the same railroad bridge I had saved Dave Mcinsley from, but this time he was bombing from underneath the water. As I hurried toward the bridge I saw what looked like a person walking along the bridge, I didn't pay much attention to them. Then I jump into the water leave oxygen masks there and take the bomb out .
I am so nervous my hands tremble as I carry the bomb. My mind goes blank all of a sudden then I look at the time meter it says ten seconds I am sweating, I don't know which one to cut. Then I think it is the blue. Five seconds… then I cut it and hold my breath… it reaches zero and I close my eyes I can't bear it… Next thing I know I hear a beep and nothing happens just pure silence I open my eyes and look at the bomb, it had gone off. I feel happy as I walk away. I stop dead in my tracks, what about Sha'nae? What about Steven Williams? I run back to the bridge and spy on Steven and what he is doing.
And again I see a figure standing upon a railroad bridge looking down into the swift water twenty feet below. The figures hands are behind its back the wrists bound with a cord. I take a closer look, this time I see… Sha'nae?! Something comes over me and I walk over to Steven Williams. "Leave her alone. " I say to Steven "Why should I? " he says with a nasty smile on his face. "Just leave her out of this, this is between you and me" "No don't do it" Sha'nae yells in the background. "Here take me" as I empty all my utilities and weapons on the floor. As he ties me I tell him "now let her go.
He laughs and says, "Yeah right, I wouldn't pass up a chance to kill two agents at the same time, goodbye. " As he leaned over to push me he said to me "This face seems familiar, oh yes just like the one your lover had when I stabbed him. You know you should have stayed out of my business; your whole family should of. " Then as I was falling with Sha'nae, I told her to hold her breath and come next to me to untie my arms. Underneath the water I broke free and untied Sha'nae we swam to the underwater cave and got the oxygen masks, I had left there before.
We got to shore and ran down the nature path shortcut. The faint figure up ahead was Steven Williams. When we caught up to him we pushed him off his bike, laid him on the ground and tied him up. Sha'nae called for assistance to come get Steven and the case was over. While enjoying a rest on the beach Sha'nae and I talked. Then our bosses stopped by and congratulated us on our job and teamwork. My boss added "You still have the case of the ancient artifacts so get going" I sighed and stood up what a boring case, then my boss said "I was just kidding" and everybody laughed.