Section Seven and Eight Essay Sample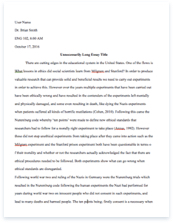 The whole doc is available only for registered users
OPEN DOC
Download Essay
A limited time offer!
Get a custom sample essay written according to your requirements urgent 3h delivery guaranteed
Order Now
Section Seven and Eight Essay Sample
When pursuing potential customers for a public relations campaign, I think it sic vital to set campaign objectives first. I personally feel that there should be a set of guidelines that I should follow in order to create a successful campaign. As a person of power, it is important for me to make sure my company renders these guidelines to hopefully help out company grow toward the future. These are not my objectives but rather the guidelines I feel we need to assess before coming up with our companies objectives. The first belief/guideline is providing realistic views of our communication materials in order to figure out what it are that needs to be accomplished. Secondly, we should give clear direction as to the main idea of our campaign as well as promotional materials needed to communicate clearly to our customers. Lastly, we need to provide a clear understanding of our target marketing, demographics, psychographics, motivations, and behavioral descriptions.
As these guidelines are put into effect there are a couple other attributes that can help our company be more aware of problems that may occur during the duration of our campaign. Public relation companies use the four "o's" to create awareness in what the companies want to pursue as the overall goals. The first is "o," is output and this takes a look into the drive execution. It only focuses on this. This is important because we need to make sure that the success of our company is growing and the execution of our campaign is how success our company is going to be. The second is outtakes which takes a look at the possible outcomes like awareness and beliefs.
These are intermediate outcomes but they play a crucial part in what our company wants to achieve. The third and possibly most important "o" is outcomes which is our drive in actual behavior. This to me represents a core of different pieces that will help us figure out what will work better with our next campaign. The last is outgrowths and here we see how there have been long term changes within our brand. Now that we have a set of guidelines and certain ideologies to follow we can have a better understanding of what goals we need to put forth in order to create a successful campaign.
Setting campaign objectives is an important part of the campaign process because if gives us something to accomplish during the campaign. We use campaign objectives to come give us something to accomplish and then use strategies to act out how were actually going to accomplish these objectives. My three campaign objectives that I thought would be important to incorporate in my campaign are targeting our audience, building a brand image, and responding to inquiries from customers. All three of these objectives have strategies that will play an intricate part in making our company be a success. My first objective is targeting our audience.
We're going to call my company, Bright Ideas Integrated Communication like normal and for targeting our audience were going to use a couple strategies that will hopefully help our company. When we target our audience it is important we appeal to as many people as we can, but in some cases it does not work like that. Say we create a product and our target audience is, 25-40 year old female. I think it is vital to be more specific and not so general in our target audience. When we categorize our group as 25-40 year old, females, we need should include if they are college educated, and what are their hobbies as well as profession (Clow and Baack, 130).
By doing this we can get a more precise look into our target group and actually narrow down who we want get our product out to. By narrowing our customers down into precise categories we can appeal to that target audience only. Next is how we would actually apply this strategy. When we created an advertisement for a magazine page we would specify what our target audience is so that whoever it does not apply too, can continue to read without wasting any time. Bright Ideas first objective, finding target audiences, ties into our second campaign objective which is building a brand image.
Building a brand image is a great way to gain trust for your customers as well as create a good reputation. For this object, Bright Ideas would hold an open house for customers and future customers to bring them in and give them a sense of what our company is about. I think gaining the trust of one's customers should go hand in hand with building a brand image. Besides open houses we at Bright Ideas would also consider throwing dances or balls and have an open invitation. People that were employees would bring their families as well as friends so clients know we are a family orientated company as well. I think this will boost our reputation and really help put our company on the map. Our last objective would be responding to inquiries and client's needs.
Bright Ideas will come up with a Facebook page as well as twitter account so we can always be available for our clients. We will also have an 800 number that will always be available for product questions and possible refunds. This will hopefully help our reputation a ton because our clients will see our responsibility speak for itself. By providing Facebook, twitter, and a 800 number as our strategy to respond to inquiries, we will help our second objective which is to create a brand image.
The creative brief and creative strategy statement are crucial parts toward conserving time and energy when running a successful campaign. A regular creative brief might include the objective, the target audience, the message theme, the support, and the constraints. What a creative brief does is takes the information provided and turns it into messages the advertiser wants conveyed in his overall message (Clow and Baack, 129). Bright Ideas creative brief would be completely different from that example because we our trying to build an image.
Our creative brief would include, building an image, targeting our audience, objectives/Strategies, two way communications, and contacting information. I feel like target audience is a very common brief that almost every successful company has to incorporate into their creative brief because they need to know who they are "going after." Good objectives will also help your design team create someone spectacular. The objectives should act as the framework toward your campaign to that when your team is creating the campaign itself, it should be effortless.
The creative strategy statement that Bright Ideas would have instilled as its main statement for the company would be as follows (off estimated numbers by Bright Ideas): Bright Ideas Integrated Communications has grown to nearly 5,000 financial stakeholders by 2013 by offering trusted and convenient advice to build a reputable image by insuring the financial safety of our more than 5,000 trusted customers.
I think this will give our future clients a good look at how confident we are in our campaign and well as our company itself. The key messages our clients should look for in our advertising campaigns as well as in the people of our company should be our reputation. When people think of Bright Ideas Integrated Communications they should think responsible and trustworthy. I want all of our customers to know me by a first name basis and I expect the same from them.
I want all of my clients to feel a sense of secureness within our company as well as financially safe. In today's society it is hard to trust anyone with anything, let alone someone's life savings. Here at Bright Ideas, we want you to feel a sense of security from a local company that will always have our customers back. We also want our customers to realize our Facebook and twitter pages as well as our 800 number. It is important to us that you as a customer or stakeholder can contact us at any time of the day or night to express your concerns or questions. Our reliable staff is on call 24/7 and is always ready by phone or internet.
Sources:
Clow, B. (2012). Advertisinng, promotion, and marketing comm . (5th ed.). Boston, MA: Pearson. Pg. 129. Clow, B. (2012). Advertisinng, promotion, and marketing comm . (5th ed.). Boston, MA: Pearson. Pg. 131.