Self-Awareness and Development Plan Essay Sample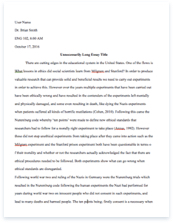 The whole doc is available only for registered users
OPEN DOC
Get Full Essay
Get access to this section to get all help you need with your essay and educational issues.
Get Access
Self-Awareness and Development Plan Essay Sample
Developing an understanding of myself is an important factor, self-understanding will help me to grow and communicate effectively with others. Knowing myself will serve as a catalyst to my individual achievement. Developing an understanding of myself will also aid in the decision-making process as well as help to identify the benefits understanding can bring. Today, I am still learning about myself; but as I continue my life's journey I will continue to discover who I am. When I think of the word self-understanding I think of the values and morals that my parents have imparted in my life. Self-understanding is primarily understanding "the real me." Understanding the real me has increased my confidence level and eliminated some of my self-doubt. I believe that my self-esteem has increased because I am a confident in my abilities. Of course there are things that bother me however, through time and self-acceptance I have learned to overcome them.
This paper will define how understanding my skills as a group facilitator can transform my professional group facilitation skills, which, in-turn can lead me to becoming an effective group leader. The paper will also outline how I plan to use the skills that I have gained from group counseling. Describe how leaders should develop and maintain awareness of various boundaries; summarize the goals that group leaders are to implement. Examine how the knowledge of group dynamics, interventions, and theory plays a part in a leader's ability to lead groups. Discuss how selected approaches will integrate into a personal theoretical framework. Finally, the paper will conclude with how synthesizing personal leadership combined with various strategies, methods, and theoretical foundations incorporate professional standards for group leadership.
There are many dynamics involved with group counseling and six weeks is not enough time to learn them. Nevertheless, I will describe three things that I have learned from this course and articulate how I will use them. First, I hope to use the skills that I have obtained from this course to properly form a group. Before a leader can even implement a group he or she must understand the various stages of group development. For example, there are four initial stages and five primary stages in the development of a group. The four initial stages are 1. getting prepared, 2. announcing the group 3. screening and selecting group members, 4. preparing group members for a successful experience. The primary stages are Stage 1, formation of the group. Stage 2, orientation phase, is a time of exploration during the initial session. Stage 3, transition stage, characterized by dealing with conflict, defensiveness, and resistance. Stage 4, the working stage, is marked by action – dealing with significant personal issues and translating insight into action in and outside the group. Stage 5, the consolidation stage, the focus is on applying what has been learned in the groups and applying the learning to everyday situations (Corey, 2004).
The second objective I learned and plan on incorporating is putting the right clients in the right groups. Group members should be as heterogeneous as possible to ensure maximum interaction (Gupta, 2005). Intermixing a homogeneous group with a heterogeneous could be disastrous because the two groups are so dissimilar. The final objective I hope to use is group dynamics. To have a successful group the dynamics within the group must be balanced. As a counselor I must realize that a group is not just people coming together to achieve a specific goal, but a set of elements standing in interaction with one another (Gladding, 2008). These are just a few of the tools that I plan on using after this course.
Setting and maintaining boundaries are crucial for leaders and having an awareness of those boundaries are important. The etymologies of personal boundaries are similar to property rights. To understand what boundaries are let us view boundaries a piece of land that can be purchased, traded, protected, or taxed. Equally, when used to define emotional "space," the word most commonly describes the self, which has distinctive rights that others should respect.
Boundaries symbolize our rights as professionals to be free from interference by our clients, and only when our boundaries are fully valued can emotional boundaries be handled. Respecting boundaries is critical. Otherwise, mitigating mistreatment of someone's time and space implies that such boundaries are provisional and not inherent. Therefore, it is critical that leaders be aware of his or her boundaries and maintains them so clients will not impede on the leader's space.
As a group leader I want to make sure I am attending to each individual client. I want to make sure he or she understands they are valued while attending the group. As a result of taking this course, what is different is trying to remain focused on what one client is saying. Observing what the other clients are saying and doing without taking focus from what the initial client has said. As a group leader that can be difficult. One of the most important tasks of a group leader is to know and understand group dynamics. Understanding group dynamic will allow the group to grow and develop. Additionally, understanding group dynamics will promote satisfaction among group members. Inattention to group dynamics can have a negative effect on the meeting of members socio-emotional needs and on goal attainment (Rivas & Toseland, 2005). The leader must realize he or she can exercise as little or as much leadership within the group. He or she must understand the structure of the group, when to interject his or her opinion, how to implement a successful intervention, how to manage the group's anxiety, in addition to resolving various other group issues. It is imperative for a group leader to be cognizant of the decisions and choices made involving the group's development if not; the leader of the group may experience some dire consequences.
A guiding principle for all group leaders to have is theory. Theory is a way of gaining an understanding about the unknown. Theory guides analysis and test hypothesis; however, one thing theory is not and that is a philosophical assumption. Therefore, group leaders must have a strong foundation of individual counseling before advancing to group counseling. Understanding the theories of human behavior cannot be stressed enough when leading any type of groups. When leading a group, the leader should have a basic knowledge of theory as applied to individual counseling. To a lesser extent, it is helpful to have some understanding of one or more theories when leading psychoeducational groups and certain discussion groups (Jacobs, Masson, Harvill, & Schimmel, 2012).
There is a clinical belief that when leaders incorporate an intervention during a group session, there is the implied notion that his or her behavior will have a positive impression on members and on the outcomes and processes within the group. However, research studies have considered the effect of specific leader performance on the group and its members. This research has shown some findings that have indicated group dynamics and outcomes are influenced by general factors such as the leader's interaction style, personal characteristics, and attitudes (Morran, Stockton, & Whittingham, 2012). For instance, when a leader is not controlling, shows empathy, is supportive and warm that leader is more likely to have a solid group.When a leader understands group dynamics, theory and intervention, and understands how to incorporate them efficiently that increases his or her ability to be an effective group leader. As a leader I plan on integrating the selected approaches by implementing two theories client centered and cognitive behavior therapy.
Client centered because this is an excellent approach to psychotherapy the therapist can communicate the information back to a client and, the client can identify the changes he or she needs to make. This is known as self-discovery, also the counselor's job is to teach the clients how to recognize challenging thoughts and behaviors and make necessary adjustments. A counselor must have empathy and unconditional positive regard for his or her clients. CBT identifies unwanted behaviors; once those behaviors are identified the goal of the counselor is to challenge the client to change his or her distorted thinking pattern. CBT therapists will examine a client's behaviors and identify the negative behaviors that may influence the client's life or interfere with his or her functioning. Once the therapist has identified these distorted behaviors, the therapist must choose a treatment that may be comprise of environmental modification, relaxation training, desensitization, modeling, and retraining
As a leader I will display empathy, engagement, active listening skills, and positive regard. After evaluating my leadership skills I realize that any self-help group can benefit from my personal leadership. For example, in a previous class I lead two groups' social phobia and confidence building. As the leader my job was to help the client change his or her thinking pattern. In doing so, the client was able to understand that they did display the confidence to function in society and believe in his or herself once again. To change the client's thinking process I had to listen to what the client was communicating and ask questions to get a better understanding.
Writing this paper has given me the opportunity to take a deep look at myself and my abilities as a group leader. I know that the leadership qualities I possess along with and the passion, commitment, and understanding I display will prove beneficial and exemplify my theoretical framework for leading any group. I have learned I am engaging, a good listener, and I show positive regard for the clients.
References
Corey, G. (2004). Theory and practice of group counseling (6th ed.). Belmont, CA: Brook/Cole. Gladding, S. T. (2008). Groups: a counseling specialty (5th ed.). Upper Saddle River, NJ: Merrill Prentice Hall. Gupta, A. (2005). Group therapy for psychiatric disorder: an introduction. Mental Health Review. Retrieved from http://psyplexus.com/mhr/group_therapy.html Jacobs, E. E., Masson, R. L., Harvill, R. L., & Schimmel, C. J. (2012). Group counseling strategies and skills (7th ed.). Belmont, CA: Cengage Learning. Morran, K. D., Stockton, R., & Whittingham, M. H. (2012). Handbook of group counseling and psychotherapy. Retrieved from http://handbook-of-group-counseling-and-psychotherapy Rivas, R. F., & Toseland, R. W. (2005). An introduction to group work practice (5th ed.). Boston, MA: Pearson.