Senior Trip Essay Sample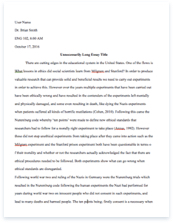 The whole doc is available only for registered users
OPEN DOC
Pages:
Word count: 1086
Category: trip
Download Essay
Get Full Essay
Get access to this section to get all the help you need with your essay and educational goals.
Get Access
Senior Trip Essay Sample
When my senior year came, I knew I had a trip of a lifetime to look forward to. A trip that gave me a chance to experience the big city life and get away from the mountains for a week. I had looked forward to this trip my whole high school career and could not believe it came and went so quickly; I could not believe that my Senior class went to New York and Washington.
My senior trip was an experience that I had never dreamed of. This born and raised mountain girl was not used to the surroundings and sights that New York and Washington had to offer. During this trip I saw many unique and interesting sights, as well as, breathtaking views from deep within the city; therefore, I was given the chance to see a different way of life for other American's.
The bus drive to Washington seemed to last forever. People were loud and anxious, everyone was cramped, and all I wanted to do after the first hour was get out and stretch my legs. Our first stop was in Virginia at Thomas Jefferson's house, Monticello; the Monticello was a large brick house with many exclusive antiques inside. It was a pretty neat place, but after it seemed like three hours, I was just ready to get back on the road and head to the hotel. The next day, we visited the mall in Washington.
Having limited time to look through the Museums, we ran through every room in every museum to try and get a glimpse of every display and artifact. The Smithsonian was my favorite museum, but my favorite part of the Smithsonian was the extensive animal displays; the Smithsonian covered everything from dinosaurs to African wildlife. As the day continued, we got some dinner, walked around and enjoyed the sights in the area.
Another place we visited in Washington that I had wanted to see was the Abraham Lincoln Monument. I had seen pictures and read about the monument, but seeing it in person was incredible. The monument was ten times taller than I had expected and people were all around it looking up in amazement; consequently, the monument will be one of the few places in Washington that will stick in my mind forever. To finish the last day in Washington, we visited the war memorials, got something to eat, and went back to the hotel. I could barely sleep that night knowing that within hours, we would be in New York.
The bus ride to New York was not as long as it was to get to Washington but it seemed so because of the anticipation. We made a stop in Baltimore to grab a bite to eat and shop around a couple hours, but I was just ready to see the big city. It was just about dark when we crossed the bridge approaching New York, everyone was looking out the windows, yelling in excitement, and jumping up and down in their seats because we were only minutes away.
The silhouette of the statue of liberty was visible and was the first thing I noticed before we got there. Entering into the city, traffic was everywhere; cars were backed up for miles bumper to bumper. Buildings could be seen for miles and people were everywhere walking down the streets. We reached the hotel at dark and was ready for a good nights' rest before the day ahead of us. The first day, we took a ferry to visit the statue of liberty.
Passing the statue on the way there was an amazing experience because it was a landmark I had been wanting to see for a long time. She was not as tall as I had anticipated her to be but just being where I was at that moment was truly indescribable. As we got to the island I ventured off to look around and went to look at the statue of liberty up close. After, I went to the gift shop and bought a souvenir to bring back to my family.
The next day we went to the 9/11 memorial. The memorial was a quiet and respected place. Each individual had a look and sense about them that I cannot describe. On the giant, square shaped memorials were nearly three thousand names etched into the stone in honor of those who lost their lives. Surrounding the memorials were small trees that were dead, but one survived the catastrophe. It was a privilege to stand in the exact place that this disaster occurred.
Another place we visited was Chinatown. Chinatown was probably one of the most chaotic places I have ever been. I could not walk by a store without a merchant trying to coax me in the store or bribe me with special deals. The place was very run down and the smell reeked of cigarettes and old Chinese food. Although Chinatown was a strange place, I did purchase many souvenirs and would not mind going back again, as long as I had someone with me. To end our trip to New York, we took in a breathtaking view of the city from atop of the Rockefeller Center.
My ears popped the whole way up in the elevator because of how high up we were going. When we finally got to the top and the elevator doors opened, an endless view of New York could be seen. Buildings were seen no matter where i turned. The empire state building was the first building I noticed as it stood in clear sight and towered over the others. It was breathtaking to get to watch the sun go down and the city come alive that last night. That sight will be one I will never forget as long as I live.
My senior trip was the most overwhelming and mind boggling trip I have ever been on. It brought me out of my comfort zone and showed me a different perspective of life. The trip showed me just how different the city was to the life I have always known, and introduced me to a different way Americans live. If a trip such as this was offered to anyone who has not been, I would suggest them take it because it was truly like being in a different world. I hope to one day go back and view more of New York's attractions.