Sexually Transmitted Disease Essay Sample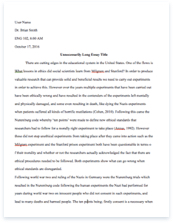 The whole doc is available only for registered users
OPEN DOC
Download Essay
A limited time offer!
Get a custom sample essay written according to your requirements urgent 3h delivery guaranteed
Order Now
Sexually Transmitted Disease Essay Sample
For the longest time, there has been a huge controversy over the implementation of a school-base sexuality school education. The debate always seems to go back and forth on whether the implementing of an abstinence-education in school systems will lower pregnancies and transmitted diseases such as HIV/STD's. Abstinence-education is a form of sex education that teaches individuals to be abstinence from having sex. This type of education encourages others by not having sex until marriage and avoids the discussion of using contraceptives (birth control products). The first person to recognize and give support to the abstinence education was Ronald Regan in 1982, with the Adolescent Family Life Act administered by the Office of Adolescent Pregnancy Programs. In 1992, the funding for abstinence-only and abstinence-only-until-marriage programs grew drastically with the enactment of welfare reform. This law mandated to provide over 50 million dollars a year for the abstinence-only and abstinence-only-until-marriage program. Today, due to societal changes, there have been many disputes amongst scholars who believe that abstinence education does not provide an effect in preventing pregnancies and STD's because many people engage in sexual activities and there have been higher rates of pregnancies and STD's.
While, on the contrary, there are still those who believe that the abstinence-only and abstinence-only-until-marriage programs still has a great deal of effect on such causes. In the following essay I will provide two articles that discussion the following topic: abstinence-base education. One article will debate that abstinence education increases pregnancies and sexually transmitted STD's, while the article, will argue for the abstinence base education, which prevents STD's and has a great deal of effect on low pregnancies. "Abstinence-only and comprehensive sex education and the initiation of sexual activity and teen pregnancy" does not support the abstinence base education. Sexually transmitted diseases and high pregnancies is the highest in the United States than any other country. In 2001, abstinence only education received 80 million dollars in federal funding to continue in providing an abstinence only education. Over the years until today the 80 million dollars in federal funding has doubled in continuing to provide the abstinence base education.
However, even with all this federal funding the effects of abstinence base programs regarding lower pregnancies and STD preventions have been minimal. The question that the researchers asked whether abstinence-base education is most effective in reducing teen pregnancies and transmitted diseases such as STD's? The method used to provide the statistics from NSFG. NSFG is a nationwide survey conducted by the National Center for Health Statistics. Trained personnel collected data with the University of Michigan from January 2002 to March 2003 through an in-home interview process. The information included demographics such as: knowledge, attitudes, and beliefs regarding family planning issues, and self-reported sexual behavior and previous diagnoses of STDs. The sample included 12, 571 males and females from different income, and racial backgrounds who responded and were between the ages of 15-44. Adolescent from the age of 15-19 were asked additional questions such as sexual behavior, pregnancies, and STDs.
This sample restricted married people; it was only for heterosexual non-married individuals. The first question that was asked, was did they receive any formal instruction in school, church, a community center or any other place about how to say no to sex? And a follow-up question was asked about birth control? Participant who had only had "say no to sex" were put in abstinence base education while those who were asked about birth control plus the first question were classified in the comprehensive sex education. They asked the participants some series of questions regarding if they had engaged in vaginal intercourse, pregnancy and STD; also, if the participants have ever been diagnoses with herpes, genital warts, or syphilis? The results indicated that those who received some formal sex education were less likely to engage in sexual activity while those who did not receive any formal education (abstinence base education) also 50% had engaged in some sort of vaginal intercourse. Those who had sex education had less likely reported a teen pregnancy while those who had an abstinence base education had more likely reported a teen pregnancy.
The results for the diagnoses of STD were associated with neither a sex education nor abstinence base education. The research also indicated many of the high statistics of teen pregnancies were amongst low-income African American families. Also, families who did not engage in their child's life about sex-education was more likely to have sexual intercourse by the time they were teens. This research indicated that families and community places who provide sex-based education to their children are more likely to prevent teen pregnancies then those who just provide an abstinence base education and is not involved in their child's life. The article, "An evaluation of an abstinence-only sex education curriculum: an 18-month follow-up," the authors argue that an abstinence base education is an effective tool in preventing teen pregnancies and transmitted STDs. The government has supported mass amount of funds in providing for the abstinences base education but many believe that abstinence base education is ineffective in reducing teen sexual behavior. The authors argued that detailed research hasn't been conducted on whether abstinences education is effective or not.
In reference, this article argues that if an 18-month follow-up evaluation on Sex Can Wait curriculum series, others can see that abstinence base education does prevent sexual activities amongst teens. The research method included 1421 students from 15 different school districts who participated in the project. The schools were divided by grade level in teaching sex can wait curriculum and comparison grade level that taught their regular curriculum (sex education component). The levels were upper elementary, middle school, and high school. The curriculum in the abstinence only sex education had 3 components. The first component was a program for 5-weeks consisting of 23 lessons for upper elementary level, 24 lessons for both middle school and high school level. The main areas that were studied were, know myself, relating to others, and planning my future. Each activity had a set time, an instructor, and set activities; included handouts and homework. These lessons did not include contraceptives.
All the studies had to take a questionnaire test regarding sexual behavioral questions such as when they would have sexual intercourse; next year, before finishing high school or before marriage and whether they've participated in any sexual intercourse in the past 30 days, which the teachers monitored. This was implemented in each school district and had to go through the same process, and an 18-month follow up would take place following their posttest. The comparison group also went through the same process with the fact of using contraceptives as one of their teachings.
The results for the upper elementary school between Sex Can Wait and Comparison group indicated that Sex Can Wait had a higher level of knowledge, and indicated for hopefulness for the future and greater self-efficacy. Sex Can Wait also less likely reported to have engaged in sexual intercourse in the last month. In the middle school after 18-month follow up for Sex Can Wait group reported less likely to engage in sexual intercourse ever in the last month. In the high school level the results also favored for Sex Can Wait group, who were supportive of abstinence base education and also had not engaged in sexual intercourse in the last month. Overall result, The Sex Can Wait group scored higher on knowledge and indicated a greater intent to remain abstinent.
Looking at both of the articles, there is a reason on why each author presented their side of the argument. The author's approaches are quite distinct and they both look at specific areas in their research argument. The one against abstinences education presents statistics in modern society and how more and more teens seem to get pregnant and acquiring STD transmitted diseases. In regards to so many teens getting pregnant and having STD transmitted diseases, the authors indicates that abstinence education should be eliminated from schools and only sex education that also teach about contraceptives should be implemented in majority of the schools. On the other hand, the author who indicates that based on statistical data on teen pregnancies, it shows that abstinence education doesn't benefit teens. The argument that gets presents that time and research hasn't been put to effort in indicating whether abstinence education is a good source and has been getting positive effects on teens in regards to not engaging in sexual activities.
Therefore, the author believes that if time were used efficiently to really study abstinence base education, there would be positive findings that abstinence education does work if used properly. By reviewing the experiment, the 18-month program that took place and the feedback that was presented by students shows a great deal of positivity from the students about abstinence education has aided them in not engaging in sexual activities and waiting until they are ready and/or after marriage. Both of the authors use extreme arguments in trying to present their viewpoint why abstinence education is or isn't a proper resource to prevent teen pregnancies. Even though both arguments are on the opposite ends of the pole their disputes can be solved. If both authors used their strategy and combined them to enhance the awareness and properly use abstinence education more teens and young adults would be aware of the program and would know how to use it for their own advantage.
Millions of dollars are given to abstinence education, but because of lack of proper training and taking advantage of the resources people have become distance in knowing how to use abstinence education to provide better service for teens. If we teach teens and young adults about the statistical rates of pregnancies and STDs and the effects towards their life, and then go into using the abstinence base program on how to prevent them from being in that situation, teens are less likely to engage in sexual activities and more like to be abstinence until marriage. The experiment against abstinence education didn't seem to cover every area why abstinence-base education isn't appropriate. The only thing that it presented in its argument was statistics and how abstinence education was unnecessary and should be terminated.
The author should have given some evidence on how abstinence education does provide positivity and provided empirical evidence on how it still doesn't affect teen pregnancies. While on the other hand, the author who argued for the keep of abstinence education provided a negative and positive argument for both sex education and abstinence education and in conclusion continued to stick with abstinence based education with the positive findings that found in the study from the students. Overall, both of the experiments were profound but in my opinion I believe that abstinence base education does provide a legit argument in preventing pregnancies. I agree with the author that is for abstinence education because if we implement proper training for the teachers, they would be able to teach the students in an appropriate manner about being abstinence and why it's so important to make that a norm in their life style. Therefore, more teens would less likely engage in sexual activities and there would be less pregnancies and transmitted diseases such as STDS.