Shakespeare's Presentation of Deception in "Much Ado About Nothing" Essay Sample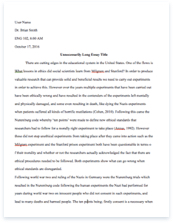 The whole doc is available only for registered users
OPEN DOC
Download Essay
Get Full Essay
Get access to this section to get all the help you need with your essay and educational goals.
Get Access
Shakespeare's Presentation of Deception in "Much Ado About Nothing" Essay Sample
Throughout the course of Much Ado About Nothing Shakespeare uses a series of effective devices in his presentation of deception. These feature strong elements of plot construction and characterization, as well as effective imagery through various sound and visual techniques.
The plot of Much Ado About Nothing is a complex network of slanderous schemes and friendly trickeries. Deception is one of the most important themes of the play – each of the main characters is involved in atleast one deception – and Shakespeare uses this theme to employ character development in the play, as well as providing a comic distraction from the more serious tone present in the last scene. Without it the play would not adhere to the set up of a romatic comedy as references are made to punishment and death in the very last lines of the play. 'I'll devise thee brave punishments for him'.
In the mould of the play there is also and underlying theme of self-deception, involving some of the most significant characters. Furthermore, people are often misled by appearences; they make mistakes about others and themselves and can be quite wrong in their judgements of situations. Such failures in understanding are used by Shakespeare to reinforce the setting for plotting and trickery. Also this theme of misconception is cunningly mirrored by the title of the play. In the context of the play, nothing can be considered as abiguous in its parallel representation of the word 'noting' i.e. to take note. Therefore the title relates strongly to the exaggerations of repetitive occurences of misnotings on which the plot of the play hinges.
There are two main friendly deceptions and the first of these, introduced in Act I Scene I, involves Don Pedro, Claudio and Hero. Claudio professes his love for Hero – 'in mine eye she is the sweetest lady…' (I, i, 41)- and Don Pedro decides to woo her for him. This deception plays a major part in introducing the theme of the play. The unexpected eagerness of Don Pedro to participate in this scheme instantly presents deception as tolerable and creates an expectancy of further deceptive schemes; it also suggests a characteristic attribute of management and organisation of other people's lives, and an authority to intervene in these lives while maintaining a degree of emotional detachment. Interestingly, Shakespeare presents a situation where it is morally acceptable to manipulate characters' feelings and choice in lovers, suggesting further deceptions of a darker nature.
The other benevolent plot is also masterminded byby don pedro and involves the deception of a wider range of characters – most importantly Benedick and Beatrice. The Prince of Arragon once again attempts to bring together two characters in what is described as 'one of hercules' labours' – into a 'mountain of affection'(II, ii, 79) through a means of deception in order to show off his authority and skill at management.
This deceptive plot can be seen as an exaggerated reflection of the previous deception in the fact that is larger and more significant. It also brings to light the virtues and flaws of some of the characters.
Shakespeare's structural development of the deception is also important in analysing its effectiveness in engaging the audience. Prior to the plot being carried out, Benedick conveys his thoughts on Claudio's engagement to the audience through soliloquy, and dramatically expresses surprise at Claudio's willingness to get married after having made fun of marriage and laughed at other married man – 'another man…after he hath laughed at such shallow follies in others, become the argument of his own scorn by falling in love…is Claudio.'(II,iii,83) He then goes on to draw up a list of qualities he would expect in the perfect woman, and totally convinces himself that he will never 'be converted and see with [the] eyes [of love]' until 'all graces be in one woman,'(II,iii,85) which, of course, is an impossible scenario. Shakespeare uses structural presentation of plot to comically highlight the extent of self-deception Benedick has fallen into by placing this scene directly before the deception scene, so that the audience can contrast Benedick's emphasised feelings before the deception to the ironic and abrupt transformation of his character after the deception.
Also, it is a notable fact evident from the reference, 'I should think this is a gull, but that the white-bearded fellow speaks it'(II,iii,91) that Benedick's first reaction is to query the information, in contradiction to Claudio's instant belief of the previous deception, and it is the only the involvement of a respectable character such as Leonato that convinces him of the reliability of false information he overhears. Leonato's unexpected involvement is again resonant with the audience's perception of Don Pedro's position in the first deception, and acts to underline the fact that no character is above deceit in Shakespeare's setting.
Beatrice's deception and transformation is presented in the next scene and follows a similar course of events, emphasizing a symmetry and similarity between both characters. After being deceived by Hero and Ursula, Beatrice's speech shows similarity to Benedick's when she cites the necessity to return his love as a reason to 'tame [her] wild heart to [his] loving hand.'(III,i,107) However there are several differences evident in the comparison of both speeches, especially in the contrasting use of tone and language. While Benedick's speech is in prose and has a tone of informality ['Love me? Why it must be requited'](II,iii,97), Beatrice's is in formal, rhyming verse, spoken in a more passionate tone ['If thou dost love, my kindness shall incite thee…'](III,i,107); such subtle differences in characterisation is evidence for the use of deception as a means for character development.
The benevolent deceptions of don pedro make way for the contrasting malevolent deceptions of his 'bastard brother' don john. This plot concerns the claudio-hero relationship, stressing his strong malevolent intent and passionate hatred of claudio as it follows his previous deception of tricking claudio into believieving that don pedro himself was 'enamoured on Hero'(II,i,67). In this second deception don johns motives are made clear in act II scen ii as being 'to misuse the price, to vex claudio, to undo Hero and kill Leonato.' Claudio is easily decieved and his vulnerability and impressionability is evident in an instant.This deception is a larger version of Don Johns previous plot and is the most significant carried out in the play. It is also crucial in its addition of the uncertainty and action required for the fulfilment of the romantic comedy genre. This deception illustrates the use of visual imagery as the deception can only be carried out through the use of visual evidence – 'go but with me tonight, you shall see her chamber-window entered..'(III,ii,115) Furthermore, it is a paradoxical fact, highlighted in the presentation of the deception, that Don Pedro and Claudio, who are involved in the implementation of most of the deceptions in the play, are relitively effortlessly decived by the villainous Don John, whereas Benedick is not as easily decieved even when tricked by respecatable characters such as Leonato and Don pedro.
In the play it is sometimes hard to distinguish between maalevolent and benevolent deception. The duping of claudio and don pedro results in hero's disgrace while the ruse of her deathe prepares the way for her redemption and reconciliation with claudio. In a more light hearted vein, when beatrice and benedick are fooled into thinking that each loves the other, they really do fall in love as a result. This shows that the deceit used in he play is not necessarily evil but something that can be used as a means to a good or bad end.
Don Johns ploy makes way for yet another deception proposed by the friar which is vital to the non-tragic finale of the play. The Friar's plot is strongly based on dramatic irony, as the audience is made very aware of the degree of Claudio's deception in scenes such as the staged funeral service of Hero, where Claudio reads an apparently self-written epitaph to a Hero 'done to death by slanderous tongues(V,iii,195). As the Friar's plan evolves, various other minor deceits are introduced, such as the trickery of Claudio into believing he was marrying Hero's cousin in Act V; this deception further holds strong visual significance as it once again involves the use of veils, associated with the Claudio-Hero relationship. Shakespeare's plot hinges strongly on this deception and in its conclusion, the other strands of deception are also tied up. The play ends on a relatively non-dramatic tone with the atmospheric tension of the climatic Act IV gradually abandoned in the cathartic subsequent scenes.
Language is a major technique used through the play for the characterisation of speakers, and tone is used to distinguish between deceptions of various natures. Shakespeare also uses an extensive range of literary techniques to present the differing reactions to each deception scheme. For example the constructive and balanced language form present in the oxymoronic phrase, 'Thou pure impiety and impious purity'(IV,I,145) is used to convey Claudio's passionate reaction to Hero's defiance in Act IV.
Another form of deception, being self-deception is another important theme that runs through the play. Beatrice and Benedick are ideal examples and, through their largely exaggerated attitudes – Beatrice claims that she will not fall in love till 'man be made from some other metal than earth' while Benedick convinces himself that he 'will live a bachelor' and that his attitude to love and marriage 'is the opinion that fire cannot melt of [him]. Shakespeare conveys to the audience that they succeed in convincing only themselves with their passionate soliloquies against love and marriage.
Dogberry's character also indulges in the self-deception that he can be as witty in language as members of the upper-class and produces comic effect through malapropisms such as the command, 'Come bring away the plaintiffs' when he means just the opposite. Shakespeare uses this self-deception to lighten the tone of the play, even throughout the grave atmosphere created as a consequence of Don John's successful deception. Dogberry also draws vanity from his knowledge of legal procedures and, for example, in the trial of Borachio by the Sexton, he attempts to play the part of a knowledgeable judge, but ends up making a mockery of the process of law by assuming guilt before examining the accused – 'Masters, it is proved already that you are little better than false knaves…' Consequently, Dogberry becomes a means of obstruction to the discovery of truth, promoting wider deception, therefore, through his own self-deception. In actual fact the only character who strikes us as being altogether free of self-deception is the evil Don John, who is a master in the art of deceiving others, in his own right.
Shakespeare uses his consistently constructive presentation of deception not just for character and plot development, but also to enlighten his audience towards other more subtle themes in the play. There is a sense of balance in the development of the various deception ploys, especially between Benedick and Beatrice, and also in the presentation of schemes of various motivations. In addition, the words of Balthasar's song in Act II Scene iii are echoed through the course of the play through the male organisation of all the deception plots, and reflects the patriarchal setting of the play.