Shatin Saint's Alp Teahouse by using the SERVQUAL Survey Model Essay Sample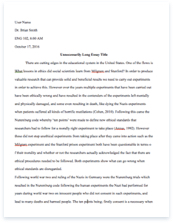 The whole doc is available only for registered users
OPEN DOC
Pages:
Word count: 2651
Category: services
Download Essay
A limited time offer!
Get a custom sample essay written according to your requirements urgent 3h delivery guaranteed
Order Now
Shatin Saint's Alp Teahouse by using the SERVQUAL Survey Model Essay Sample
The purpose of this report is to measure the service quality in the Shatin Saint's Alp Teahouse by using the SERVQUAL survey model. It was hoped that the questionnaire might act as an information tool, highlighting the potential problem of the company, and providing some recommendations to the company for improvement.
BACKGROUND
Saint's Alp (International) Company Limited opened the Hong Kong first Saint's Alp Teahouse in July 1994.Being the premier purveyor of the finest Taiwanese Teahouse, Saint's Alp has indeed brought a new flare to the local food and beverage scene as well as the art of tea appreciation. Now, there are 39 Saint's Alp Teahouses in Hong Kong.
Overall Findings
The questionnaire included 23 questions designed to capture respondents' views on expectations of service, perceptions of the services provided by Shatin Saint's Alp Teahouse and thus any gap between the two. Respondents were asked to score each question on a scale from 1 to 7 where 1 represented low opinions of service and 7 high opinions. 40 useable questionnaires were returned for analysis
There are 60 % of respondents fall in the 16-20-age category. Males and females were almost equally represented with 60% female and 40% male participation.
According to the survey and the our observation we conducted, we find the following problems:
Tangibility:
It includes the physical appearance of the service facility, the equipment, the personnel, and the communication materials.
1. Most customers think that the sitting environment of Saint's Alp Teahouse is uncomfortable. The customer gap is 2.725 which is the largest among all criteria.
2. Customers think that the smoking and non-smoking areas are too close and it is impossible to separate the non-smoking customers with the smoking one.
3. The Teahouse environment is overcrowded. There are 31 tables, which include five 4-people- tables and twenty-six 2-people-table, in about 500 sq. ft. sized restaurant. It severally affects the appearance of Saint's Alp Teahouse and is unsafe to customers in case of fire hazard.
4. Customers also think that the appearance of employees in Saint's Alp Teahouse is untidy and dirty. Their impressions are quite bad because the gap is 1.975. We observe that their aprons are dirty. And their uniforms only include T-shirts but not trousers.
5. Menus are insufficient in the Teahouse. Some customers complained that they did not have menus to read.
Empathy:
It refers to the customer desires caring, individualized attention provided by the service firm.
Customers think that the employees do not care and understand their personal needs [gap=2.475]. It implies that employees in the Teahouse cannot do well in this aspect.
Responsiveness
It is the willingness of the service provider to be helpful and prompt in providing service.
1. The waiters failed to tell exactly how long their orders be delivered to customers [gap=2.25].
2. Customers highly expected that the Teahouse's employees to be willing to help them. Yet, customers perceived poor service in Shatin Saint's Alp Teahouse [gap=1.95]. There are several reasons why this happens. First, there are not enough employees; so they can't take care of each customer. Secondly, they are not well-trained and most of them have low pay ($20-22/hour). Consequently, their motivation for serving customers is very low.
Assurance
It refers to the knowledge and courtesy of employees and their ability to inspire trust and confidence.
1. Customers have little confidence of the employees [gap= 2.225]. It is because the employees receive low wages, so the employee's turnover rate is high. So, they are not familiar with the company's products. Also customers think that the staff are lacking product knowledge to answer their questions immediately [gap= 2].
2. Customers think that they are unsafe to dine in the Teahouse [gap=2.1]. There are two reasons: overcrowded environment and the permission of smoking. The overcrowded condition may cause accidents easily. Besides, smoking is allowed in this crowed Teahouse and the poor ventilation system affects non-smokers' health.
Service Reliability
It refers to the ability of the service provider to perform the promised service dependably and accurately.
1. Although the gap is not large [=1.5], no staff took care of customers who have been waiting for a long time and just left them alone. The procedures of treating the "waiting customers" are very unsystematic so queue-jump usually occurs.
2. Customers had experienced relatively longer waiting time for food (about 30 minute) and it was below their expectation [gap=1.95]. Also, the dishes are always out of stock. It reflects that the supply does not match with demand.
3. We observed that waiters always delivered wrong dishes to customers [gap=2]. This delivery problem occurs probably because waiters cannot remember the table numbers.
4. Generally, customers gave a low score to the food quality [gap=2.15].
Many customers complained the noodles are not thoroughly cooked and requested the staffs to re-cook. In this case, Shatin Saint's Alp Teahouse is said to be a service loser and it even cannot meet the service qualifier as well. Therefore, reliability of the food quality is very low to customers.
5. The food variety is not enough [gap=2.1]. This reflects that customers are unsatisfied with the limited choices of food. There are only 5 lunch sets.
6. Although the customer gap of reasonability of price is not large [gap=2.15], customers think that the price of the Teahouse is unreasonable, e.g. a Black Tea with Milk costs $17 at Saint's Alp Teahouse but only $ 10 at. Mr. Red Bean Restaurant, which is a close competitor near the Shatin Saint's Alp Teahouse.
We suggest the following solutions to overcome the problems we mentioned above.
SOLUTIONS:
Tangibility
1. We suggest that Shatin Saint's Alp Teahouse cancels the smoking area and standardized the whole area into non-smoking area.
2. Shatin Saint's Alp Teahouse should provide uniforms (including trousers) for employees to wear. And it needs to provide more spare uniforms for employees to change daily.
3. We also suggest Saint's Alp Teahouse to provide more menus.
Empathy
1. We suggest that Saint's Alp Teahouse can act like other companies such as Giodano, ask the customers' names to show respect.
2. Also, Saint's Alp Teahouse should develop a membership relationship with its customers so that customer loyalty will be increased. E.g. It can give some discount to customers on their birthdays, just like Pizza Hut.
Responsiveness
1. In order to improve customer satisfaction, it is necessary to provide training and offer incentives for the employees. E.g. the company can provide more training for new employees on serving customers well before they start their work.
2. The supervisors should remind their subordinates to provide kindly services
3. Salary increment and bonus system can be provided for those employees providing good service to customers. These methods can motivate them to serve customers well, and improve their willingness to help customers.
4. The Teahouse should make improvement, especially if the dishes need longer time to prepare, they had better informed the customers when placing their ordering.
Assurance
1. The company should provide training for their employees about the restaurant environment, product knowledge, and also case studies about how to deal with customer's need.
2. There are two main ways to reduce the above problems. First, the number of table can be reduced from 31 to 22. Then the environment will be less crowed, safety problems will also be improved.
3. The company can review its recruitment criteria to employ some elaborators who are polite in work. It should set the minimum requirement of courtesy to let the staff understand the importance of politeness, and remind them to attain this required level.
Reliability
1. Set up clear division of labor: ask one or two employees to deal with the "waiting" issue. For example, one employee is responsible for two jobs: cashier and handle the waiting customers.
2. Implement "first-come-first-served" policy: customers who come earlier will have seats first. We may distribute tickets (with numbers) to customers and identify their orders.
3. We could smooth demand by providing "teatime" at a cheaper price during non-peak hours. The price incentive would attract customers to come and the demand would rise within this period. The demand would fall during peak hours on the contrary.
4. The Teahouse should prepare adequate amount of food. It is better if the Teahouse could do some research on which food is more favorable for customers. High-demand food should be prepared more, and vice versa.
5. Better allocation of job: We suggest that the Teahouse should employ more cooks so as to alleviate the problem of long waiting time for food.
6. Indicate the table number to avoid wrong delivery of food.
7. We suggest that the cooks should ensure the food is thoroughly cooked before presenting to the customers.
8. Moreover, Saint's Alp Teahouse can also have supervisors to double check the quality of food to eliminate this problem.
9. Training should be provided to the cook about food safety and hygiene. Quality is not free in nature.
10. Therefore Shatin Saint's Alp Teahouse should avoid any cost of lawsuit from the customers in case of any sickness of customers caused by their food.
11. Saint's Alp Teahouse can merge more meals of rice, noodles with different drinks into sets of lunch or even dinner. This kind of combinations can be sold at a cheaper price, which can attract more consumers. We believe that this promotion strategy can bring more revenue to the Teahouse especially in the economic downturn in recent years in Hong Kong.
12. To gain competitive advantage from Mr. Red Bean Restaurant, the Teahouse can offer discounts to its customers, e.g. student discount. The other alternative is to improve its service quality in order to retain the customer loyalty to them.
Strategic Benchmarking
Bossini's salespeople are well known to be good at providing excellent customer service and it is all due to its good training methods:
1. Training of the daily operation of the Company and customer service in the first training lesson.
2. Train in the form of video, power point, notes.
– Video: ask employees to point out wrong things in the video.
3. Magic Language (???): E.g. "Could you please….", "Excuse me…?"
– Employees are required to use these terms in every conversation while serving customers.
4. "Everywhere Greetings" with smile: E.g. "Good morning", "Welcome…"
– Employees have to greet customers nicely wherever they are.
5. Sales Technique -Unique Selling Point (USP): sell the product according to the unique feature of the particular product.
6. One-to-one Policy: one senior colleague (called Trainer) takes care of one new employee (called Trainee). The trainer is responsible for monitoring the performance of the trainee and reporting to the senior level.
In order to improve the customer service, the Saint's Alp Teahouse should observe how Bossini competes and try to apply the above training methods. The Teahouse (the initiator firm) may assign one staff to contact Bossini (the target firm) and see whether Bossini is willing to be studied.
The Most Important Issue For Improvement: Customer Relationship Management
Poor Customer Relationship Management (CRM) is the main cause of the customer's dissatisfactions. It is obvious that the customer gaps of RATER is large, which are between 1.2 and 2.725. When we talked with the customers, most of them complained that there is no channel for them to complain. The greatest problem is that there is no opinion sheet for customer to fill. Actually whether a restaurant give the opinion sheet for customer to fill reflects how much the restaurant value the customers.
Therefore, to have better Customer Relationship Management, we suggest Shatin Saint's Alp Teahouse provide opinion sheets for customers to fill and do the analysis in order to improve the relationship with the customers.
The process can be described as the following:
1) collect customer's opinion by opinion sheet
2) do analysis of the opinion
3) correct the errors
4 Important Design Aspects of CRM
There are 4 important aspects for Shatin Saint's Alp Teahouse to address CRM:
1) Complaint Resolution
Whenever there are complaints from customers, Shatin Saint's Alp Teahouse should handle them by the following steps:
Compensate people for losses apologize to the customer make it easy for the complainant to resolve problem
2) Feedback
Both of feedback to the customer and feedback to the firm should be carefully handled. Shatin Saint's Alp Teahouse's staffs should report the resolution of complaint to the customers. And monitor changes resulting from the process improvement on a consistent basis.
3) Guarantee
Shatin Saint's Alp Teahouse should create guarantee, e.g. quality assurance, and employees should be trained to implement the guarantee and marketing can advertise the guarantee properly.
4) Corrective action
When a service failure occurs, Shatin Saint's Alp Teahouse should documented and the problem should be solved in a way that it never happens again.
By the 4 means above, we believe that the customer relationship with Shatin Saint's Alp Teahouse will be improved. As a result, customer loyalty will be enhanced and this encourages repeated business as well.
Prototype of service quality for Shatin Saint's Alp Teahouse
-We have suggested some procedures and guidelines for Shatin Saint's Alp Teahouse to follow. This prototype involves 9 steps:
1. Customers wait before entering the Teahouse
– Employees need to stand by in the front door and deal with customers who are waiting.
– Employees need to serve customers that come first.
– Employees need to distribute waiting ticket to customers during peak hour.
– Employees need to inform the customers about the approximate waiting time.
2. Employees serve the customers and led them to their seats
– Employees need to lead them to the seats politely and quickly.
3. Give menus to the customers
– Employees need to give enough menus for customers.
– Employees need to introduce the menus to customers.
– Employees need to make sure that customers have enough time to read the menu.
4. Employees take orders for the customers
– Employees need to write down the order carefully and accurately.
– Employees need to repeat the orders to the customers.
5. Customers wait for the food
– Employees need to inform the customers about the approximate waiting time for the delivery of food.
– Employees need to apology customers when the waiting time is too long.
6. Employees prepare the food for the customers
– More employees need to help cooking so that food can be done efficiently
7. Employees deliver the food for the customers
– Employees need to tell customers what is delivered.
– Employees need to memorize the table number.
8. Customers pay the bill
– At least one employee must be responsible for the cashier work.
– Employees need to count the bill accurately.
– Employees need to say "Thank You" to customers after they leave.
9. Employees clean the table
Employees need to clean the table quickly and thoroughly.
Conclusion
To conclude, Saint's Alp Teahouse actually has good brand name in customers' heart. According to our findings in the survey, customers generally have high expectation of its service. Therefore, if Shatin Saint's Alp Teahouse can follow the proposal we suggested to improve its service, it can minimize the customer gap and establish goodwill in the market.