Shortage of Nurses in the US Essay Sample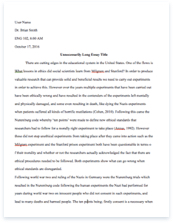 Pages: 11
Word count: 2,756
Rewriting Possibility: 99%

(excellent)

Category: nursing
Get Full Essay
Get access to this section to get all help you need with your essay and educational issues.
Get Access
Introduction of TOPIC
"Currently, 118,000 registered nurses are needed to fill vacancies in U.S. hospitals, according to a report released by the American Hospital Association in April. Shortages at nursing homes also are significant, according to a survey of 6,000 facilities in 2002 by the American Health Care Association. It found 15 percent of staff RN positions were vacant, and that nearly 14,000 RNs would be needed to fill those vacancies" (Doheny, 2006).
The above statement is just one of the proofs that there is an evident shortage of nurses in the United States. The impact of such shortage in the healthcare industry is felt not only by the patients needing care, but also by the physicians and other medical professional who also need the assistance of registered nurses.  What is more appalling is the fact that this shortage will continuously increase even until the year 2020, as predicted by various economists and researchers (Doheny, 2006).
            The shortage of nurses in America is brought by the fact that the becoming a registered nurse is quite a very challenging endeavor. Becoming a nurse, offering numerous medical care services, is truly not a joke. The baccalaureate degree alone requires hard work and too much discipline on the part of the nursing student. And upon attaining the degree does not mean that it will end there.  Once the practice for the nursing profession starts, the nurses has to obtain more skills and knowledge, which more often than not, do not came from the four corners of the classroom, but through their own experiences.
The Care Rendered by Nurses
Nursing is a humanistic profession that enhances the quality of life by promoting health, preventing illness, supporting rehabilitation following illness, and providing care for persons at the end of life. The roles and responsibilities of nurses are expanding rapidly to meet the increased demand for promotion of better health and primary health care (College of Nursing, 2004).
There are various categories of nursing, such as the generic nurses, specialist nurses, public health nurses, practice nurses and/or treatment room nurses, district nurses, children's nurses, acute care nurses and the mental health nurses.
Generic nurses are defined as those who have taken one (or a combination of more than one) specialization – adult, children's or mental health – and are likely to be found working in general areas, such as an acute medical and surgical admission and receiving units in a general hospital, as a practice nurse in a GP surgery or in children's or mental health services. Generic nurses may be providing care for people with learning disabilities and are doing so as one dimension of a wider role. Their main focus in relation to the care and support of children and adults with learning disabilities is in meeting everyday health needs as part of other nursing roles (The current contribution of nurses and midwives, 2004).
Specialist nurses are those whose main or key role is caring and supporting children and adults with learning disabilities. This could, for example, include a children's nurse who is working as part of a child development service or a pediatric outreach team, or a learning disability nurse working in a multidisciplinary community team or specialist team for people with challenging behaviors. The main focus of these roles is to educate, support and enable children and adults with learning disabilities to access everyday health services, and requires advanced skills in working with those who have complex health needs (The current contribution of nurses and midwives, 2004).
Public Health Nurses, such as the School Nurses, make considerable contributions to the care and support of children and young people with learning disabilities, their parents and care workers. Their contributions are most evident in the early developmental years, with support continuing from School Nurses up to leaving school. Child health surveillance programs are well established, bringing together the skills to assess and monitor children's health. Public Health Nurses are often seen as a point of contact and referral to other services, and are expected to have detailed knowledge of their practice population and locality. When asked, few had received any significant special education or training to equip them to work with people with learning disabilities.
The Public Health Nurses nevertheless made significant contributions in monitoring developmental progress, assisting with the initial diagnosis of learning disability and providing parental support and advice. Child protection is a central responsibility for all Public Health Nurses. Examples of joint collaborative working and positive relations with social work teams and colleagues in specialist learning disability teams were given. Community Learning Disability Nurses were viewed as having an important role to play in preventing child abuse by working directly with parents and children with learning disabilities to help address issues such as challenging behavior and sleep disturbance. Links with the specialist learning disability nurses were seen as particularly important at the time of transition between services, most noticeably between children's and adult services (The current contribution of nurses and midwives, 2004).
Practice Nurses and Treatment Room Nurses based in primary care teams are increasingly the first points of contact with health services. They run nurse-led clinics and take on key roles in the management of chronic diseases such as diabetes and asthma. They make an important contribution to promoting good health, with health screening and illness prevention work being a significant part of their repertoire (The current contribution of nurses and midwives, 2004).
District Nurses are usually attached to a specific GP practice and work as part of a primary care team. District Nurses provide a range of nursing care and often work with people with learning disabilities by providing direct care in areas such as bowel management, wound dressings and enteral feeding ((The current contribution of nurses and midwives, 2004).
Children's Nurses work with all children and their families. Children's nurses have particular skills in working with children who have complex physical needs and their professional training equips them to care fo
r children and promote their development. They also have a role in the identification of child abuse
and play a part in child protection (The current contribution of nurses and midwives, 2004).
Acute Care Nurses work in all areas of general and specialist hospital care. People with learning disabilities use general hospitals to meet their everyday health needs. Some also need hospital health services as a result of specific health needs; children and adults with learning disabilities have higher incidences of epilepsy and neurological, gastrointestinal, endocrine and orthopedic problems, for example (The current contribution of nurses and midwives, 2004).
Mental Health Nurses work with people who have mental health needs. It is recognized that there is a higher incidence of mental illness within the learning disability population than in the general population. People with a mild learning disability are increasingly being admitted to mental health acute admission units, which often act as first point of contact for emergency assessment (The current contribution of nurses and midwives, 2004).
Indeed, nurses comprise the largest single component of hospital staff, they are the primary providers of hospital patient care, and they deliver most of the nation's long-term care. Most health care services involve some form of care by nurses. Although 60 percent of all employed Registered Nurses (RNs) work in hospitals, many are employed in a wide range of other settings, including private practices, public health agencies, primary care clinics, home health care, outpatient surgicenters, health maintenance organizations, nursing-school-operated nursing centers, insurance and managed care companies, nursing homes, schools, mental health agencies, hospices, the military, and industry. Other nurses work in careers as college and university educators preparing future nurses or as scientists developing advances in many areas of health care and health promotion (Your Nursing Career: A Look at the Facts, 2004).
As stated above, nurses of different category offers various forms of care and health services to patients. Generally, nurses make contributions to the care and support to all people. Nurses working within well-women and family planning services contribute to the health of people by providing sexual health, health promotion, counseling, family planning and contraception advice. Some nurses work as part of highly specialized teams in genetic departments where the focus is on detection and counseling (The current contribution of nurses and midwives, 2004).
Though often working collaboratively, nursing does not "assist" medicine or other fields. Nursing operates independent of, not auxiliary to, medicine and other disciplines. Nurses' roles range from direct patient care to case management, establishing nursing practice standards, developing quality assurance procedures, and directing complex nursing care systems. With more than four times as many RNs in the United States as physicians, nursing delivers an extended array of health care services, including primary and preventive care by advanced, independent nurse practitioners in such clinical areas as pediatrics, family health, women's health, and gerontological care. Nursing care's scope also includes care by certified nurse-midwives and nurse anesthetists, as well as care in cardiac, oncology, neonatal, neurological, and obstetric/gynecological nursing and other advanced clinical specialties (Your Nursing Career: A Look at the Facts, 2004).
Among their clinical roles, nurse practitioners (NPs) conduct physical exams, diagnose and treat common acute illnesses and injuries, provide immunizations, manage high blood pressure, diabetes, and other chronic problems, order and interpret X-rays and other lab tests, and counsel patients on adopting healthy lifestyles and health care options (Your Nursing Career: A Look at the Facts, 2004).
In addition to practicing in clinics and hospitals in metropolitan areas, the nation's estimated 103,000 nurse practitioners also deliver care in rural sites, inner cities, and other locations not adequately served by physicians, as well as to other populations, such as children in schools and the elderly. Many NPs work in pediatrics, family health, women's health, and other specialties, and some have private practices. Nurse practitioners can prescribe medications in all states and the District of Columbia, while 25 states have given NPs authority to practice independently without physician collaboration or supervision (Your Nursing Career: A Look at the Facts, 2004).
Clinical nurse specialists (CNSs) provide care in a range of specialty areas, such as cardiac, oncology, neonatal, and obstetric/gynecological nursing, as well as pediatrics, neurological nursing, and psychiatric/mental health. Working in hospitals and other clinical sites, CNSs provide acute care and mental health services, develop quality assurance procedures, and serve as educators and consultants. An estimated 69,000 clinical nurse specialists are in practice nationwide (Your Nursing Career: A Look at the Facts, 2004).
Despite all these work loads and job opportunities for nurses, the number of practicing nurses in the US continuously dropped. There are some hospitals and clinics with very low nursing staffs while there are some others who could not meet the minimum number of nurses' ratio per the number of patients.
Solution to Nursing Shortage
In the United States, registered nurses compose 2.4 million jobs in the country and it is considered as the largest among other health care occupation. Approximately, according to the Bureau of Labor Statistics, three out of five registered nurses work inside the hospitals. The government also predicts that registered nurses will become the second largest number of new jobs among all occupations until 2008. Along with this increase in jobs opportunities among registered nurses, their specialties and employment settings are as well expected to be excellent ("Registered Nurses").
So how come that there is great shortage of nurses in the US when it is very obvious that there are lots of job opportunities for nurses? The answer for this is because of the fact that to start a career is nursing will require several years and a board exam before one can truly practice as a registered nurse. This normally scares a good number of people. some are thinking that they are not willing to risk almost four years of their life studying the nursing degree and when they fail the exam, they would not know what will happen to their career.
Because of this, the education sector in The US has offered various means where people can study and practice as a nurse. It should be noted that nursing does not only require the appropriate medical trainings since the well-being of the patients rely in their technical skills as healthcare practitioners, as well as they also rely in their management skills in situations that surprises and frightens them both.
"There are three major educational paths to registered nursing – the Bachelor of Science in Nursing (BSN), Associate Degree in Nursing (AD), and the Diploma in Nursing." ("Registered Nurses")
 Usually, BSN takes about four years, ADN takes about two to three years to complete, while the diploma program, which is administered in the hospitals, last for about three years. These courses are offered by the colleges and universities that offer degree programs in order to become a registered nurse. Graduates of these programs are then qualified to take the licensing examination to become a registered nurse (RN).
"Generally, licensed graduates of any of the three types of educational programs qualify for entry-level positions as staff nurses." ("Registered Nurses").
Given these choices, nurses are given as much choices since those who would want to practice quickly as a nurse can always opt to choose the program that would not take them a long time to finish it. Considering issues such as this would aid individuals aspiring to become nurses in making decisions as to the nursing program they will take as the level of entry in becoming a registered nurse. With such initiatives it is hoped that the number of nurses in the US will somehow increase.
Other Actions from the Government Sector
            The educational sector has already tried the only way they can do to help in alleviating problems regarding the shortage of nurses in the US. The government sectors are also sharing their efforts by importing more nurses from the neighboring countries.
            Nurses from the third world countries are found to be migrating in the US because the country offers one of the highest wages and grandest benefits to medical providers, such as the nurses (Goering, 2006). It may be hard to penetrate entry for to the US market, but once they do, nurses are assured of better working experience and of course, better style of living.
References
College of Nursing. 2004. [online] viewed April 13, 2007 <http://www.lklnd.usf.edu/Colleges/Nursing/nursing.html>
Doheny, Kathleen  October 9, 2006. "Treating the nurse shortage: Nursing in critical condition; Profession calls for a homegrown cure, not boosting visas for foreign talent." The Insider. Crain Communications, Inc.
Goering, L. 2006. "Health worker shortage in Africa worst in world: Nurses, doctors often lack training and leave for more developed countries". Knight Ridder.
Registered Nurses. [online] viewed April 13, 2007 <http://www.bls.gov/oco/ocos083.htm>
Registered Nurse (RN) and Nursing Careers, Jobs, and Employment Information [online] viewed April 13, 2007
          <http://www.careeroverview.com/nurse-careers.html.>
The Baccalaureate Degree in Nursing as Minimal Preparation for Professional Practice. [online] viewed April 13, 2007 <http://www.aacn.nche.edu/Publications/positions/baccmin.htm.>
The current contribution of nurses and midwives. 2004. [online] viewed April 13, 2007 <http://www.scotland.gov.uk/library5/health/phsi-06.asp>
Your Nursing Career: A Look at the Facts. 2004. [online] viewed April 13, 2007 <http://nursing.about.com/gi/dynamic/offsite.htm?site=http://www.aacn.nche.edu/education/Career.htm>