Should Child Soldiers be Trained for Combat? Essay Sample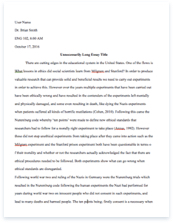 The whole doc is available only for registered users
OPEN DOC
Pages:
Word count: 1197
Category: soldiers
Download Essay
A limited time offer!
Get a custom sample essay written according to your requirements urgent 3h delivery guaranteed
Order Now
Should Child Soldiers be Trained for Combat? Essay Sample
Young as they are, children are expected to enjoy the stage of childhood that occurs only once in a lifetime. However, child solders do not experience the activity of going to school, playing with peers, or laughing under the stories of youth. Instead, they hold guns, learn how to kill, and participate in deceptive wars (Marjatta 2004 18).
Disentangling children from their lives as soldiers, in which they have been forced to commit and to experience human rights abuses, is exceptionally complicated, placing severe demands not only on them but also on their families and societies, who tend to shun them — whether they have taken part in atrocities or borne babies out of wedlock. Recently, the terminology of 'children associated with armed groups and forces' has begun to replace 'child soldiers' (O'Flaherty 2007 16). In this discussion, three rationales are implicated, which despise the existence of child soldiers.
            The first argument involves that war never involves children and women, or those categorized as vulnerable groups; however, the trend of war has dealt to their involvement, not only with the damage, but as soldiers as well. In April 1997, a symposium on child soldiers organized by UNICEF and the NGO Sub-Group on Refugee Children and Children in Armed Conflict adopted the 'Cape Town Principles on the Prevention of Recruitment of Children into the Armed Forces and Demobilization and Social Reintegration of Child Soldiers in Africa'. In Afghanistan, for example, the work of demobilization and reintegration began with assessment visits to 26 of the country's 32 provinces, by UNICEF child protection staff with the support of United Nations Assistance Mission in Afghanistan political affairs officers (Wessels 2006 132).
They collected information through meetings with traditional leaders, interviews with over 100 child soldiers, focus group discussions and existing military information, in Sri Lanka, UNICEF undertook wide-ranging consultations in 1997 to 1998 on a "Call to Action" declaring children as 'Zones of Peace' — language that had been used in the Machel report (Wessels 2006 132). The situation in Sri Lanka shows the fact that children are still in chains with their affiliations towards war. Moreover, the involvement of 26 out of 32 provinces has been noted to be involved in such terrorizing activity, child soldiers. The right of children as vulnerable groups are therefore ignored, instead they are forced to face war by ideological manipulation from those higher positions.
            The second argument imposed involves that children should be protected at all costs and never expose them to harmful or negative sides of the community, which is justified by the basic human rights. At that moment the conflict in Sri Lanka, having begun in 1983, affected an estimated 900,000 children – through large-scale displacement, some 380,000, disruption of health and school services, an increase in communicable diseases, and, of course, violence, both direct and indirect, including the death of family members, maiming by landmines and the pervasive climate of fear and intimidation (O'Flaherty 2007 21).
Such conditions violates the right of children specially the fact that they deserve to be protected and freed from involvement to such harassing situations and conflicts. In 2002, UNICEF established a database to document all claims, which number several thousand, of child recruitment by the Liberation Tigers of Tamil Eelam (LTTE) armed group. Parents or relatives of children thought to have been recruited were helped to register this information at the five UNICEF offices located in territory controlled by the LTTE (Marjatta 2004 18).
UNICEF maintains a steady stream of advocacy and engagement with both the government and the LT1E, which has repeatedly made commitments to end its recruitment of child soldiers; a few months after an Action Plan' on children affected by war was signed by the LT1E and the government in 2003, the LT1E released 49 children and promptly recruited 23 others. In mid-2005, the database of recruited children contained over 4,811 unresolved cases (O'Flaherty 2007 21). These organizations try to save the lives of these children in order for them to realize the beauty of childhood and for them to experience the basic human rights, to be protected, to be loved and to possess happiness far away from conflicts, war and harassment.
            Lastly, the third argument considers that children remain with their families for they are the basic growing ground of their development, and not the fields of gunfires, killings, and of war. The assessment visits led UNICEF and partners to put the number of child soldiers in Afghanistan at approximately 8000: all males, predominantly from poor families (Wessels 2006 132). Their activities included cleaning and storing weapons, acting as messengers and porters, enforcing 'vice and virtue norms' under the Taliban, cleaning the barracks and cooking.
A child soldier who leaves his or her command structure generally has few skills and a strong need to reconnect with family and friends or join a new community (Marjatta 2004 18). Such conditions violate that standard plot of growth and development required by these children, especially the fact that they require absolute guidance from their families. Support in Afghanistan included skills training and tool kits, as well as small enterprise grants, recreational activities and peer support, informal education and life skills.
In some situations, demobilized child soldiers are helped to live independently, in northern Uganda, where an estimated 20,000 children have been abducted by the Lord's Resistance Army, five UNICEF supports reception centers run by partners (O'Flaherty 2007 16).The recruitment of these children sends them away from their families and homeland, and considering their childhood as the primary stage of their development, these too are being deprived from these children.
            The discussion concludes that children are evidently exposed to war, which should not be the case. The three arguments imposed in the essay denotes the imposition of despising the existence of child soldiers. The basic rights of children to be protected, to be united with their families and to be considered vulnerable are well in fact the main substance why child soldiers should never be allowed. Child soldier reintegration initiatives supported by UNICEF are taking place all over the world, including in Afghanistan, Colombia, Sri Lanka, Sudan, Somalia, the Democratic Republic of Congo, Burundi and Uganda.
On the front lines, they were used as combatants, spies, trench- and grave-diggers, and porters. They were subjected to violence and abuse. Most had joined local armed groups, who demanded a son from each household and taxed those who could not supply one. For sonic, neither joining conferred power or status, in a situation where work nor education were available. Some parents sent their children to fight for ideological reasons: in other cases, they accompanied older siblings. Most child soldiers remained their regular contact with their families, which made their demobilization and reintegration easier.
Work Cited
O'Flaherty, M. The Human Rights Field Operation: Law, Theory and Practice. Ashgate Publishing, Ltd., 2007.
Rahikainen, Marjatta. Centuries of Child Labour: European Experiences from the Seventeenth to Twentieth Century. Ashgate Publishing, Ltd., 2004.
Wessels, Michael G. Child Soldiers: From Violence to Protection. Harvard University Press, 2006.