Should Endangered Species Be Preserved All Costs? Essay Sample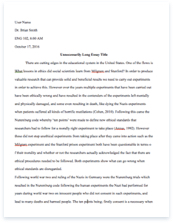 The whole doc is available only for registered users
OPEN DOC
Download Essay
Get Full Essay
Get access to this section to get all the help you need with your essay and educational goals.
Get Access
Should Endangered Species Be Preserved All Costs? Essay Sample
There is many things that endangered species are used for, including our medicine and ecosystem, so why would we not preserve them at all costs? Well there is reason to be against this question, as much as there is agreeing with it. Through out this essay the writer will look at the different reasons, in which money should be no object in saving the endangered. We need them for such reasons like, maintaining a healthy ecosystem. Also the writer will point out some of the flaws, why we shouldn't spend all the funding on the endangered. How do we know the money is going to all the right animals, plants etc.
One of the main factors for the preserving biodiversity at all costs, would be or medical health. More than a quarter of our medicines, for example, antibiotics and pain killers, are made from many of the endangered species that has been tested. There has only been a tiny portion of these species, that has been used for research so far. Surely people need these types of things to survive. It would cause a lot of sickness and un happiness to people throughout the world. Anti cancer agents, are also another medicine that is made from endangered species, including animals and plants. 'Decreasing an area's biodiversity only lessens the chance of finding more suck breakthroughs'. (Planet Green Oct 2012).
If there was more money being put into preserving more of these endangered species, who knows what scientist could discover next. In another point of view, if we do spend all this money into research and saving the endangered, where do we put all the animals, plants etc. There may not be enough habitat for the endangered species to grow substantially again. Human population is growing more and more every day, and already uses quite a bit of space in this world. Endangered species have declined by fifty percent population in the last ten years, 'confined to a fragment area of less than 5,000 square kilometres of habitat'. (N.S 2012).
One of these endangered species include animals such as the great white shark. They are declining at very fast pace, 'by thirty percent in the last ten years and they are now confined to such a small space of 20,000 square kilometres'. (N.S 2012) The Javan rhino is also another endangered animal that has to live in a very small habitat. If there was funding used for these types of animals, this is clearly not enough room for them to grow happily again. Especially with human population growing rapidly every year, and taking up more of the habitat space.
Although, any type of species, plants and animals are a huge part of out food chain, and part of a healthy ecosystem. We clearly do need them in our environment. Every living thing has their part in this world. Us as humans, depend on certain ecosystems to clean our air and provide our food, such as ancient forests and coastal estuaries. When the endangered species are becoming extinct, then it will eventually have a big impact on the things we use on a day to day basis. 'The U.S fish and wildlife service estimates, that losing one plant species, can trigger the lose of up to another thirty other insect, plant and higher animal species'. (L.K.1997-2002).
So this clearly needs to be helped. There is also, already a decline in commercial fish, which will affect the tourism industry. That also depends on a healthy environment and to attract money. We need all species to survive, or eventually, everything is going to start dying, of bit by bit. On the other hand, if we are preserving the endangered at all costs, how do we know that all the money is getting put into saving the correct animals. There would still be a lot of species missing out and it is only the more well known animals, habitats and eco systems that are being saved. What about the ones we don't know a lot about, after all, this is one of the reasons why the are going extinct. 'In 1995, for instance, over half of the ESA's funding, was provided for just ten species'. (E.S.I. 2011)
These included more well know animals such as, the bald eagle and the desert tortoise. There was another thirty two that was on their list, that didn't even get the funding. Even though there wasn't that many, and should have been more on their list, then how would they deal with all endangered, if they did get the funding. With saying that, as long as we are researching, and putting the money into the right species then this shouldn't be a problem. A lot of this research actually benefit's the society, so the public agreeing with the preservation of such animals and plants etc, is a great help. For example, 'in 1972 there was public out cry of the declining population of the American bald eagle'. (Aldo Leopold Feb 2002).
This caused the United States to ban the sale and production of the pesticide, Dichloro biphenyl dichloromethane (DDT). With later research, it was discovered that this was a serious cancer causing agent to humans. Humans relay on great species like American bald eagle to discover such things. This might not have been discovered until a lot later down the line, where there could have been a lot more damage done.
Although, do we actually have the money for this? Can we afford it? In recent research they have discovered that it would cost a great deal of money, to bring the species back from the brink of extinction. With even more being used to maintain it every year. ' (£2.97bn) every year, they say, with a further (£47.4bn) required annually to establish and manage protected areas'. (Ian Sample). To most percentage of people this seems, far too much money to be spent each year on this. Especially if they don't know exactly what the money is being used for, or even what the animals plants etc that is being used for in their every day lives.
In conclusion to this matter, the research shows that, to save the endangered species, is a great deal more important, than to let them die of into extinction. As long as all the money is put into the correct places, and the correct research. All of these endangered species have a big impact on our lives every day. We know it does cost a lot of money annually, but the money they bring into this world is more substantial.
With the medical research, anti cancer agents, and the medicine they provide like anti-biotics, not to mention the commercial side of things. They are also, a big part of our food chain. It will eventually end up killing species closer to home, that will make an impact on us as humans. Clearly saving endangered species needs to be dealt with and helped, sooner rather than later.