Should laws governing Nursing Homes be changed? Essay Sample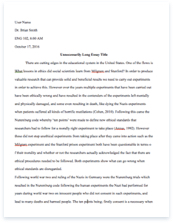 The whole doc is available only for registered users
OPEN DOC
Download Essay
A limited time offer!
Get a custom sample essay written according to your requirements urgent 3h delivery guaranteed
Order Now
Should laws governing Nursing Homes be changed? Essay Sample
Are the current laws governing nursing homes effective enough for the safety of residents? I am conducting research in order to better understand what my parents and eventually myself will be exposed to. My parents are getting to the age that my wife and I will have to make a decision to care for them or place them in a nursing home. This decision partly scares by reading various articles about treatment of residents. I recently read an article about Maine nursing homes in the Bangor Daily News about a nursing home that simply forgot to give medication to the residents. In the same article they failed to swap out the bed linins for incontinent patients. These two simple acts of going to a room and providing care for people that cannot ask for it themselves is to me grounds for possible criminal actions.
According to 1987 Congress legislation known as the Nursing Home Reform Act, nursing homes "must provide services and activities to attain or maintain the highest practicable physical, mental, and psychosocial well-being of each resident in accordance with a written plan of care." To participate in Medicare and Medicaid, nursing homes must comply with the federal requirements for long term care facilities. Within this Reform Act it specifically states some of the following requirements that facilities are to provide residents; Provide pharmaceutical services to meet the needs of each resident. (42 CFR §483.60), Maintain dignity and respect of each resident. (42 CFR §483.15), Provide, if a resident is unable to carry out activities of daily living, the necessary services to maintain good nutrition, grooming, and personal oral hygiene. (42 CFR §483.25). If only these three requirements were what a Nursing Home Facility was required to follow, that in itself should provide a safe living environment to live in. In all there 18 different Federal Regulations those nursing homes must follow while running their facility. Then most State has their own Nursing home regulations to follow normally tightening the federal laws trying to ensure the safety of the residents is priority. You would think this would stop people from not giving medications to residents as required.
A survey conducted by the National Center for Health Statistics in 2004 stated about 159,000 residents nationwide in the United States had pressure ulcers. This is around 11 percent of the 1.5 million residents currently residing in nursing homes. Stage 2 was the most common accounting for about 50 percent of the residents infected, that's 75,000 of our loved ones with partial thickness loss looking like an abrasion, blister or shallow crater. If that does not get your attention the same study of the 159,000 residents stated around 30,000 of our loved ones had stage four consisting of full thickness of skin and subcutaneous tissues are lost, exposing the muscle or bone.
The problem is there are numerous cases of stated neglect and for most of them it is a small fine that the institution must pay then business as usual. If a facility has 150 beds and fails to give medication to all of the residents for two months then is fined $25,000 for not issuing the medication, do you think the facility lost money? Sometimes the facility is banned from taking new patients until they correct their discrepancies. I find it sometimes humorous that the same governing body that is supposed to be monitoring these facilities punishes the facility for something I believe the State inspectors probably should have found during their inspections.
There are a few possible corrective/punitive sanctions approved by the Nursing Home Reform Act, Civil monetary penalties and fines, denial of Medicaid of Medicare funding, government takeover of Nursing Home are just some of the ways Federal Government can correct deficiencies found during routine or surprise inspections. The states have similar corrective actions taken against Nursing Homes found during their inspections. I feel that sometimes this method does not work as mentioned above sometimes the fine is less then the crime they commit. Ensuring Nursing Homes are properly funded to perform all aspects required is a battle some facilities are struggling with. With the federal government and state governments both cutting funding for Nursing homes this becoming a challenge for the facility to decide what programs they can keep and which programs to eliminate. With Medicare and Medicaid Nursing Homes are required to accept the charges mandated by the government for medical procedures this is where the financial prob
lems start. The costs for procedures and medications both going up it is proving hard for facilities to keep all their programs and providing quality of life for patients a challenge for the facility. Nursing homes must provide the medical care to sustain life but the questions should also be what they are providing to enhance their life. The other impact of increasingly less funding is the proper continuing training of staff personnel. It is hard for staff members to keep up with the changing laws and new medical practices when facilities are not keeping up with their training. In multiple lawsuit cases I reviewed the underlying tone to most defenses is training. The staff was not trained on the new process, staff was not informed of patients history of aggression, staff was unaware of federal or state legislation changes. This is one of the programs facilities are cutting down to save money that is actually costing more in the long run by the lawsuits that are filed due to the lack of such training. If you would ask me today what my view of care elderly receive I would say it is poor. I remember years ago seeing my grandmother at her nursing home and it seemed like no one cared and it broke my heart.
I would go to see her when I could, which was not near enough, and every time I had to speak to the staff about her care. I hope things have changed since then but I do not feel that is the case. It is not always the nurse's fault as most of them are great at their jobs and very caring people to haven chosen that profession. I believe that the laws governing the care and well being of our elderly are sufficient to manage such facilities. I believe that the oversight of these programs is in question and needs to be addressed. Federal and State programs need to employee more personnel to review and fine such facilities with additional oversight comes greater compliance to the program. Possibly institute a grading system on which each facility most post in the facility for all to view grading their compliance to regulations. In my opinion most of the time it comes down to the money the Nursing Facility either makes or is trying to make as most business are there to make a profit and every small item removed saves a nickel.
References
e-CFR Part 483 Requirements for States and Long Term Care Facilities, Retrieved October 24, 2012, Retrieved from http://www.ecfr.gov/ Nursing Home Alert, abuse and Neglect lawsuit resource, Retrieved October 19, 2012, from www.nursinghomealert.com Silin, Peter S. (2009), Nursing Homes aNursingnd Assisted Living: The Family's Guide to Making Decisions and Getting Good Care. The Johns Hopkins University Press The Associated Press (15 December 2010). Kennebunk Nursing Home cited for forgetting to give meds, other problems, Retrieved from http://bangordailynews.com/ Bruce Vielmetti (October 16, 2012). Milwaukee Journal Sentinel, Nursing home rape case settles mid-trial, Retrieved from http://insurancenewsnet.com/ Eunice Park-Lee, Ph.D., and Christine Caffrey, Ph.D.,(14 February 2009). Division of Health Care Statistics, National Center for Health Statistics, Retrieved from http://www.cdc.gov/nchs/index.htm