Is there a single definitive policing model appropriate to policing in England and Wales Essay Sample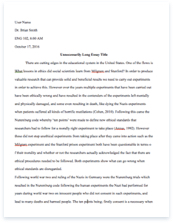 The whole doc is available only for registered users
OPEN DOC
Download Essay
Get Full Essay
Get access to this section to get all the help you need with your essay and educational goals.
Get Access
Is there a single definitive policing model appropriate to policing in England and Wales Essay Sample
The purpose of this essay is to examine whether there is a single definitive policing model appropriate to policing in England and Wales. The Police are members of a police force. They are an organised Civil force of a federal or local government, responsible for the prevention and detection of crime and the maintenance of public order. Oxford Dictionaries. (2012). oxford. Their job is to work in partnership with the communities, they help to sustain law and order, safeguard members of the public and their possessions, stop crime and develop the quality of life for all citizens.
This essay will discuss reasons to why there is not a single definitive policing model appropriate to policing in England and Wales. In 1829, Sir Robert Peel created the Metropolitan Police when he served as Home Secretary of England. According to Peel, the real key for policing is "the police are the people and the people are the police". Peel believed that prevention of crime could be accomplished without intruding into the lives of citizens. With the development of the Metropolitan Police, Peel established nine principles to his theory of policing. These nine principles are as relevant today as they were in the 1800's.
The structure of policing in England and Wales is based on The Police Act 1964, which goes under the current system of holding 43 forces of England and Wales accountable has been characterised as 'the tripartite structure of police accountability'. This system allocates responsibilities between the Home Office, the local police authority and the chief constable of the force. England and Wales together have different approaches to crime by which they equally have several types of police officers who carry out different jobs and take on different roles.
These jobs come under a police force and a police service. They both act as a government force to enforce the law, stand between those acting dangerously and illegally and the law-abiding public and as a service to help people and provide the people a service, not just act as a dictatorial arm of the state. There are several methods of policing which varies from preventive policing, reactive policing to community policing. Preventive policing is where a police officer is assigned to a specific small geographic area where he/she would patrol on foot and become acquainted with its citizens.
It was believed that the physical presence of an officer in uniform was enough to decrease the level of crime within an area, so that the crime prevention role of the police was an essentially passive task. Reactive policing was then replaced from preventive policing. This change was actively promoted by the Home Office (Home Office, 1967), which led to forces reducing the number of officers who patrolled on foot or on bicycles in favour of the use of motorised vehicles. (Joyce 2010).
This method was similar to preventive policing to where officers would patrol the streets on foot but instead they will patrol the streets with the use of cars and two-way radios. Reactive policing brought many benefits in terms of tackling crime as it provided tangible measurements, so that efficiency could be judged ( such as response times and arrest figures). (Joyce 2010). Moreover reactive policing did have its disadvantages. Police officers had small or no knowledge of different neighbourhoods so the police had a habit of stereotyping people who lived in them.
Huge criticisms were then made in which stop and search powers were used against black youths seeing as opinions were already made by the police that all members of black communities posed a problem for society. (Joyce 2010). This reduced the level of cooperation with the police with the community. A different method of policing is Community policing. This method consisted of the police forming an effective relationship with the community. They focus on their concerns relating to crime.
Mutual trust between the police and community is vital. This is also known as reactive policing as police respond to specific requests from individuals/groups in the community which incorporates instant response to calls and follow-up investigations. Community policing has been a main focus in policing. Law enforcement has had many challenges throughout the years, including the increase of cultural diversity among our communities. Furthermore different crimes have different measures of punishment. Not all crimes go to court for sentencing.
For example, some first-time offences and less serious crimes may be dealt with by the police or a local authority. These are called 'out-of-court disposals'. A crime such as murder and shoplifting will be punished in a different way. There are many other forms of punishment such as: Discharges, which is when the court decides someone is guilty, but decides not to punish them further at this time, they will be given a 'discharge'. Fines; which is usually given for less serious crimes that don't merit a community or prison sentence.
A community sentence which is when a court imposes a community sentence, the offender doesn't go to prison. But the court says there are specific things the offender can, can't and must do. Most serious punishments go as far as a prison sentence to life in prison. London has become a victim to Knife and Gun Crime. The Mayor of London took out a long term strategy to prevent and reduce youth violence in the Capital. The methods used were a London wide knife sweep, Introducing tougher sentencing and making young Londoners aware of the risks.
Boris Johnson quotes "We are sending out a strong message that if you carry a knife or a gun or commit acts of violence there is no place to hide. You will be caught by the police and locked up behind bars. " The government established how seriously it views knife possession when it doubled the maximum sentence for the offence, from two to four years in jail. Although sentencing has been increased, the Mayor is clear that young people shouldn't be carrying knives and he is advocating stronger sentences.
In May 2008, the Met launched Blunt 2, a huge police operation in London in response to several young people being killed in attacks involving knives. It involves stop-and-search teams in boroughs across the capital. Since then, over 9,000 knives have been seized in London and over 18,300 arrests have been made. Greater London Authority. (2012). In conclusion, many different methods of policing have been put in place to keep crime rates low in both England and Wales. As all crimes are different and every crime has an outcome which is a different punishment.
There is not one way of policing England and Wales as new criminals will continue to commit new crime and new sentences will continue to be carried out. Officers will have to develop new skills in order to be knowledgeable on how to tackle new crimes this will try and prevent the existence of crime itself than react. Crime itself is normalized within society. It is a balance which makes society fairly functional. With crime present, it creates a need of laws which potentially only strengthens the centre of society by defining to the members of society what is right and what is wrong.