Skills Required for the Post of Customer Services Assistant at Tesco Essay Sample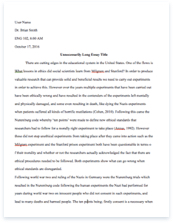 The whole doc is available only for registered users
OPEN DOC
Pages:
Word count: 1001
Category: Tesco
Download Essay
A limited time offer!
Get a custom sample essay written according to your requirements urgent 3h delivery guaranteed
Order Now
Skills Required for the Post of Customer Services Assistant at Tesco Essay Sample
1.0 INTRODUCTION
To: Chris Williams (Checkout Supervisor)
After receiving your email asking me to write a report on what skills are required for applicants looking to get the post of Customer Assistant. In my report I will be analysing the Tesco job description and person specification to see if they are completed accurately. All the information was gained from the Tesco official job description and the person specification provided by your company. This report will be submitted by Wednesday 30th September 2009.
2.0 FINDINGS
2.1 A Description and Analysis of the Employability Skills Required
Employability skills are skills each person needs or should strive for in order to match the needs of the current economy.
These include:-
Time management – Keeping track of time is one of the most valuable assets available for people and organisations such as Tesco. If an applicant can understand how to manage one's time this can contribute extremely to the success of the person and company.
Team worker – teamwork is an action between two or more people, where each person contributes their own unique skills and individual interests and opinions to towards their job to achieve common goals. So if the applicant was a team player we would benefit from him/her working with other people with coordinated effort to reach a goal for the company.
Attention to detail – is where one accomplishes all tasks given with great care and attention. Having a member of staff with this skill would be beneficial because then managers will have peace of mind that all jobs will be completed to set standards. Paying attention to detail also means that if a customer asks for help the applicant would give his all to make sure what they want/need they receive as quick as possible.
2.2 A description and analysis of personal skills
Certain skills will be beneficial for any job. These personal skills can be transferred throughout the workforce.
These include:-
Hard working – A hard worker is someone who would give 110% to all tasks given and always tries their best. Tesco would benefit from an applicant who is a hard worker because he/she would give there all to the certain job/task they were given no matter how big or small the task given was. This would also be a benefit to the customers as they would see the applicant gives his/her all to what ever query they have.
Patience and Good interpersonal skills – often in business contexts interpersonal skills refers to the measure of a person's ability to operate within business organizations through social communication and interactions. An applicant with good interpersonal skills and patience would be ideal for our company because having positive interpersonal skills increases the productivity in an organization since the numbers of conflicts are reduced. Also showing patience would help customers who might need more help than others for example a person with a disability.
Ability to work deadlines – Can we achieve anything without a deadline? If you set a deadline you will need to know the applicant will work as hard as they can to reach this set deadline to insure all work is completed. For example if you set a applicant to clean the broken class on isle three and the applicant didn't do it by the set deadline and a customer falls on the glass, this could evidently mean the customer could sue Tesco and bring a bad name to this highly praised company.
2.3 A description and analysis of communication skills
Communication skills are important in every aspect of business. Information must be clear and accurate. In Customer Service, you must be able to explain company policies to customers and answer their questions about your products or services.
Verbal Skills – These are skills that are typically acquired during formal education. These could be put into different categories.
Internal communication – is when someone talks to other staff members about the work set and for assistance if needed. This is also a benefit to the company because all employees can try and solve any problems amongst themselves before asking managers therefore saving time.
External communication – is when the applicants speak to customers. This could be on the telephone, where a good well spoken manner would be necessary. Face to face could also be included in the external communication; this is where a positive personality and again a well spoken manner would be needed. External communication is a very important skill to have, if a member of staff couldn't speak in a well manner and was rude, customers would not get what they want and maybe even look for another store for example ASDA.
Written Communication – is where the applicant would expresses his/hers ideas effectively and conveys information appropriately and accurately. This would be a benefit to Tesco as it could help the company learn of any problems going on in the business, if staff members write problems in a suggestion box. This can also be beneficial to customers as staff speak to a vast amount of customers and will have a wider knowledge of what they want compared to managing directors who don't work so closely with customers and members of the public. Also written communication is important because typical forms will need to be filled in if a customer needs to take a faulty item of clothing back then forms will need to be filled in correctly so that the item is sent back correctly and the customer is happy with the outcome.
3.0 CONCLUSIONS
From completing this report I have learnt that the person specification and job description matched what Tesco are looking for in an applicant. During the interviewing stages if we come across an applicant with all the skills on the person specification then he/her will be a huge benefit to the company and the customers.