Slavery: A Recipe for Failure Essay Sample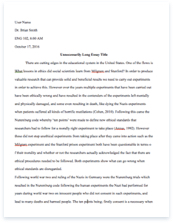 The whole doc is available only for registered users
OPEN DOC
Pages:
Word count: 372
Category: slavery
Download Essay
A limited time offer!
Get a custom sample essay written according to your requirements urgent 3h delivery guaranteed
Order Now
Slavery: A Recipe for Failure Essay Sample
Just as slavery binds slaves to their masters, it also binds masters to a static way of life. This is evidenced by the fact that slaveholders must keep their slaves significantly oppressed with no positive examples of freedom. As shown in A Narrative of the Life of Frederick Douglass, masters hold slaves down so they can never improve their lot in life, and slavery as an institution can never progress. Slaves are encouraged to become so drunk during Christmas time, that they only see the poisoned side of being left to their own devices: "Were the slaveholders at once to abandon this practice, I have not the slightest doubt it would lead to an immediate insurrection among the slaves" (44). By doing this, masters make absolutely sure their slaves will not entertain the ideas of freedom that instill the greatest fear in any master's heart. Furthermore, slaves are kept ignorant in order for their masters to keep supremacy over them. When Sophia Auld began to teach Frederick Douglass to read, her husband stopped the instruction at once: "Mr. Auld found out what was going on, and at once forbade Mrs. Auld to instruct me further, telling her, among other things, that it was unlawful, as well as unsafe, to teach a slave to read" (20).
Douglass realizes the only thing that maintained the power the whites have above the blacks is the slave's ignorance, and knowledge of nothing greater than the life they lead. Finally, to keep slaves under their iron fists, slaves are told there is no hope of escape. After Douglass requests from his master that he be allowed to hire out his time, Mr. Auld dismisses his petition as a covert attempt to escape: "He told me I could go nowhere, but that he could get me, and that in the event of my running away, he should spare no pains in his efforts to catch me" (61). In Frederick Douglass' world, slaves have no rights, freedoms, or liberties, and are said to be bound by the chains of slavery. Over time, slavery is destined for failure because both masters and slaves are bound to keeping the institution constant with no allowance for growth and change.