Slavery and the Building the Beginnings of America Essay Sample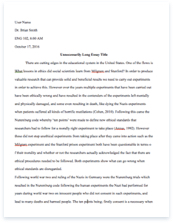 The whole doc is available only for registered users
OPEN DOC
Pages:
Word count: 744
Category: labor
Download Essay
A limited time offer!
Get a custom sample essay written according to your requirements urgent 3h delivery guaranteed
Order Now
Slavery and the Building the Beginnings of America Essay Sample
Origins of Slavery in North American
            An empty ship cargo, except for 20 or more Africans aboard, of a Dutch ship was headed for Jamestown one late summer (PBS 2007).   The slaves were originally aboard a Spanish ship but they were sold to the Dutch in exchange for food. These Africans were either slaves or indentured servants that could work for a certain period of time and then be freed (PBS 2007).  There is a possibility that there were more slaves than servants aboard that ship (PBS 2007).  There was at least one African, on record, was ordered to be a slave as the court decreed him to serve his master for the rest of his life.
            Despite the abundance of land for the Jamestown settlers, they could not find people to work their land. To establish their estate they needed laborers, and most of them wanted to establish their own estates. There was a scarcity of free labor (Costa 2000). Instead of working their own lands, they turned to exploit labor from others, from those who are weaker than they are. The immigrants to the new colony were then forced to bind themselves into working the estates for a certain period of time; most of them had four year terms (Costa 2000). There was an Act that sentenced convicts to a seven-year term or more to work as servants in America instead of achieving the death penalty. There were many who feared the integration of almost 30, 000 convicts into the colony (Costa 2000)
Using African slave labor
            The reason behind African slave labor was supposedly because these people were non-Christians.  It was not because they were dark. They were to serve a lifetime of slavery because of their pagan beliefs. The question lies in the fact that religious denominations can be changed over time, within a lifetime, this does not equate to the lifetime sentence of being non-Christians (Costa 2000). This was supposed to be their punishment for being impure (PBS 2007). Aside from the fact that they can be evangelized and educated in Christianity for them to repent and accept forgiveness, it seems however, the color of their skin could not change (Costa 2000). This may be an underlying reason for their lifetime bond. In 1670s, it was significantly noted that African slaves were unfairly treated by statutes that gave white Christian servants with limited terms much more favor than the Africans. White servants are actually able to reap the benefits of their labor and gain a place in society (Costa 2000).
Justifying the Use of Slave Labor
            The English settlers did not see themselves doing hard labor.  There was abundant land and each of them could have the chance of establishing their own estates and live more luxurious life than what they had in the native country. Why work for others when they could make for themselves a more comfortable life, stepping up into the higher class in society (Costa 2000).
Contributions and Nature of the Work of the Slaves
            The servants and slaves contributed to a great deal to the growing economy of Jamestown. They had a growing tobacco industry that saw the significance of the laborers in the 17th century (Costa 2000).  A servant or a slave trying to escape meant a great deal to an estate as loosing him could be equivalent to loosing an entire crop (Costa 2000).  The estate masters may own the land but the life almost every industry depended upon the laborers.
            The African slaves were seen as a long-term investment for the landowners (Costa 2000). The stability of the political and economic growth was largely dependent on slave labor as they did almost everything, from farming to butchering to other things. While the white servants enjoyed limited restrictions on their freedom and rights, the African slaves had no room to move to. Nevertheless, the fields were cleared up; the homes, furniture, roads and wagons were built; food clothing and other things were provided for and constantly supplied by "Virginia's bound laborers, black and white, servant and slave, convict and apprentice (Costa 2000)."
References:
Costa, T. (2000). Who built Virginia? Servants and slaves as seen through runaway advertisements. Retrieved on September 4, 2007, from http://www.virtualjamestown.org/essays/costa_essay.html.
Public Broadcasting Service (PBS) .(2007). The terrible transformation. Retrieved on September 4, 2007, from http://www.pbs.org/wgbh/aia/part1/1p263.html