Slotting Fees Essay Sample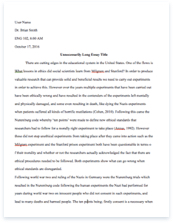 The whole doc is available only for registered users
OPEN DOC
Pages:
Word count: 838
Category: strategy
Download Essay
A limited time offer!
Get a custom sample essay written according to your requirements urgent 3h delivery guaranteed
Order Now
Slotting Fees Essay Sample
Are trade promotions, such as slotting fees, a "necessary evil" that manufacturers must endure to gain entry into huge chain stores like Wal-Mart? Should they be outlawed?
            Slotting fees refer to the price charged by supermarkets owners to manufacturing companies so that they can display their items on their shelves. The amount paid is not standard but varies with the type of product and the market conditions. The slotting fee for a new product may range from approximately $ 25 000 to $ 250 000 depending on the entry market. The supermarket owners may also charge fees for promoting or advertising their products. Many supermarkets have benefited more from this marketing strategy than what they actually get from selling the actual product.
            Slotting fees are beneficial to the retail stores as they help them to cover for the losses that may be incurred if the product is not bought. "Retailers see this as necessary as they will cancel out the losses that they might incur (Fuller, 2004)." Manufacturers benefit because they are able to get information on how their products are doing and this helps them forecasting and analyzing future marketing, budgetary and even production strategies. Slotting fees also help retail shops in expanding their businesses as they have the ability of attracting more potential customers if the product is successful in the market.
            Slotting fees are therefore a 'necessary evil' that manufacturers have to endure to gain entry into huge market stores. This is because they will cut on the time and more costs that will be incurred in the process of hiring more sales people and marketers to market the products. In addition, they are able to establish good relations with the supermarkets as this will be beneficial in future marketing of the goods.
            Slotting fees to some extent need to be outlawed because the retailers are the ones who benefit the most at the expense of the manufacturers. This stems from the fact that manufacturers see it as the most efficient strategy and after all, most of their competitors are doing the same but they pay huge sums of money for such promotional strategies. "Slotting fees are seen as a way in which the retailers transfer risks to the producers (Hovenkamp, 2005)."  Manufacturers see the fees as expensive and enhance inequality in marketing (Fuller, 2004).
Do the Big Three wield too much power over prices and products offered? Who benefits most from the success of the Big Three? Who, if anyone, loses?
            The big three who generally have the biggest market share will basically dictate the types of pro ducts offered as well as their prices. The big companies can introduce three or even more products into the retail shops this means that they are in a better to dictate the prices of the commodities especially when they know that their products are superior to their competitors. The person that benefits the most is the retailer. This is because they will stock competing brands; especially those of the big three, and this competition increases  the retailers bargaining strength as they are able to ask for higher fees (Thompson et al. 2004). For this reason retailers benefit more from such transactions. No one necessarily loses because manufacturers gain from increase in sales as their products are moving, retailers benefit from increase in extra fees and customers get a variety of products to choose from.
Do slotting fees and other trade practices hurt small businesses? Do they help or hurt customers?
The slotting fees and some trading practices hurt small business. Take for instance slotting fees, big producers have an advantage over the smaller companies as they have the extra funds to pay for more space in bi g supermarkets like Wal-Mart as compared to the smaller producers who have limited funds to cater for their normal operations. This will result in smaller manufacturers being pushed into the smaller markets where they are able to introduce the products. Retailers therefore will lose on the fees they could have got from smaller retailers even though they are less.
            Customers are hurt in the process as retail outlets will not display products from smaller retailers which also have value to some customers. In some instances, if the retail stores deny big manufacturers shelve space, they can totally burr their products from being sold in such shops.  This means that the customers will not have access to the products; which may be beneficial to them, in particular regions.
References
Fuller, G. W. (2004). New food product development: from concept to marketplace, 2nd Ed. CRC Press, 2004, p. 106
Hovenkamp, H. (2005). The antitrust enterprise: principle and execution, Harvard University Press, 2005, p. 171
Thompson, Jr. et al. (2004). Crafting and Executing Strategy: Text and Readings with Online Learning Center with Premium Content Card, 14th Ed.  McGraw Hill Professional, 2004. p. 64