Small Business Management Project Essay Sample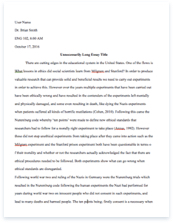 The whole doc is available only for registered users
OPEN DOC
Pages:
Word count: 4618
Category: business
Download Essay
Get Full Essay
Get access to this section to get all the help you need with your essay and educational goals.
Get Access
Small Business Management Project Essay Sample
Carefree Yoga is a Yoga studio located in the Namao area in Edmonton, Alberta, Canada. Carefree yoga provides Primarily Yoga classes and additional classes for dance and Pilates. Are services target families in the area but specifically females from early teens and up, as well as mothers with busy schedules? A daycare services is also offered for those moms that need a place to keep their children supervised while they take our classes. Carefree Yoga Studio will provide a broad number of classes that pertain to training the body via yoga and related stretching practices. The business will generate income from the ongoing fees associated with yoga classes at the studio while concurrently generating secondary revenues through the sale of yoga mats and related accessories used during the course of yoga training. Our instructors provide hands on support and knowledge to our clients.
The classes make the client feel at ease and peace with one's self. The everyday typical woman and mothers life is vastly increasing stress. As well the pressure to stay healthy and look good is constantly a concern at the end of their day. Regardless of how much they work, cook, clean etc… The female demographic is constantly striving to succeed at any and everything. There is a very slim to none chance that a yoga studio located in this area would not succeed. The demand for physical activities is high especially when the weather gets as cold as it does in Edmonton living indoors may make a person feel Closter phobic and stressed, so yoga would be a great escape. Industry
The current economy has remained difficult over the past few years. However, Yoga Studios have fared well despite the current economic issues. This is because yoga, by its students, as seen as an integral part of their lives. As such, the Yoga Studio will be able to remain profitable and cash flow positive in any economic climate. Within the United States, there are approximately 10,000 locations that operate as Yoga Studios. The popularity of yoga has increased substantially over the past ten years as more Americans have become concerned with their fitness. The excepted growth rate of the Yoga Studio industry is expected to remain in line with that of the general American economy. Competition
Carefree Yoga studio has 2 major competitors. One being direct and another being indirect. The YMCA located in Castle Downs would be the direct competition considering it's the closest facility near the Namao center neighborhood. They have been around for many years and target families in this community. Carefree Yoga studio's classes are spacious and have a very relaxing atmosphere. The indirect competition would include Spa Lady and various Yoga studios and gym in the downtown area. They are more of a high end type of studio and may be located close to the workplaces of our Namao center community residence. "Our services have unique features and benefits that separate us from our competitors. Our services have unique features and benefits that separate us from our competitors. Carefree Yoga studio's classes are spacious and have a very relaxing atmosphere. Our displayed fountain gives a naturist outdoor feel. The sounds displayed are tranquil and welcoming to all clients. A separate steam room is available to all clients as a finishing touch in addition to their yoga class." Management
The Company was founded by Amanda Fakhreddine Mrs. Fakhreddine has more than 10 years of experience in the yoga instruction industry. Through her expertise, she will be able to bring the operations of the business to profitability within its first year of operations. Financial
FY 2011
The company is expect to generate about $355,000 at the end of the second year with very low overhead. The objectives of Carefree Yoga are the following:
* Acquire 300 customers by the end of the first year of operation. * Achieve sales in excess of $60,000 from the Store.
* Increase customer base by 25% by the end of the second year of operation. * Increase sales by 15% by the end of the second year of operation.
Vision, Mission, and Goal
Vision
Carefree Yoga promotes physical and emotional release, and personal improvement through creative and unique outlet of the art of yoga. Through a variety of yoga, Pilates and dance classes in Edmonton, Alberta we hope to inspire people to set goals for themselves and reach them, while enhancing their self-image and maintaining their peace of mind. Mission
Our mission is to teach our clients yoga, dance and Pilates at their own pace. As well provide an atmosphere of serenity in order to improve and enhance the value of the yoga experience. We aspire to have our clients leave our studio with a satisfied smile every visit.
Goals
* High quality instruction from experienced personable instructors. * Relaxing, comfortable, and supportive environment.
* Raise awareness of the industry and increase the profile of our members Proprietary Technology
Licensing (all required to operate Carefree Yoga Studio)
Required:| Expense ($) (estimates!)|
Development Permit to operate| $286 discretionary|
Business License| $162|
Business Assessment| Annually- $4052.49/12mo = $337.70per mo| Building Permit| (For every $1000 of construction value $7.58). Minimum fee is $112| Edmonton License| $162 onetime fee credited back|
Workers Compensation| 100 minimum (5 workers= 1.15*5*profit= $86.25) | Power hookup and rates (utilities and possible hookup)| $550-$600/ per month (rough estimate)| Natural Gas (utilities)| $300-$330/per month|
Federal income tax| On the first 37000 is $178(15.5%) on the next 37000 is $179| Provincial Income tax| (net income/loss)Profit*3%|
GST (goods and services tax)| (net income/loss)Profit*6% current| Economic
The recession has created a new segment of cash-strapped individuals, looking for inexpensive new ways to exercise. Yoga and cardio kickboxing were among the biggest gainers from 2008 to 2009. Purchases of yoga instructions, mats and supplies continue to increase in a health and money conscious market place. During this economic down turn green businesses are still surviving. Many companies are seeing the green movement as a way to cut costs and improve their reputation. Businesses are using the movement to improve operations, foster innovation, engage employees and satisfy customers. Online shopping is also becoming increasingly popular during the recession because consumers can research products in advance and find what they want at the least expensive price out there. Industry Trends & Growth
The yoga industry continues to grow almost every year. According to the National Sporting Goods Association (NSGA), yoga has the second highest growth rate among sports and recreation activities. Following closely behind running/jogging, in 2008 yoga had a growth rate of 17.1% reaching about 16 million participants. Complementary and alternative medicine (CAM) has also become increasingly popular in the past several years. Based on data from 2007 approximately 38% of adults in the past 12 months spent 34 billion on CAM. Self care accounted for 22 billion of the market and 4 billion of that was spent on classes such as yoga and tai chi. Current Product/Service
The service offered in Carefree Yoga is largely yoga classes. These services are to help our clients stay active and relaxed while at the same time decreasing the escalating stress occurring in their daily lives. Our studio provides services that vary, however, the first and foremost service provided would be our featured yoga classes. These classes range from beginners to intermediate all the way to advanced levels. Some featured classes would include Mom and Baby yoga and Hatha yoga. Our educated and experienced instructors and councilors do their best to maintain their client's utmost satisfaction in each and every experience. The secondary services provided would be the additional Pilates classes, belly dancing classes, and various ever changing featured exercise classes. An additional benefit provided with purchase of a membership would be a no charge childcare service and steam room accessibility. Anytime our clients happen to drop in with their children, our experienced staff insists on taking care of the little ones while mom's exercising.
There is a playroom that is safe and supervised for children in the time period needed for our clients to satisfy their needs. We offer memberships and drop-in sessions at Carefree Yoga. Once a membership is maintained, our client becomes one of the Carefree Yoga family. They feel comfortable and they freely walk in and out of the facility as if it is their second home. Our experienced childcare supervisors keep our clients children occupied and happy while they enjoy the time they get to maintain peace of mind. The drop in session is also available so that the clients that have irregular timing in their schedules can come in quickly with no fuss. Development of additional products such as clothing; sweatpants, t shirts, and sweaters as well as yoga mats and bottled water for purchase is in consideration and may be a future endeavor. As well, additional health snacks may arise in the near future based on success of the company. Our staff is always available for guidance if a client is unable to decide what to register for. Target Market
The total population of people we plan to sell to is mostly all the females in the Namao area. We will be targeting families in the Namao area specifically woman 15-55 years of age, including mothers that have busy schedules. We believe this target market would invest in our services because the strive to be healthy and fit is getting more important especially with moms and older woman in general. We also plan to have a monitored daycare section in our facility to take away the worry of where to place their children while they got o class. We focus on females but men are absolutely welcome as well as fathers. There are not many yoga studios in the area and the small group of people that purchase yoga/ Pilate's videos and dances at home as well as the people that throw money towards diet supplements are with are target market. The pressure on woman to stay fit as they age is very high.
The target market is targeting the average female that may just want to get away from the stresses of everyday life. Yoga is a wonderful way to pause and meditate to reach an inner peace within oneself. It is viewed as a luxury in many eyes. These days we are able to provide this once viewed unacceptable service at the reasonable price. That is another reason this target market would buy our service. The younger group in their teens is also subject to peer pressure to look good as well yoga has become a "cool" trend among the youth. This is a healthy alternative for staying active as a teen.
Competition
Competition- the YMCA in Castle Downs would be the direct competition considering it's the closest facility near Carefree Yoga. Although they are a public facility that offers few yoga classes, they still have an advantage to targeting families in the Namao area because they have been around for many years. The Indirect competition would include Spa Lady and various yoga studios in the downtown Edmonton area. They are more of a high end type of studio and may be located close to the workplaces of our Namao centre community residents. Our services have unique features and benefits that separate us from our competitors. Carefree Yoga studio's classes are spacious and have a very relaxing atmosphere. Our displayed fountain gives a naturist outdoor feel. The sounds displayed are tranquil and welcoming to all clients. A separate steam room is available to all clients as a finishing touch in addition to their yoga class. A big aspect that separates serenity from the local YMCA and a downtown Yoga Centre is the childcare services.
Mothers typically starting a family or even taking time off work most likely have not the time for themselves due to the responsibilities of taking care of their children. Our yoga faculty gives our clients freedom to come in and change, enjoy a class session, chit chat with friends, and relax in the steam room all without the added stress of tending to their children. Our caretakers have no problem keeping the children happy and active to the parents' convenience at no cost. * With our beginning promotions, we will hand out a onetime free trial for those prospects that want to try before they purchase a membership. * Carefree Yoga studio opens earlier and closes later than the majority of yoga studios and additionally stays open 7 days a week.
A benefit from our open flexible hours would be customer satisfaction that they can reach serenity without too much of a schedule conflict. We make time for them so they generate customer retention. * Childcare hourly service with supervising attendants to let spouses retrieve from the responsibilities for the time that they can spare. * We have a rate for students and a rate for seniors as in student and senior discounts. A less costly fee is placed on clients classes if they happen to be in that category which decreases their disposable income for their benefit. The savings in money would be a benefit to them and it develops customer loyalty as well as customer retention.
We are certain that this target market will strive to better their well-being and energy outtake. People these days are in the stage of realizing the unhealthy ever-changing trends that are decreasing life spans in our society. Our facility is for all ages; Mothers specifically know how important it is to stay healthy and active not only for themselves but for their children so they can one day see their children's children. Mind stimulating exercises add a decrease in the rushing thoughts developing by the second in the minds of our clients. We want our client to be able to refrain from having one strained thought in their mind until they exit the studio. Introduction
Welcome to Carefree Yoga. We are the place you escape to for peace of mind in your busy life. Carefree Yoga is a Yoga studio that is known for its relaxing tranquil atmosphere. We aspire to be the place of knowledge and wisdom to practice yoga in a way that satisfies your physical as well as mental needs. There is no better way to get fit and healthy than with our friendly experienced instructors. Whether its yoga, Pilates or even dance, we offer a variety of classes that will meet your needs. We even offer short-term childcare during the time of the classes for the average busy mother desperately needing an escape more than anyone. We understand the demands of life increasing and it is essential that your stress level be healthy and as low as we can get it. Enjoy the experience of Carefree yoga and you will not hesitate once you have entered. Products Image
Positioning
Carefree yoga studio wants to be known as the relaxing tranquil, temporary getaway that provides the best service in personable staff and the best classes at a reasonable price in the clients mind. We want the customer to see past our competitors and to the quality based service and atmosphere of our facility.
Strengths * Friendly welcoming staff * Quality * Large, inviting room with mirrors and nice hardwood floors * Cool room * Very organized and extra storage in closet (organized) * Sound system has a microphone head set for the instructor * Extra hand towels are available for members * Easily accessible for those with wheelchairs * Large variety of classes offered in all levels * Free motion machines are available for members to use * Schedule is posted outside of room visible to members| Weaknesses * Competitors (e.g. Spa Lady, YMCA) * Complaints of radio and programming on radio (want more rock) * Cleanliness of room * No formal cleaning regime for staff * No staff member in room to answer questions or provide support * loud when some classes are going on in PFC (until permanent wall goes up) * Small classes right now are leading to cancellation of classes and may aggravate members who like coming at certain times for classes – these are growing each session though| Opportunities
* Open more Locations * Go globally * Make Carefree Yoga into a franchise * Opportunities for great amount and great variety of classes * Great place for instructors to publicize to members of upcoming eventsGreat location for dance classesMay provide members who may be uncomfortable in lg. room with a setting more suitable for them| Threats * Competitors (e.g. Spa Lady, YMCA) * Without proper care and cleaning and preventative maintenance, members will complain. * As classes grow, we may outgrow room, causing us to add additional classes and pay additional instructors |
Planned Products
The upcoming products we want to start offering would be fitness wear and yoga mats. A variation of sweaters, sweatpants and t shirts would be offered. We also aspire to open a small juice bar that offers fruit based low carb health drinks. We believe once the studio is on its feet, the possibility of expanding the facilities area would be a good idea. Considering the location being Namao centre, it is apparent that there is no immediate competition nearby which would be an advantage. Core Product- Carefree Yoga offers yoga classes, but the real benefits that the targeted mothers go after is a psychological one. The getaway and relaxation would be the psychological benefit. Maintaining activity in their daily lives and also maintaining great experience gains their self esteem and confidence. Carefree Yoga is a service facility that would be considered tangible. But it also has quality level features such as cost. Carefree Yoga offers additional services and benefits such as Pilates and belly dancing classes to increase customer choice variety. Carefree Yoga's core service provides people with an activity as well as a way of life.
Pricing objectives
Customer- We at Carefree Yoga wants to promote the quality of our services to demonstrate value to our customers. Prices are affordable for customers so they can manage to enjoy the experience without being set back financially. Business- Carefree Yoga is trying to be affordable to achieve a large client database in the long run. We also believe that charging what we are worth because we are presenting a premium service is necessary. Therefore, we enjoy a better reputation and are able to afford and continue to provide good services. Price Flexibility
Customer- Prices change for students if they have available ID as well as seniors. At peak times of the year when Carefree Yoga is slow, there would be a decrease in price for drop-in times depending on the circumstances. Business- Prices change at Carefree Yoga for students as well as seniors to achieve customer loyalty. As they say the customer always comes first and by doing this Carefree Yoga will achieve a bigger return on investment in the long run. For example the higher demand there is for a class, the more emphasis we put on analysis of our prices. Consumer positioning does affect elasticity (the effect of pricing on demand for product). Pricing Strategy
We at Carefree Yoga use the Price Penetration method which means our prices are slightly below competition or are at the same level. The reason being we are a new business, we want a good startup, and we want to attract customers for not only the start up but for the long run. All of our competitors are located very far from where we are located so that is a great advantage. Possibility of price changes is existent after the first couple startup years and so on. Promotional strategy / Publicity
Advertisement
* Carefree Yoga Business cards
* Website
* Advertisements in local news papers
* Fliers
Yoga business card: is often the first contact and first impressions which is everything! It will be easy to contact Care Free Yoga with our phone, cell, email and website on the business card. Website: Will allow our clients to see all the different classes we have to offer and also get more information about our staff and schedules. On the website there will also be draws and chat rooms for anyone who has questions. There will be a page for clients to give their comments and feedback about our classes and staff. Article in local newspaper: An article in a local newspaper would help Carefree Yoga a great deal. It would allow all age groups to see what our business is all about. It will also help us get the word out about our special deals for students and parents. Fliers: Fliers will be sent out to schools, houses, businesses, and also bus stations. This will get the word out about Carefree Yoga. The fliers will have all the options we have to offer including the schedule.
Sales Promotion
All students get a 10% discount on any class for the first year. Sign up for 1 year and get 2 months of dance classes free
Sign up for more than one class and get a yoga matt free
Bring in 3 friends and get 6 months of free classes.
Personal selling
Carefree yoga's staff will be going door to door speaking to potential clients about what we have to offer. They also will be going to schools and speaking to students with teacher's permeation of course. Carefree Yoga's staff will also be peaking to random people that are passing by. There beside the door answering any question our potential clients might have and also advertising out special offers.
General municipal business licensing requirements
Most businesses require a municipal license. Fees vary depending on the specific business. The licensing department will refer your application to the local board of health, fire and police departments for their approval.
As well, all businesses must conform to zoning and by-law regulations designated by municipal governments. Construction and leasehold improvements require prior approval by the planning and building departments. Municipalities require a development building permit prior to issuance of any business license. Know your area's zoning laws and obtain your permits before your build or sign a lease.
Contact the building or planning department in your municipality for information on the development permit process and steps in applying for a business license. (Source: http://www1.agric.gov.ab.ca/$department/deptdocs.nsf/all/apa2327?opendocument Manpower and Labor
Payroll deductions – Canada pension (CPP), employment insurance (EI), income tax Federal law requires that all employers collect and remit Canada Pension contributions (CPP), Employment Insurance (EI) premiums and personal income tax to the Government of Canada. Deductions for EI and CPP contributions are shared by the employee and employer.
Contact: Local Canada Revenue Agency Tax Service Office
Wages, hours of work
Employment Standards of Alberta Human Resources and Employment is responsible for administering the labor standards provisions under the Employment Standards Code. Issues include wages, hours of work, vacations and general holiday pay, maternity leave, termination of employment, and the employment of adolescents and young persons. Workers compensation
Under Alberta legislation, employers must register with the Workers
Compensation Board. Workers' compensation is a disability insurance system set up under the Alberta Workers' Compensation Act that protects both employers and workers against the impact of work injuries. It compensates injured workers for lost income, health care and other costs related to a work related injury. It protects employers from being sued by workers if they are injured on the job. This system brings stability and protection to the workplace by providing coverage at a cost shared by all employers. It also protects employers and workers against the risks and expenses of injury and the uncertainties of litigation.
(source:http://www1.agric.gov.ab.ca/$department/deptdocs.nsf/all/apa2327?opendocument) Taxation
All businesses operating in Alberta are subject to three levels of taxation: local, provincial and federal.
Local taxation
The local taxation system is based almost entirely on property tax. Most property in Alberta is subject to assessment and taxation, including land, buildings and structures, machinery and equipment used for manufacturing and processing. Some municipal governments also levy business taxes. This tax is usually a percentage of the gross rental value or floor space of the premises.
Contact: Assessment and Tax Department of your municipality. Provincial and federal corporate taxation
All corporate residents in Canada are subject to income tax levied upon income earned within the taxation year from all sources, worldwide. The owners of proprietorships and partnerships are required to record earnings as self-employed income in their personal income tax return. Corporations are required to file a return separate from the owner's prepared tax return. Corporations located in Alberta must submit separate income tax returns to the Federal government and to the Alberta government. Total Additional Startup Expenses are:
Development Permit to operate
Business License
Business Assessment
Building Permit
Edmonton License
Workers Compensation
Power hookup and rates (utilities and possible hookup)
Natural Gas (utilities)
Federal income tax
Provincial Income tax
GST (goods and services tax)
Financial Statement
CASH
The boutique will sell clothing, books, posters, books, DVDs and videos, mats, and other props for yoga. In addition it will sell healthy pre-bottled drinks. Carefree Yoga Center anticipates that sales will be slow for the first and second month of operation. After that point, sales will increase as membership grows. The following is the sales forecast for three years.
Definitions:
Personal Selling is the oral presentations made by the individual salesperson. In this case a conversation with one or more prospective buyers who intended to create sales. Here is the definition of selling face to face (personal selling) put forward by the experts. Kotler (2003:564)
"Personal Selling: face to face interaction with one or more perspective purchasers for the purpose of making presentations, answering questions, and procuring orders" Sales to-face verbal communication consists of a sales force with one or more prospective buyers with the aim that the occurrence or influence sales. But the purpose of selling faces to face, in a better state than other promotional tools. Appendix B:
Insurance Terminology
Liability: Any legally enforceable obligation.
Liability Insurance: Insurance covering the policyholder's legal liability resulting from injuries to other persons or damage to their property. Liability Insurance: Provides protection for the insured against loss arising out of legal liability to third parties. Liability Limits: The stipulated sum or sums beyond which an insurance company is not liable to protect the insured. Liability without Fault: Principle on which workers compensation is based, holding the employer absolutely liable for occupational injuries or disease suffered by workers, regardless of who is at fault.
Employers contingent liability insurance: protects the employer for injuries sustained by an employee in the course of employment where he is otherwise not eligible for coverage under a Workers Compensation Act in a jurisdiction where the injury took place. Property Insurance: Insurance providing financial protection against the loss of, or damage to, real and personal property caused by such perils as fire, theft, windstorm, hail, explosion, riot, aircraft, motor vehicles, vandalism, malicious mischief, riot and civil commotion, and smoke. Property Insurance: Provides financial protection against loss or damage to the insured's property caused by such perils as fire, windstorm, hail, etc. (source:http://www.haskayne.ucalgary.ca/programs/undergrad/bcomm/rmin/glossary/glossary_l.html )
References
The State of Green Business 2010: Alive and Kicking | GreenBiz.com, Retrieved 11/15/2011, from http://www.greenbiz.com/news/2010/02/03/state-green-business-2010-alive-and-kicking?page=0,0 Online retail is booming even in the current economic climate (n.d) – iMediaConnection.com, Retrieved 11/16/2011, from http://www.imediaconnection.com/content/20510.asp SNEWS®: General Non-profit / Association: Running/Jogging and Yoga Lead Sports Growth in 2008, Retrieved 11/16/2011, from http://www.snewsnet.com/cgi-bin/snews/14805.html Fitness workers, Occupational Outlook Handbook, 2010-11 Edition, Retrieved 10/19/2011, from http://www.bls.gov/oco/ocos296.htm#nature Garden way yoga center, Executive summary (n.d), Retrieved 10/22/2011, from http://wsj.miniplan.com/spv/3388/1.cfm#1010000 Yoga Classes & Schedule: One Yoga Center, Foster RI, (n.d.) Retrieved 11/17/2011, from http://www.youphoria.biz/yoga-classes-and-schedule/ Namao Center (n.d)-Google map, Retrieved 11/17/2011 from
http://maps.google.com/maps/place?hl=en&gs_upl=1343l4901l0l7504l12l9l0l2l2l0l387l2101l0.3.5.1l11l0&bav=on.2,or.r_gc.r_pw.,cf.osb&biw=1366&bih=566&wrapid=tlif132150513469510&um=1&ie=UTF8&q=namao+center+edmonton+ab&fb=1&gl=us&hq=namao+center&hnear=0x53a0224580deff23:0x411fa00c4af6155d,Edmonton,+AB,+Canada&cid=6287769911212237291 Yoga Business Cards (n.d) Retrieved 11/17/2011 from http://www.yogabusinesscards.com/yogabusinesscards.html?gclid=CK2zlrqwvqwCFSkZQgodz3xpow Definition of person selling 11/29/2009, retrieved on 11/17/2011