SME's are vital to economic growth in Ireland and the U Essay Sample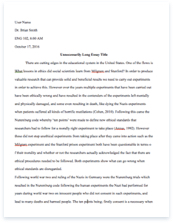 The whole doc is available only for registered users
OPEN DOC
Download Essay
A limited time offer!
Get a custom sample essay written according to your requirements urgent 3h delivery guaranteed
Order Now
SME's are vital to economic growth in Ireland and the U Essay Sample
SME's are vital to economic growth in Ireland and the UK, employing up to 90% of the workforce. Given this fact it is important to look at how the government support these SME's. The government see SME's as a vital element to both the UK and Ireland economy but also to the global economy as a whole. According to Szabo, (2002);
'SME's promote private ownership, stimulate innovations and develop entrepreneurial skills. Their flexibility enables them to match quick changes in market demands. They generate the majority of jobs, promote diversification of economic activities, support sustainable development and make a significant contribution to exports and trade'
Szabo, (2002)
Internationalisation is one of the most difficult choices to make because it implies numerous risks for the small and medium sized enterprises. Many SME's, who act prosperously locally often fail in foreign markets. They are deeply affected by rapid globalisation. It is the aim of government agencies to help SME's through their globalisation journey. Government agencies such as Enterprise Ireland, Invest Northern Ireland and Scottish Enterprise aim to do this. In an overview they help SME's in areas such as;
* Financial Support
* Business Information
* Technologies
* Training Grants
* Promote Trade Agreements for strategic alliances
* Export Growth
* Provide overseas market information
The aim of the report is to look at what government support is available to internationalising SME's. The regions that will be looked at are Northern Ireland, Republic of Ireland, Scotland and Wales. This will give the reader a better understanding of the Government agencies and the support that they offer the SME.
Northern Ireland
In early 2002 a new single economic development agency was created for Northern Ireland. "Invest Northern Ireland", this new agency took over the responsibilities of the Industrial Development Board (IDB), the Local Enterprise Development Unit (LEDU) and the Industrial Research & Technology Unit (IRTU.) It also includes the Business Support Division of the Department of Enterprise, Trade and Investment (DETI), which delivers management development services to business, and the business support aspects of the Northern Ireland Tourist Board. The aim of this collaboration was to place more emphasis on getting the job done and spending less time on bureaucracy.
Northern Ireland is a Small to Medium Enterprise (SME) economy, but as we know SME's operate in a global environment and must compete in world markets as for many these days there is no sheltered home market. In the latter it will be outlined how Invest Northern Ireland helps and provides incentives for those with the potential to operate outside Northern Ireland (GSP).
External Markets
If a business has the potential to export, the Growth Start Programme is the key programme for them. The programme is not generally available for ventures mainly involved in retail, wholesale distribution, agriculture, construction or financial services. Depending on your business idea, Growth Start can provide you with financial support. The programme, supported by the EU Building Sustainable Prosperity programme, provides business counsellors, financial support and access to business information. In the last 11 months they have committed over £2 million to help almost 70 businesses set up under the Growth Start programme and helped to lever over £7 million from the private sector to support these new businesses
Grant and incentives – Invest NI offers a range of business solutions that include flexible and competitive financial incentives: These come under three areas.
1. Capital – this financial package can be tailored to facilitate new company start-ups, providing development capital, or to provide fixed asset assistance for large capacity and capability driven investment plans, of up to 50% on buildings and equipment.
2. People – to provide pre-employment training grants of up to 50% of eligible training costs, a recruitment and selection service and employment grants as each new worker is recruited are also provided
3. Technologies – this incentive package is geared towards projects that involve innovation, advanced technologies and enhanced design capability and university or research linkages. R&D grants of up to 50% are available.
A number of other services provided by Invest Northern Ireland
Business advice
On the Growth Start programme businesses will have access to experienced Invest Northern Ireland staff who can help you think through your business idea and guide you through the stages of developing your business further.
Business Information
When you are formulating a business plan for exporting you need to find information on your market, products, competitors and any laws, which may affect your business. Invest Northern Ireland has a local office network providing local access to essential business information. At Invest Northern Ireland in Upper Galwally, Business Information Services provide access to a wealth of business information from Europe and beyond.
The Northern Ireland International Partnership Programme.
Accessing business opportunities in an overseas market may often be achieved efficiently and cost-effectively through a partnership with an established company in a target market. For Northern Ireland companies the International Partnership Programme (NIIPP) helps to identify potential partners and negotiate agreements for strategic alliances, joint ventures, licensing or technology transfer. Launched in 1997, the initiative is supported financially by the International Fund for Ireland. The programme's objective is to provide professional support, which will promote strategic business alliances.
NIIPP's role is to:
* encourage Northern Ireland companies to consider partnerships as a route to export growth
* seek out potential opportunities for those companies to give them competitive advantage
* pass on likely opportunities from a variety of overseas sources to the Northern Ireland business community
* assist companies outside Northern Ireland to identify and develop partners for business growth
* support partnerships worldwide with particular emphasis on North America and the Asia-Pacific region
Other divisions.
Design
They exist to promote good practice in product design and to provide an advisory service to industry on the importance of design as an issue in any product development project. Operating from the Springvale Business Park in Belfast, they offer a wealth of design experience and are happy to offer 'one to one' advice to any company wishing to develop a design strategy or with a specific project in mind.
Compete
This assistance aims to help local companies become more competitive by providing support for developing innovative market-led products and manufacturing processes. . Supported by the EU Building Sustainable Prosperity Programme, Compete has a project definition phase (Phase 1) and a project development phase (Phase 2).
RTD Centres of Excellence
Funded under the European Union's PEACE II initiative, the £80m RTD Centres of Excellence programme was set up to enhance Northern Ireland's reputation for technological excellence and its appeal to high-tech inward investors. As a result, Invest Northern Ireland is currently working with the Special EU Programmes Body (SEUPB) to allocate funding to up to 17 companies and university-based R&D centres over the next three years.
Smart
The Smart award scheme aims to help small businesses develop new products and processes to improve their competitiveness. Under the programme, support is available for individuals and small firms to carry out technical and commercial feasibility studies over a 6-18 month period. The awards are set at 75 per cent on the first £60,000 of eligible costs. For smaller projects, the Smart Micro programme has been launched. It offers grant assistance of up to £10,000 to help fund the development of low-cost prototypes of products or processes, which involve technical advance.
Firms have benefited greatly from such assistance. Lurgan based electronics manufacturing company, SMTEK Europe, last year entered into a £1.5 million agreement, with potential sales of over £4 million in subsequent years with Doble Engineering Company of Boston, Massachusetts. Invest NI's Northern Ireland International Partnership Programme assisted the agreement.
Kieran Leonard, SMTEK Europe's Managing Director. Commenting on the contract, Mr Leonard said:
"The agreement with Doble Engineering is an important stage in our strategy to grow our business in target markets through partnerships with manufacturers requiring electronics expertise and expert services."
He went on to say,
"We are delighted to be working in partnership with Doble Engineering and are looking forward to helping them to develop their sales in Europe and further a field. Invest NI has been of enormous benefit to us. It's highly unlikely that we would have found Doble without this help"
Republic of Ireland
Government business assistance in Ireland is mainly provided through Enterprise-Ireland. As their name suggests one of the main roles of Enterprise-Ireland is providing support to start-up companies. However, two key priorities of Enterprise-Ireland are, helping companies export for the first time and supporting companies as they build a permanent presence in overseas markets. Through their 30 overseas offices and website they promote the capability of Irish suppliers to international buyers and sourcing teams. There are not too many countries or regions that are not covered by Enterprise-Ireland's global offices, which are situated in places ranging from Amsterdam to Warsaw and from Beijing to Los Angeles.
Help is provided to Irish SME's in a number of ways. One relates to the Visa and Legalisation Service. When expanding into foreign markets outside of the EU one of the many necessary steps may be the organisation of documentation and a visa, which can be time-consuming and distracting. Both the Dublin Chamber of Commerce and the Irish Exporters Association now provide this service, which was previously provided by Enterprise Ireland. Both handle visa applications and undertake to oversee the document legalisation process for companies. Other support comes in the form of information provided to Irish SME's, which can assist them when internationalizing for the first time.
Firstly, in terms of trade information, internationalising SME's will need information on export procedures, tariffs and export documentation requirements in international trade. Enterprise-Ireland help Irish exporting companies with information and guidelines on:
* Export and Import Controls
* Marking and Labelling of Goods
* Origin Rules
* Temporary Export of Trade Samples
* Preferential Trade Agreements
* Export documentation requirements
They also publish the 'Irish Exporter's Handbook', a subscription service giving summary requirements for 150 countries.
Additionally, Enterprise-Ireland provides information on the new markets that Irish SME's are potentially expanding into. They help Irish companies identify and meet their market information needs. Particularly in the areas of:
* international trading conditions;
* market trends;
* industry overviews;
* business news.
Enterprise Ireland can also provide information on companies and competitors, including company profiles, contact details, and credit status reports. Also supplying details on the current economic outlook and demographic data for global markets. They can provide access for Irish SME's to guides to doing business in overseas markets from an economic, political and social perspective. For example Enterprise Ireland's eur:opp 2003 strategy to develop new business for Irish companies in continental Europe. This involved establishing a Europe wide network of market experts to provide companies with specific 'insider' market intelligence and to develop high-level contacts and networking. In the hope of generating critical sales leads and speeded up market entry.
Enterprise-Ireland can aid Irish SME's who are clients by developing a customised plan to deal with their individual needs and opportunities. Their Information Centre staff provides expert advice and information on markets, trade conditions, and innovation supports and networks. They also organise overseas trade missions, visits to Ireland by overseas buyers, national stands at international trade fairs, and a series of seminars and conferences.